Upcoming Events – Konzerttermine
18.06.2022  Jörgstival-Servusla Altdorf (Privat)
15.07.2022  Fürth St. Martin, Hochstr. 12 – 20:00 Uhr
 22.07.2022  Mindelstetten RosenGarten & MondenHain 18:00 Uhr
Save the Handpan
Today we ask for your support with raising funds for #SaveTheHandpan. More information and how you can support you´ll find here:
Heute bitten wir dich um deine Unterstützung beim Sammeln von Spenden für "Rettet die Handpan". Weitere Informationen und wie du unterstützen kannst findest du hier:
Made with Rhythm and Love
Spiritual and Holistic Soundclouds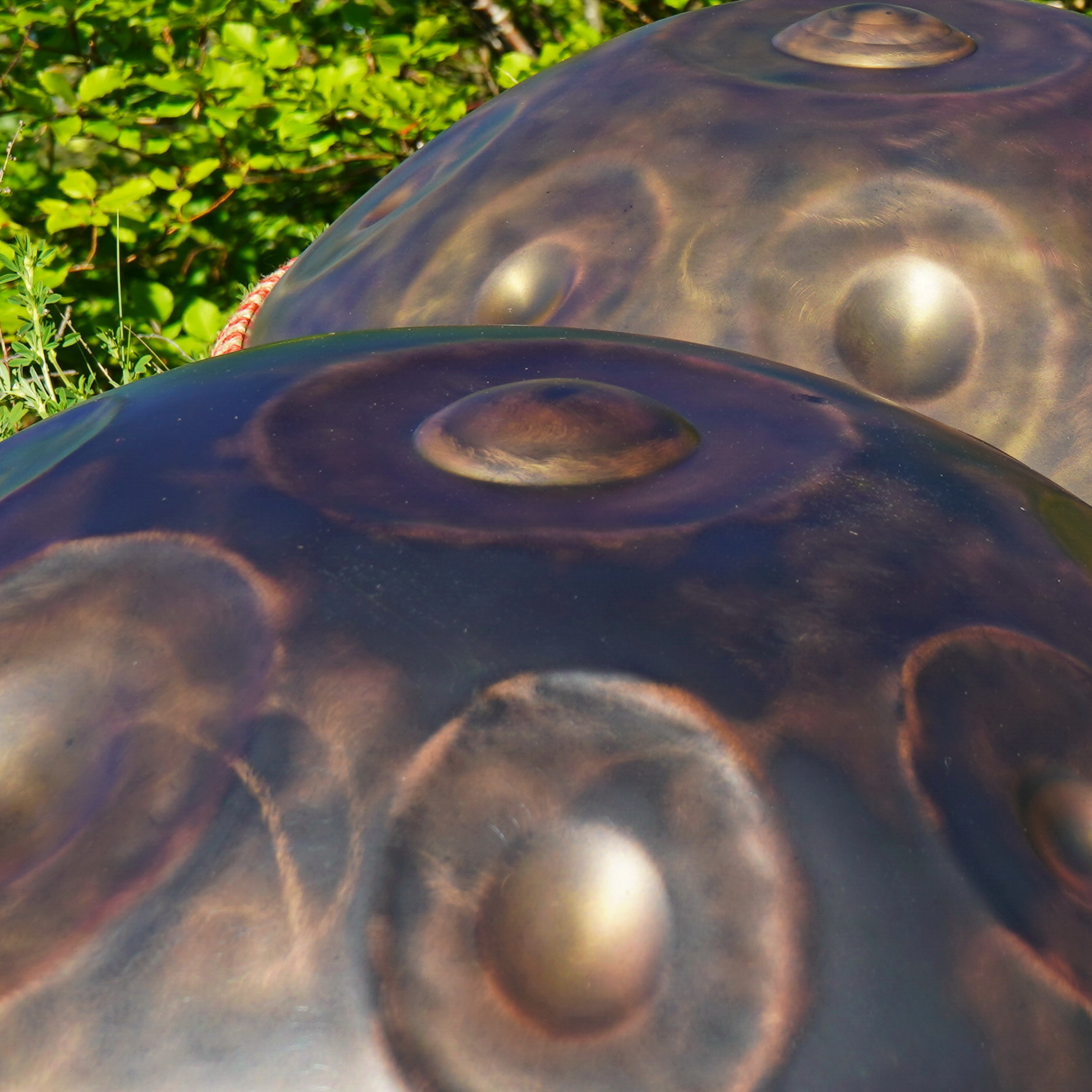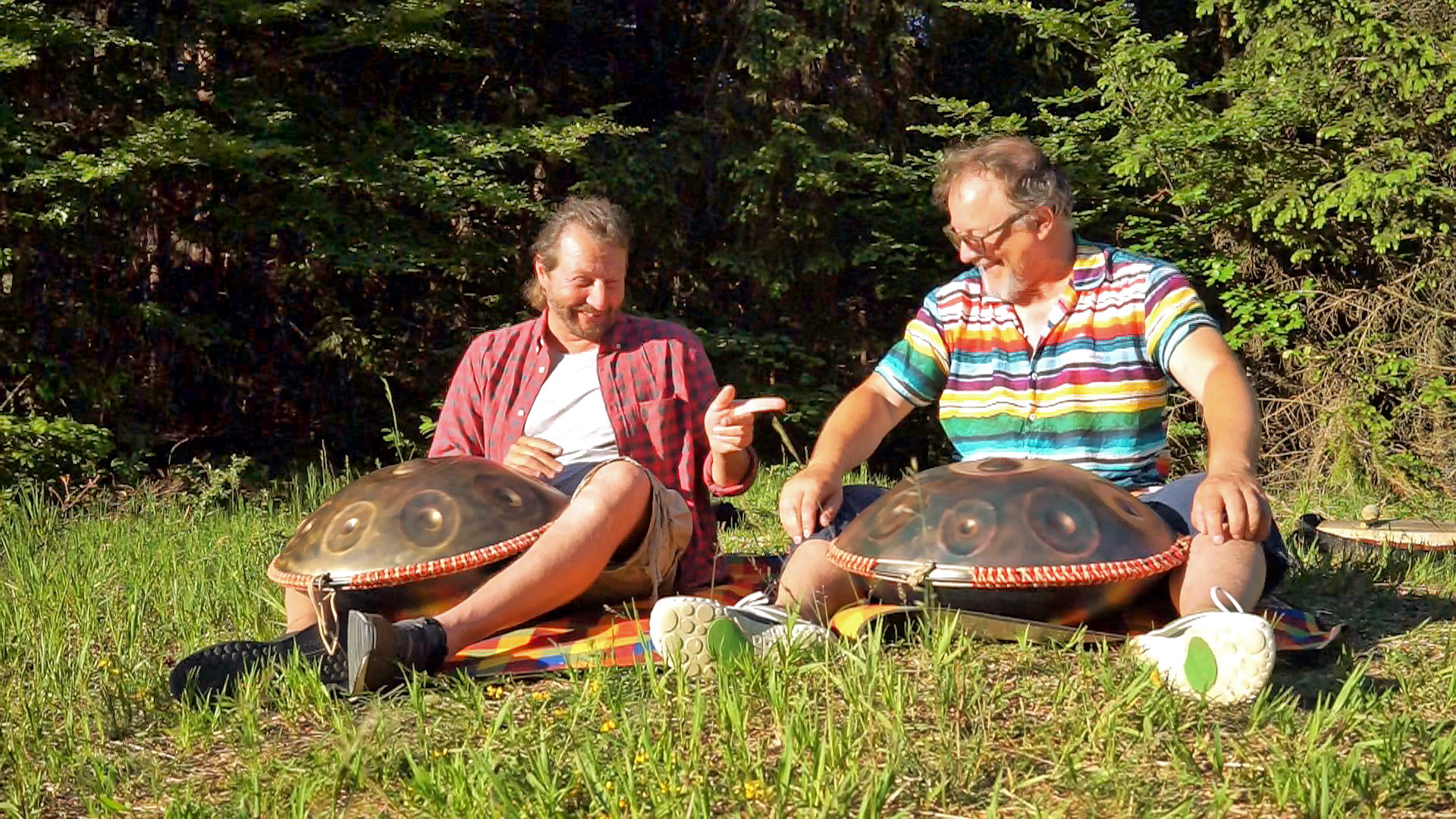 GO∞OM was founded in 2019 in the metropolitan region of Nuremberg. Since about 10 years inGO + tOM (= GO∞OM) know each other from band projects of African and Latin American percussion music. We two franconian autodidacts like to be guided by our feelings and emotions when making music. Our music is often created through improvisation in inspiring and spiritual places. So the power of feelings, emotions and nature create infinite variations which we express through our handpan music. Because the infinity in the here and now is very important to us, we have included it with the horizontal 8 in our band logo GO∞OM. Also, of course, the two big O's symbolize our two handpan instruments.

At least since the Griasdi Handpan Festival in Austria in summer 2019 we decided that we as GO∞OM want to share our enthusiasm and passion for Handpan music with others.
Our compositions are created by rhythm and love. This way spiritual and holistic sound clouds are created on which we let ourselves drift. Besides handpans we use various percussion instruments, synthesizer and didgeridoo. We also welcome experimental jamming with other musicians.
We gladly invite you to join us on our exciting journey. Wherever we may meet, let us feel and experience the beauty and inspiration of music together. Let it flow!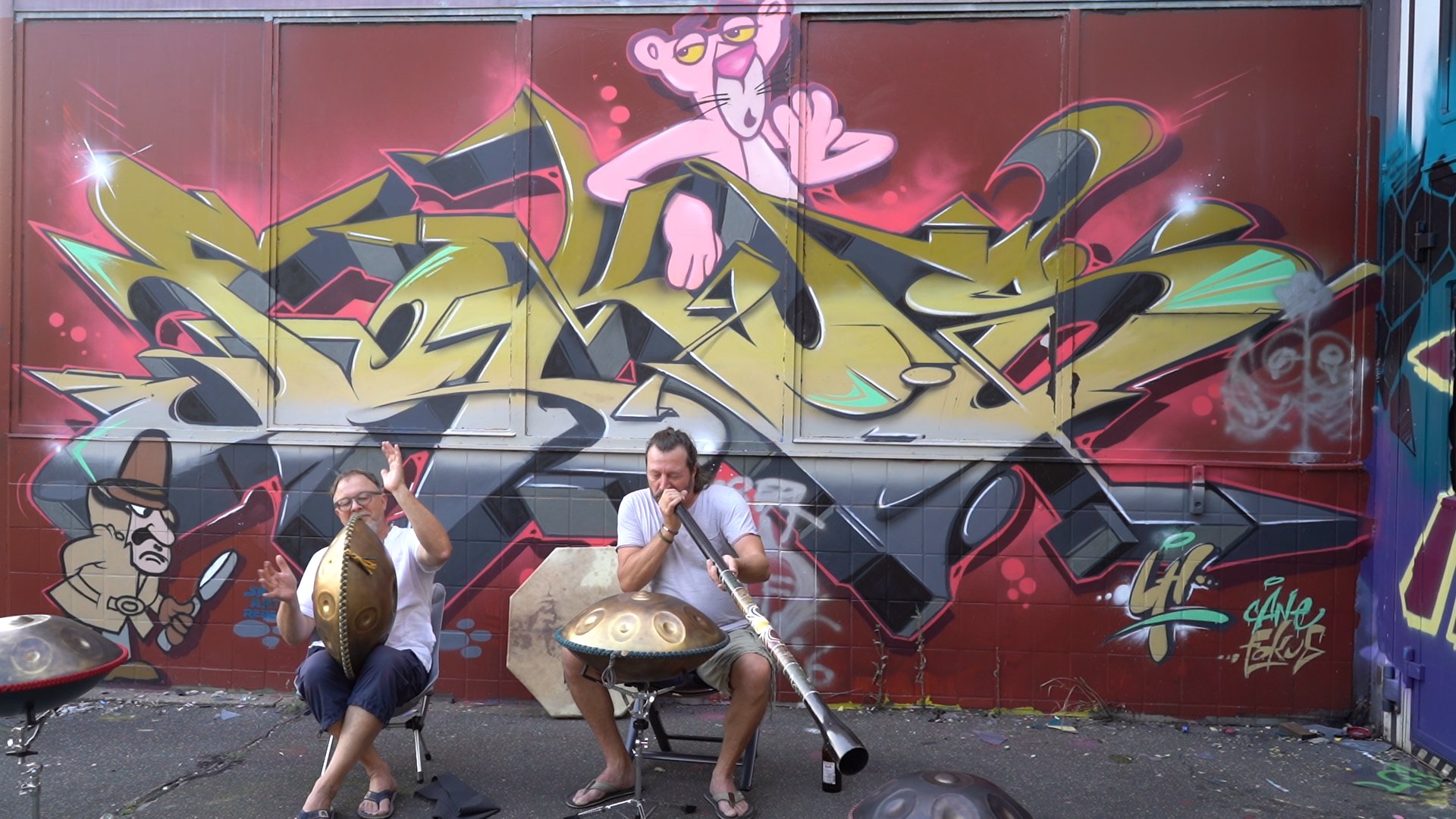 GO∞OM wurde 2019 in der Metropolregion Nürnberg gegründet. Seit etwa 10 Jahren kennen sich inGO + tOM (= GO∞OM) aus Bandprojekten afrikanischer und lateinamerikanischer Perkussionsmusik. Wir, zwei fränkischen Autodidakten, lassen uns beim Musizieren gerne von unseren Gefühlen und Emotionen leiten. Unsere Musik entsteht oft durch Improvisation an inspirierenden und spirituellen Orten. So entstehen durch die Kraft der Gefühle, Emotionen und der Natur unendliche Variationen, die wir durch unsere Handpan Musik zum Ausdruck bringen. Da die Unendlichkeit im Hier und Jetzt für uns sehr wichtig ist, haben wir sie mit der horizontalen 8 in unser Bandlogo GO∞OM aufgenommen. Außerdem symbolisieren die beiden großen O´s natürlich unsere beiden Handpan Instrumente.
Spätestens seit dem Griasdi-Handpan Festival in Österreich im Sommer 2019 haben wir beschlossen, dass wir als GO∞OM unsere Begeisterung und Leidenschaft für die Handpan Musik mit anderen teilen wollen.
Unsere Kompositionen entstehen durch und mit Rhythmus und Liebe. Auf diese Weise entstehen spirituelle und ganzheitliche Klangwolken, auf denen wir uns treiben lassen. Neben Handpans verwenden wir verschiedene Perkussionsinstrumente, Synthesizer und Didgeridoo. Auch das experimentelle Jammen mit anderen Musikern ist uns willkommen.
Wir laden Euch gerne ein, uns auf unserer spannenden Reise zu begleiten. Wo auch immer wir uns treffen, lasst uns gemeinsam die Schönheit und Inspiration der Musik spüren und erleben. Lasst es fließen!
During the practices for the concert in the Johanniskirche in Krautostheim, an older song "Fun Rise" came to our minds again. Suddenly the beat and the melody were in our heads. And we were on fire again. With the song in our luggage we happily drove to Krautostheim in Middle Franconia, whose name actually comes from white cabbage. The Johanniskirche treated us with beautiful acoustics. Many thanks to the parish and Wilfried Bröse for the invitation. The service including handpan music was recorded in its entirety due to the pandemic and can be viewed on YouTube here
https://www.youtube.com/watch?v=OK11NQaZUuQ&ab_channel=KircheKrautostheim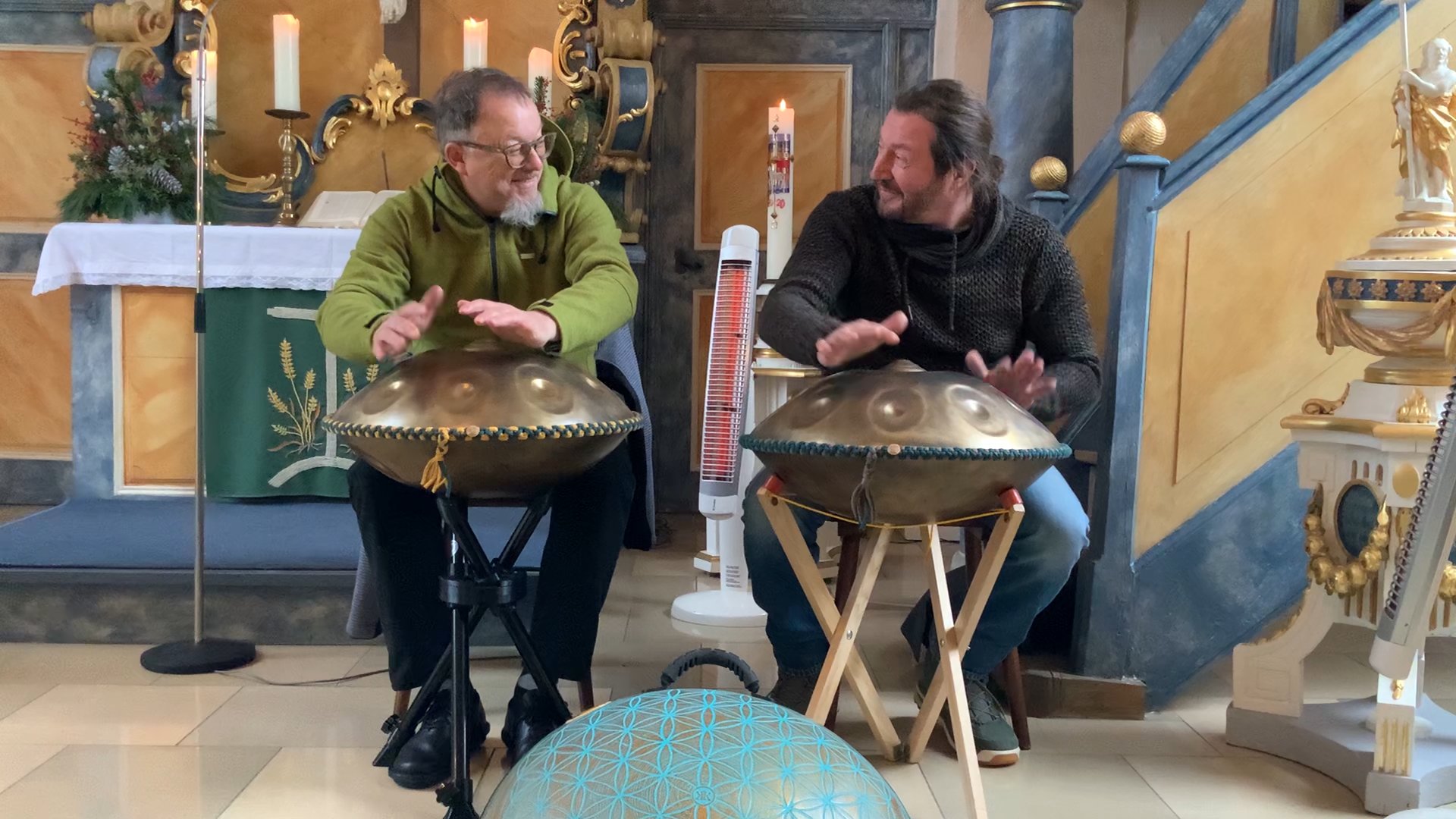 Bei den Proben zum Konzert in der Johanniskirche in Krautostheim, ist uns mal wieder ein älterer Song "Fun Rise" in den Sinn gekommen. Auf einmal waren der Beat und die Melodie in unseren Köpfen. Und wir waren wieder Feuer und Flamme. Mit dem Song im Gepäck sind wir frohgelaunt ins mittelfränkische Krautostheim gefahren, dessen Name tatsächlich vom Weißkohl stammt. Die Johanniskirche verwöhnte uns mit einer schönen Akustik. Vielen Dank an die Kirchengemeinde und Wilfried Bröse für die Einladung. Der Gottesdienst inkl. Handpan-Musik wurde wegen der Pandemie vollständig aufgezeichnet und kann auf YouTube hier
https://www.youtube.com/watch?v=OK11NQaZUuQ&ab_channel=KircheKrautostheim
angesehen werden.
At the end of the year in the Advent season we were again allowed to play in the inspiring atmosphere of the Heilig Kreuz Church in Röthenbach a.d.P.. The Christmas devotion and the atmosphere in the church was a feast for the soul. A sea of candles lit up the church interior. Perfect! The handpan music with synthesizer sounds, this time complemented by the wonderful sax of Axel Lorenz, felt almost like magic to us under such conditions. Many thanks to Pastor Heike Block-Mielke and the many helping hands of the Röthenbach church community for making this a success. As well as many thanks to Martin, Cornelia and Kirstin for the camera assistance.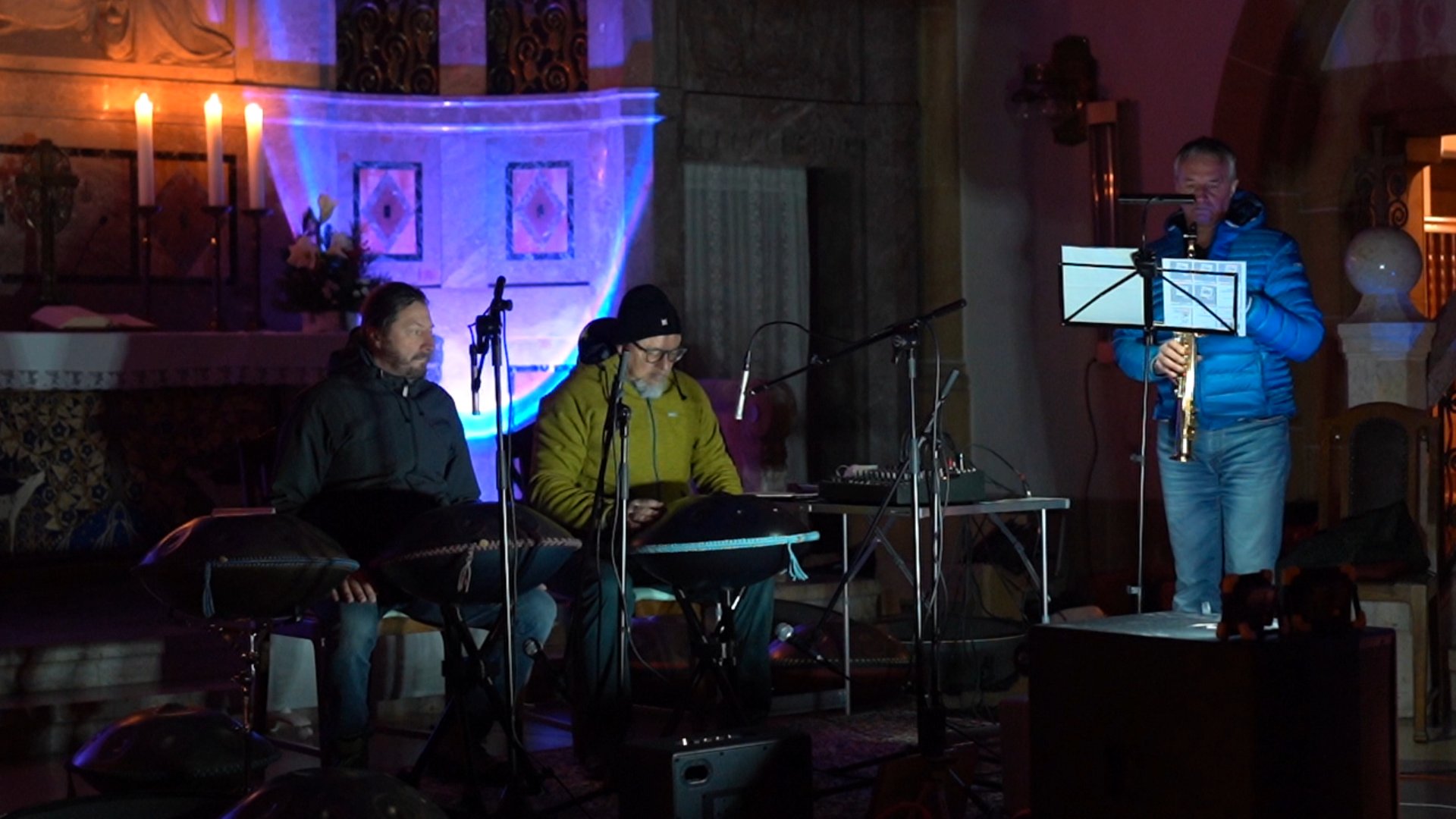 Zum Ausklang des Jahres in der Adventszeit durften wir wieder in der inspirierenden Atmosphäre der Heilig Kreuz Kirche in Röthenbach a.d.P. spielen. Die weihnachtliche Andacht und die Stimmung in der Kirche war ein Fest für die Seele. Ein Meer von Kerzen erleuchtete den Kirchenraum. Perfekt! Die Handpan Musik mit Synthesizerklängen, diesmal mit dem wunderbaren Sax von Axel Lorenz ergänzt, fühlte sich für uns unter solchen Bedingungen fast wie Magie an. Vielen Dank an Pfarrerin Heike Block-Mielke und die vielen helfenden Hände der Kirchengemeinde Röthenbach für das Gelingen. Sowie vielen Dank an Martin, Cornelia und Kirstin für die Kameraassistenz.
"We long for peace… We feel connected to all people… Your music interweaves with all the prayers that have resounded in this church for over 700 years… Your sounds open hearts, make something resonate, and make us feel something of the vastness and beauty of our universe." There is nothing to add to the words of Pastor Martin Irmer. Music and prayers were in harmony. Again a big thank to AXEL LORENZ (saxophone) for the sensitive accompaniment. And of course to the JuGo-team of St. Bartholomew (Eckental/Eschenau) who organized the service so great, including a beautiful illumination.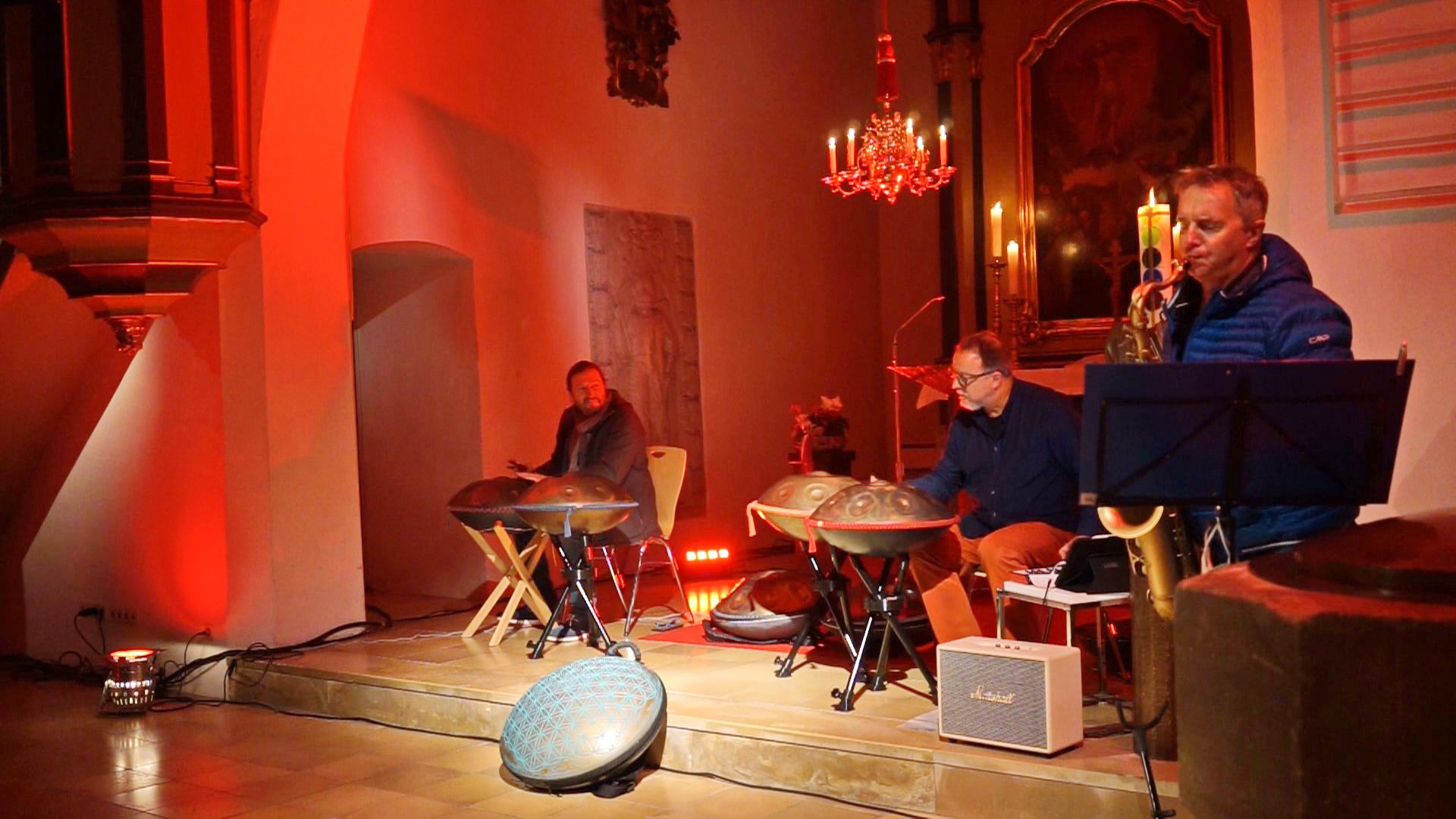 Credit: @kardoskinetic
für das handgemachte Handpan case mit Lebensblume
Credit: @SPand_stand
für den dreibeinigen Teleskop Handpan Ständer
Möchtest du ein schönes handgefertigtes Case mit Lebensblume (vom Künstler László Kardos) oder einen SPand V3 – Ständer wie im Bild/Video zu sehen. Dann schicke bitte eine Direktnachricht per Kontaktformular. Wir antworten umgehend.
"Wir sehnen uns nach Frieden… Wir fühlen uns verbunden mit allen Menschen… Eure Musik verwebt sich mit all den Gebeten, die seit über 700 Jahren in dieser Kirche erklungen sind… Eure Klänge öffnen Herzen, bringen etwas zum Schwingen und lassen uns etwas von der Weite und Schönheit unseres Universums spüren." Den Worten von Pfarrer Martin Irmer ist nichts hinzu zu fügen. Musik und Gebete waren in Harmonie. Wieder ein dickes Dankeschön AXEL LORENZ (Saxophon) für die einfühlsame Begleitung. Und natürlich dem JuGo-Team von St. Bartholomäus (Eckental/Eschenau), die den Gottesdienst so toll organisiert haben einschließlich einer wunderschönen Illumination.
PANTASTIC FLOW
When a handpan or pantam meets a synthesizer it becomes pantastic. Together with the mystical animations it transports us to unknown worlds. Flying through the infinite spaces of emotions. We see ourselves there in pantastic flow. (2021)
Credit Colin Jones: www.youtube.com/c/ccjmusic (@ccjmusic1 ) for animation
Wenn eine Handpan bzw. Pantam auf einen Synthesizer trifft wird es pantastisch. Zusammen mit den mystischen Animationen versetzt es uns unbekannte Welten. Fliegen durch die unendlichen Weiten der Emotionen. Wir sehen uns dort in Pantastic Flow. (2021)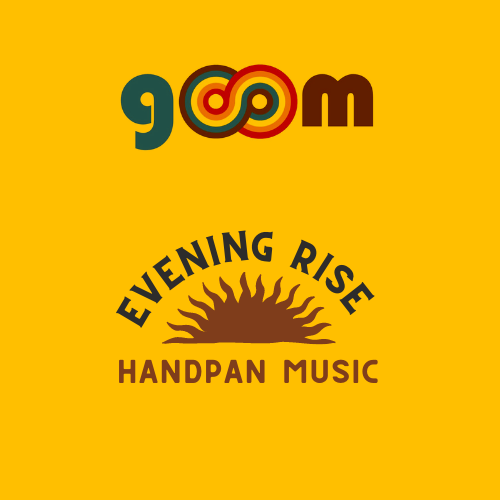 EVENING RISE
The unique atmosphere at Alexandra's RosenGarten & MondenHain in Mindelstetten inspired us to an experiment with the dear audience. One of our new songs is with vocals and made to be sung together. With "Evening rise" especially tOM has dared to sing. Together with the audience at sunset has become a great and soulful experiment. Many thanks to all who participated. (2021)
Die besondere Stimmung bei Alexandra im RosenGarten & MondenHain in Mindelstetten hat uns zu einem Experiment mit den lieben Zuschauern angestiftet. Einer unserer neuen Songs ist mit Gesang und dafür gemacht zusammen gesungen zu werden. Mit "Evening rise" hat sich insbesondere tOM getaut zu singen. Gemeinsam mit den Zuschauern ist beim Sonnenuntergang ein tolles und beseelendes Experiment geworden. Vielen Dank an Alle die mitgemacht haben. (2021)
WAVES FROM HEAVEN
There are places where you immediately feel at home. Alexandra's RosenGarten & MondenHain in Mindelstetten is such a unique place. Magic and spirituality can be felt everywhere. We like to let the positive vibrations affect us and fly on the "Waves from Heaven" into beautiful spheres. Thank you Alexandra for allowing us to be there and share something so beautiful and fulfilling with all your guests. Love is everywhere where you allow it. (2021)
Es gibt Orte an denen du dich sofort zu Hause fühlst. Der RosenGarten & MondenHain von Alexandra in Mindelstetten ist ein solcher besonderer Ort. Magie und Spiritualität ist überall zu spüren. Die positiven Schwingungen lassen wir gerne auf uns wirken und fliegen auf den "Waves from Heaven" in wunderschöne Sphären. Danke Alexandra, dass wir dort sein durften und mit all deinen Gästen so etwas Schönes und Erfüllendes teilen konnten. Liebe ist überall wo du es zulässt.  (2021)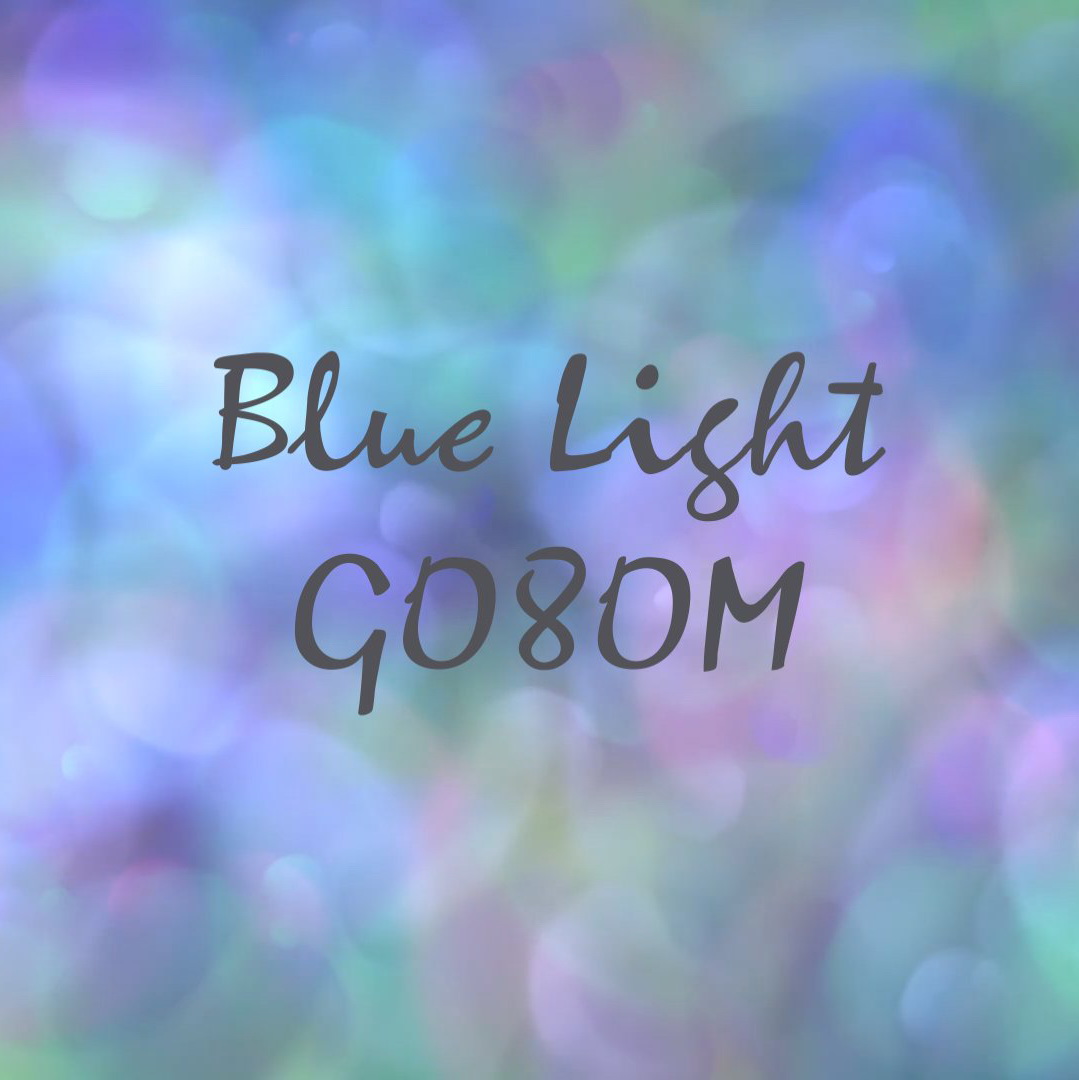 BLUE LIGHT
This time we tried something new. Inspired by very beautiful animation videos, we combined our music with visual creations. Let's see what comes out of it. We let ourselves be surprised. Let us surprise you too.(2021)
Animation by Colin Jones
Diesmal haben wir etwas Neues ausprobiert. Inspiriert von sehr schönen Animationsvideos haben wir unsere Musik mit visuellen Kreationen verbunden. Mal sehen was weiter daraus wird. Wir lassen uns überraschen. Lass euch auch überraschen. (2021)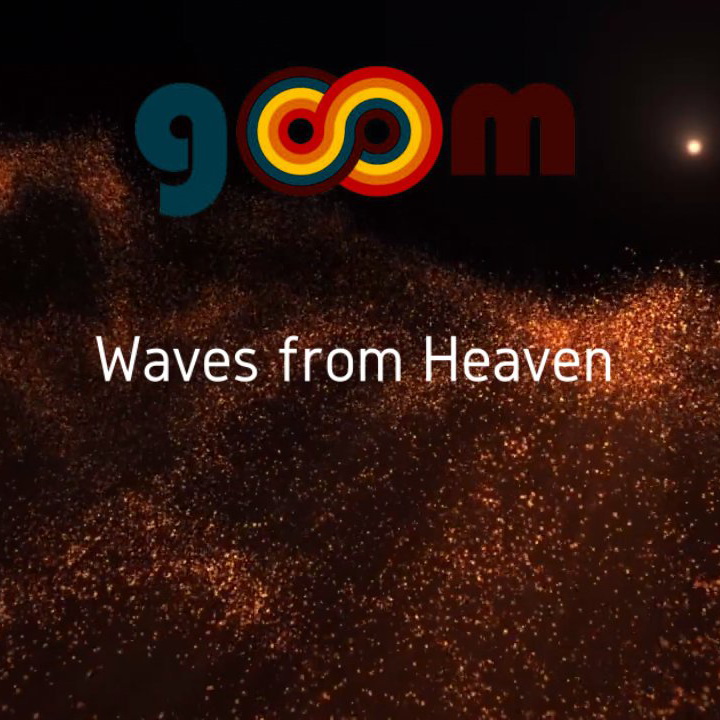 WAVES FROM HEAVEN
We recently received a masterpiece of handpan metalwork from Jordi in Barcelona. What can we say. Right from the very beginning, we were thrilled by the fine and balanced tuning of the F2 Low Voyager. The tones go straight to our hearts and souls. So that our C # Anasiska from Clemens doesn't get mad about the new sister, we improvised a song with both instruments.What came out of the vibrations of both instruments is a wonderful fusion of waves, "Waves from Heaven". But listen for yourself! (2021) 
Credit: Colin Jones for the great animations
Vor kurzem haben wir ein Meisterwerk der Handpan Metallbaukunst von Jordi aus Barcelona erhalten. Was sollen wir sagen. Von Anfang an haben uns die feinen und ausbalancierten Stimmungen der F2 Low Voyager begeistert. Die Töne gehen direkt in unsere Herzen und Seelen. Damit unser C # Anasiska von Clemens nicht sauer wird ob der neuen Schwester, haben wir ein Song mit beiden Instrumenten improvisiert. Was da aus den Schwingungen beider Instrumente herausgekommen ist, ist eine wunderbare Verschmelzung von Wellen, eben "Waves from Heaven". Aber hört selbst! (2021)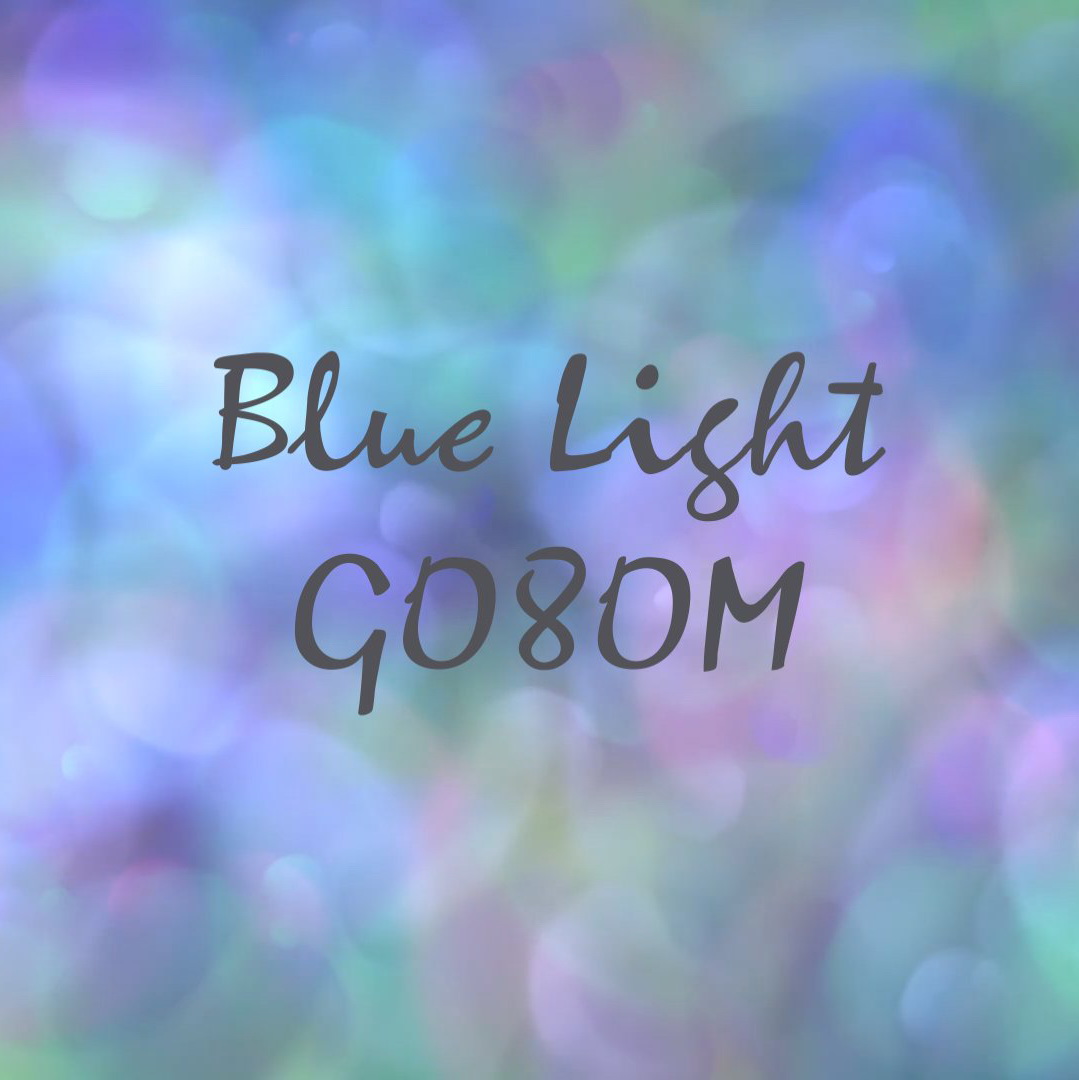 BLUE LIGHT
This time we tried something new. Inspired by very beautiful animation videos, we combined our music with visual creations. Let's see what comes out of it. We let ourselves be surprised. Let us surprise you too.(2021)
Animation by Colin Jones
Diesmal haben wir etwas Neues ausprobiert. Inspiriert von sehr schönen Animationsvideos haben wir unsere Musik mit visuellen Kreationen verbunden. Mal sehen was weiter daraus wird. Wir lassen uns überraschen. Lass euch auch überraschen. (2021)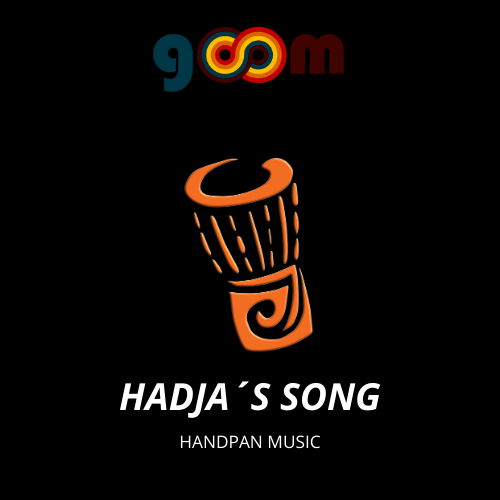 HADJA´S SONG
BoAfriCo meets GO8OM – Two years ago we played live with our Handpans for the first time. At a concert of our West African drum group BoAfriCo in Essingen. We named our composition for our singer Handja Safi (Guinea) "Hadja's Song". In addition to the singing we were accompanied by the djembe master Kassim Traoré (Mali) and the BoAfriCo background singers. The festival provided a great backdrop. Pure goosebumps! (2019)
BoAfriCo meets GO8OM – Zwei Jahre ist es jetzt her, dass wir mit unseren Handpans zum ersten Mal live gespielt haben. Bei einem Konzert unserer westafrikanischen Trommelgruppe BoAfriCo in Essingen. Wir haben unsere Komposition nach unserer Sängerin Handja Safi (Guinea) benannt "Hadja´s Song". Zusaätzlich zum Gesang wurden wir vom Djembemeister Kassim Traoré (Mali) und dem BoAfriCo Background SängerInnen begleitet. Das Festival hat eine tolle Kulisse geboten. Gänsehaut pur! (2019)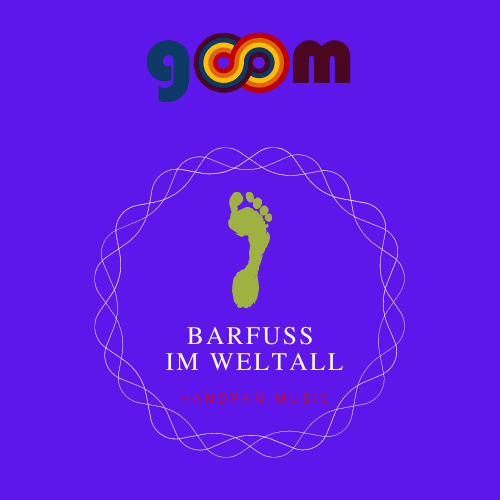 BARFUSS IM WELTALL
Barfuss im Weltall = Barefoot in space
Finally it's getting to be spring and we can make music outdoors again.The spring sun has probably clouded our brains with its warming rays. How else is the song title explainable. The beat of the new song has carried us away without a doubt. Hopefully you too. Have fun! (2021)
Endlich wird es langsam Frühling und wir können wieder im Freien musizieren. Die Frühlingssonne hat uns wohl mit ihren wärmenden Strahlen das Hirn vernebelt. Wie ist sonst der Songtitel erklärbar. Der Beat vom neuen Song hat uns ohne Zweifel mitgerissen. Euch hoffentlich auch. Viel Spaß! (2021)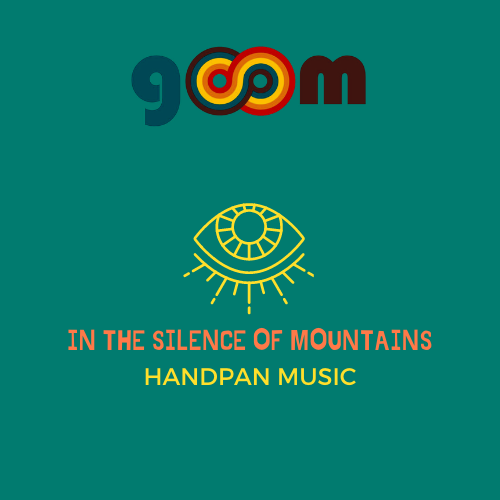 In the silence of mountains
During the summer holidays, inGO was in the Alps. There, far up near the clouds, there is a pleasant hypnotic silence. You can gaze into the distance for hours and time flies by. Completely in the here and now. (2021)
In den Sommerferien war inGO in den Alpen. Dort, weit oben in der Nähe der Wolken, herscht eine angenehme hypnotische Stille. Stundenlang kann der Blick in die Weite gehen und die Zeit verrinnt wie im Flug. Ganz im hier und jetzt. (2021)