During the practices for the concert in the Johanniskirche in Krautostheim, an older song "Fun Rise" came to our minds again. Suddenly the beat and the melody were in our heads. And we were on fire again. With the song in our luggage we happily drove to Krautostheim in Middle Franconia, whose name actually comes from white cabbage. The Johanniskirche treated us with beautiful acoustics. Many thanks to the parish and Wilfried Bröse for the invitation. The service including handpan music was recorded in its entirety due to the pandemic and can be viewed on YouTube here
https://www.youtube.com/watch?v=OK11NQaZUuQ&ab_channel=KircheKrautostheim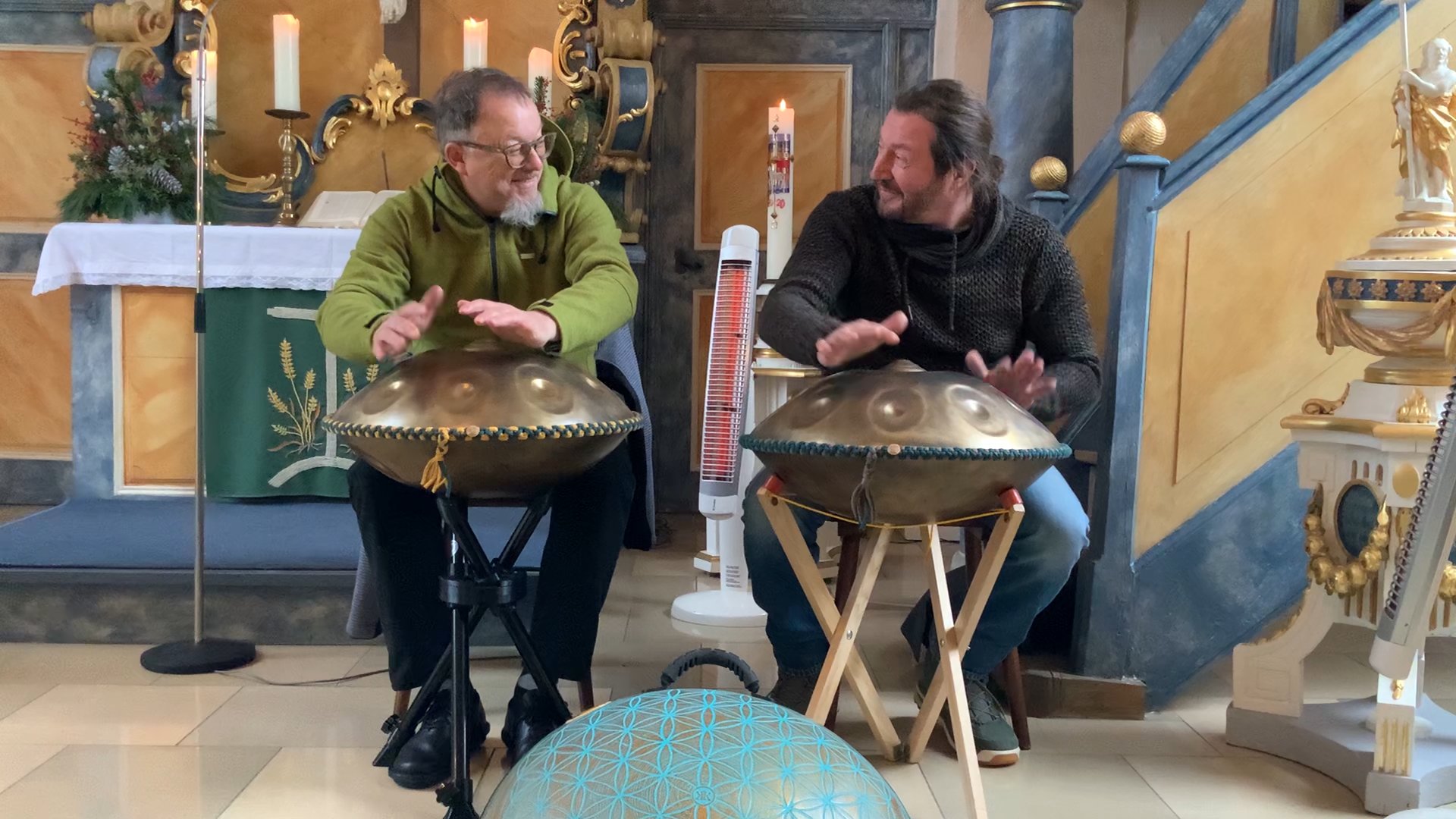 Bei den Proben zum Konzert in der Johanniskirche in Krautostheim, ist uns mal wieder ein älterer Song "Fun Rise" in den Sinn gekommen. Auf einmal waren der Beat und die Melodie in unseren Köpfen. Und wir waren wieder Feuer und Flamme. Mit dem Song im Gepäck sind wir frohgelaunt ins mittelfränkische Krautostheim gefahren, dessen Name tatsächlich vom Weißkohl stammt. Die Johanniskirche verwöhnte uns mit einer schönen Akustik. Vielen Dank an die Kirchengemeinde und Wilfried Bröse für die Einladung. Der Gottesdienst inkl. Handpan-Musik wurde wegen der Pandemie vollständig aufgezeichnet und kann auf YouTube hier
https://www.youtube.com/watch?v=OK11NQaZUuQ&ab_channel=KircheKrautostheim
angesehen werden.
At the end of the year in the Advent season we were again allowed to play in the inspiring atmosphere of the Heilig Kreuz Church in Röthenbach a.d.P.. The Christmas devotion and the atmosphere in the church was a feast for the soul. A sea of candles lit up the church interior. Perfect! The handpan music with synthesizer sounds, this time complemented by the wonderful sax of Axel Lorenz, felt almost like magic to us under such conditions. Many thanks to Pastor Heike Block-Mielke and the many helping hands of the Röthenbach church community for making this a success. As well as many thanks to Martin, Cornelia and Kirstin for the camera assistance.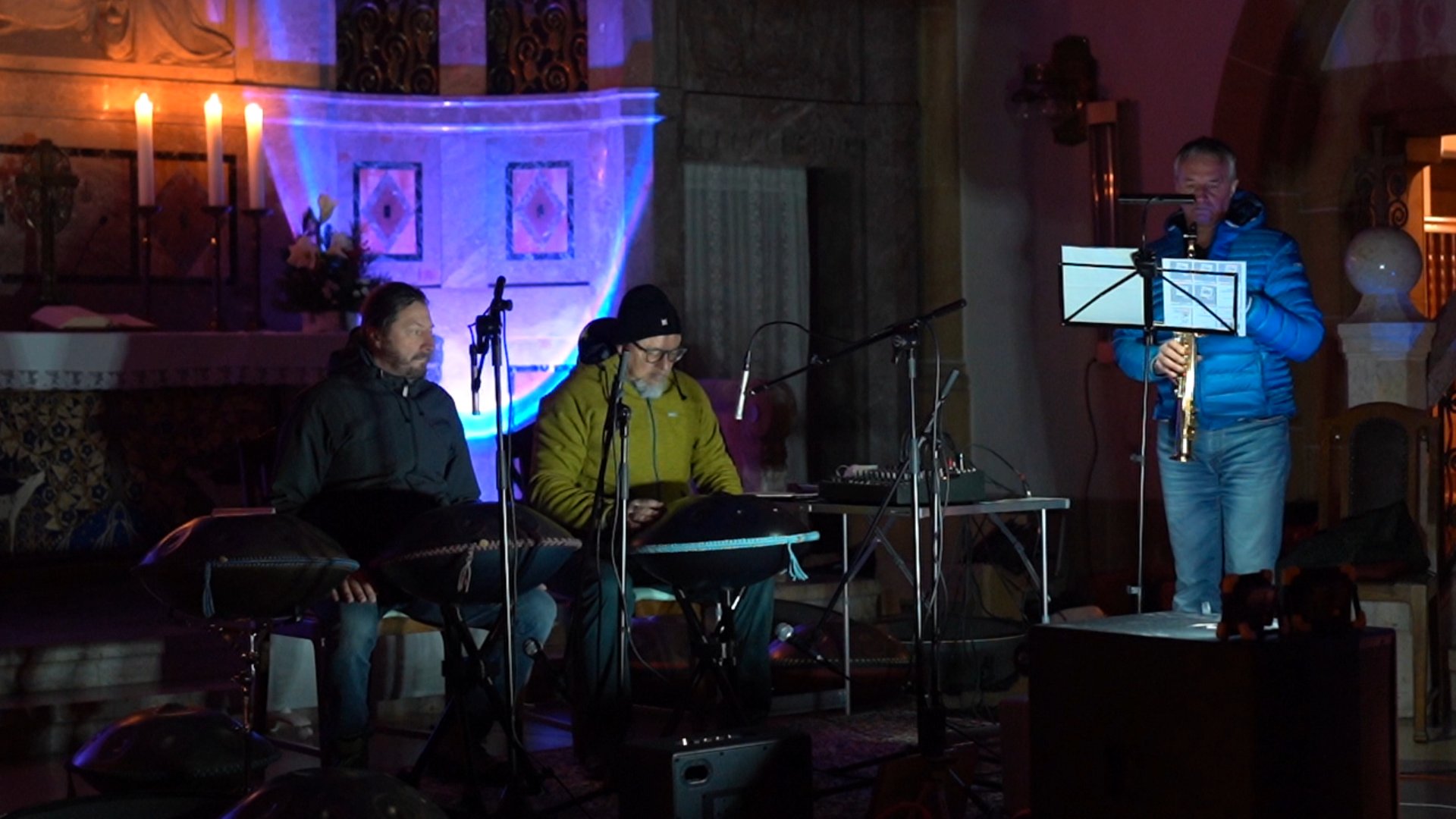 Zum Ausklang des Jahres in der Adventszeit durften wir wieder in der inspirierenden Atmosphäre der Heilig Kreuz Kirche in Röthenbach a.d.P. spielen. Die weihnachtliche Andacht und die Stimmung in der Kirche war ein Fest für die Seele. Ein Meer von Kerzen erleuchtete den Kirchenraum. Perfekt! Die Handpan Musik mit Synthesizerklängen, diesmal mit dem wunderbaren Sax von Axel Lorenz ergänzt, fühlte sich für uns unter solchen Bedingungen fast wie Magie an. Vielen Dank an Pfarrerin Heike Block-Mielke und die vielen helfenden Hände der Kirchengemeinde Röthenbach für das Gelingen. Sowie vielen Dank an Martin, Cornelia und Kirstin für die Kameraassistenz.
"We long for peace… We feel connected to all people… Your music interweaves with all the prayers that have resounded in this church for over 700 years… Your sounds open hearts, make something resonate, and make us feel something of the vastness and beauty of our universe." There is nothing to add to the words of Pastor Martin Irmer. Music and prayers were in harmony. Again a big thank to AXEL LORENZ (saxophone) for the sensitive accompaniment. And of course to the JuGo-team of St. Bartholomew (Eckental/Eschenau) who organized the service so great, including a beautiful illumination.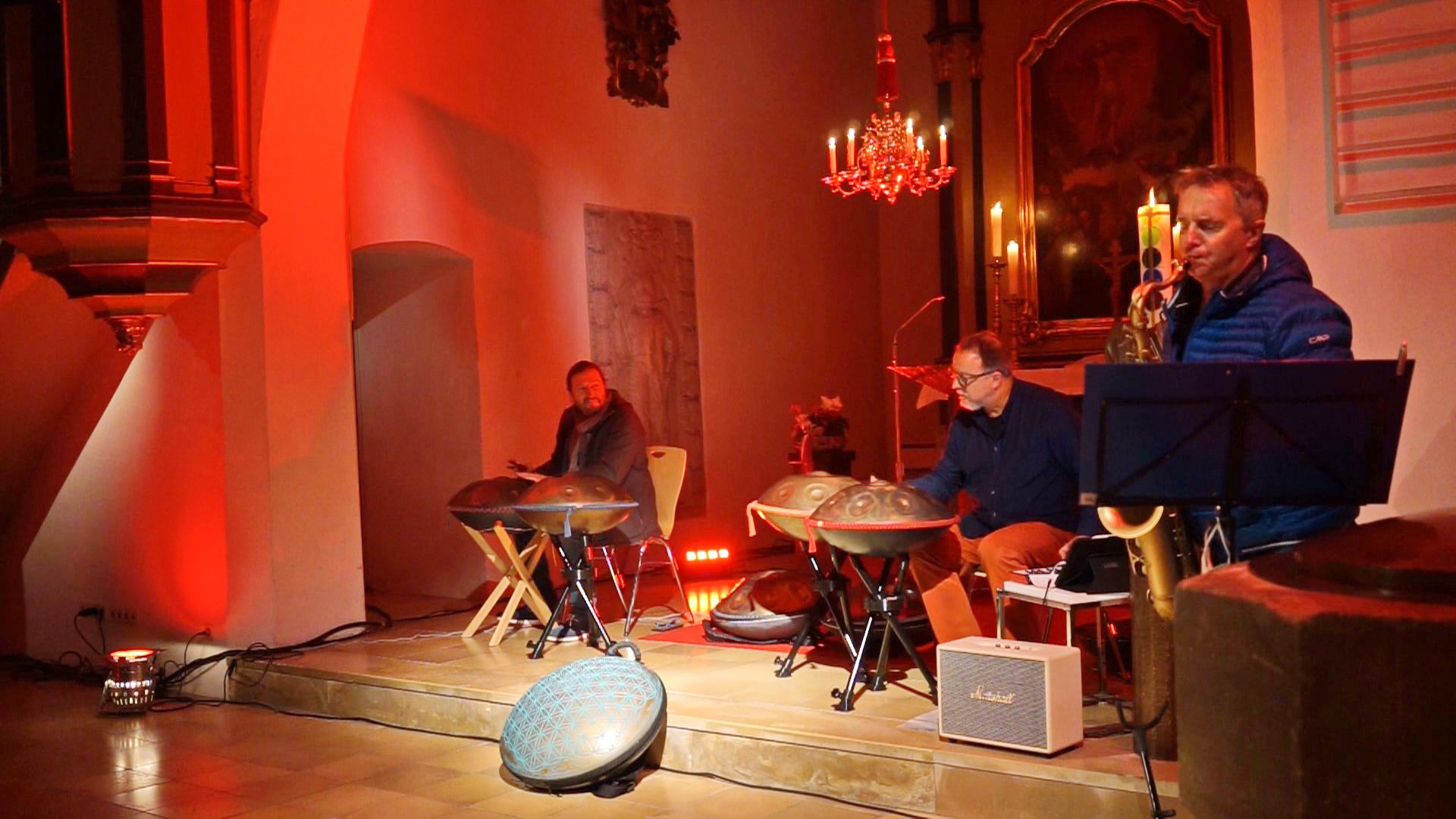 Credit: @kardoskinetic
für das handgemachte Handpan case mit Lebensblume
Credit: @SPand_stand
für den dreibeinigen Teleskop Handpan Ständer
Möchtest du ein schönes handgefertigtes Case mit Lebensblume (vom Künstler László Kardos) oder einen SPand V3 – Ständer wie im Bild/Video zu sehen. Dann schicke bitte eine Direktnachricht per Kontaktformular. Wir antworten umgehend.
"Wir sehnen uns nach Frieden… Wir fühlen uns verbunden mit allen Menschen… Eure Musik verwebt sich mit all den Gebeten, die seit über 700 Jahren in dieser Kirche erklungen sind… Eure Klänge öffnen Herzen, bringen etwas zum Schwingen und lassen uns etwas von der Weite und Schönheit unseres Universums spüren." Den Worten von Pfarrer Martin Irmer ist nichts hinzu zu fügen. Musik und Gebete waren in Harmonie. Wieder ein dickes Dankeschön AXEL LORENZ (Saxophon) für die einfühlsame Begleitung. Und natürlich dem JuGo-Team von St. Bartholomäus (Eckental/Eschenau), die den Gottesdienst so toll organisiert haben einschließlich einer wunderschönen Illumination.
We would like to thank you again for coming to our handpan concert "Waves from Heaven" on 15.10.2021 at the Jakobskirche in Nuremberg. Our very special thanks go to AXEL LORENZ (saxophone), who accompanied us so wonderfully during many pieces. And of course to the team of St. Jakob, who made the concert possible.
Credit: @kardoskinetic
für das handgemachte Handpan case mit Lebensblume
Credit: @SPand_stand
für den dreibeinigen Teleskop Handpan Ständer
Credit Colin Jones: www.youtube.com/c/ccjmusic (@ccjmusic1 )
for animation
Bei Interesse an Case oder Ständer bitte Direktnachricht schicken. Wir antworten umgehend.
Wir wollen uns nochmal recht herzlich bei Euch bedanken, dass ihr zu unserem Handpan Konzert "Waves from Heaven" am 15.10.2021 in die Jakobskirche in Nürnberg gekommen seid. Unser ganz besonderer Dank gilt AXEL LORENZ (Saxophon), der uns bei vielen Stücken so wunderbar begleitet hat. Und natürlich dem Team von St. Jakob, die das Konzert möglich gemacht haben.
What do you do when Flavio Salvaje comes to you on the first afternoon of GRIASDI FESTIVAL and asks you if you want to play with him on stage. Don't think twice. It's best to say YES. Just do it. And that's how it was. We did the stage opening together. Forget that you've never done this before. An unforgettable experience. Thank you for that.
Credit Flavio Salvaje: (@flaviosalvaje) for jaming
Credit Martin Zöpfl: @griasdifestival for hosting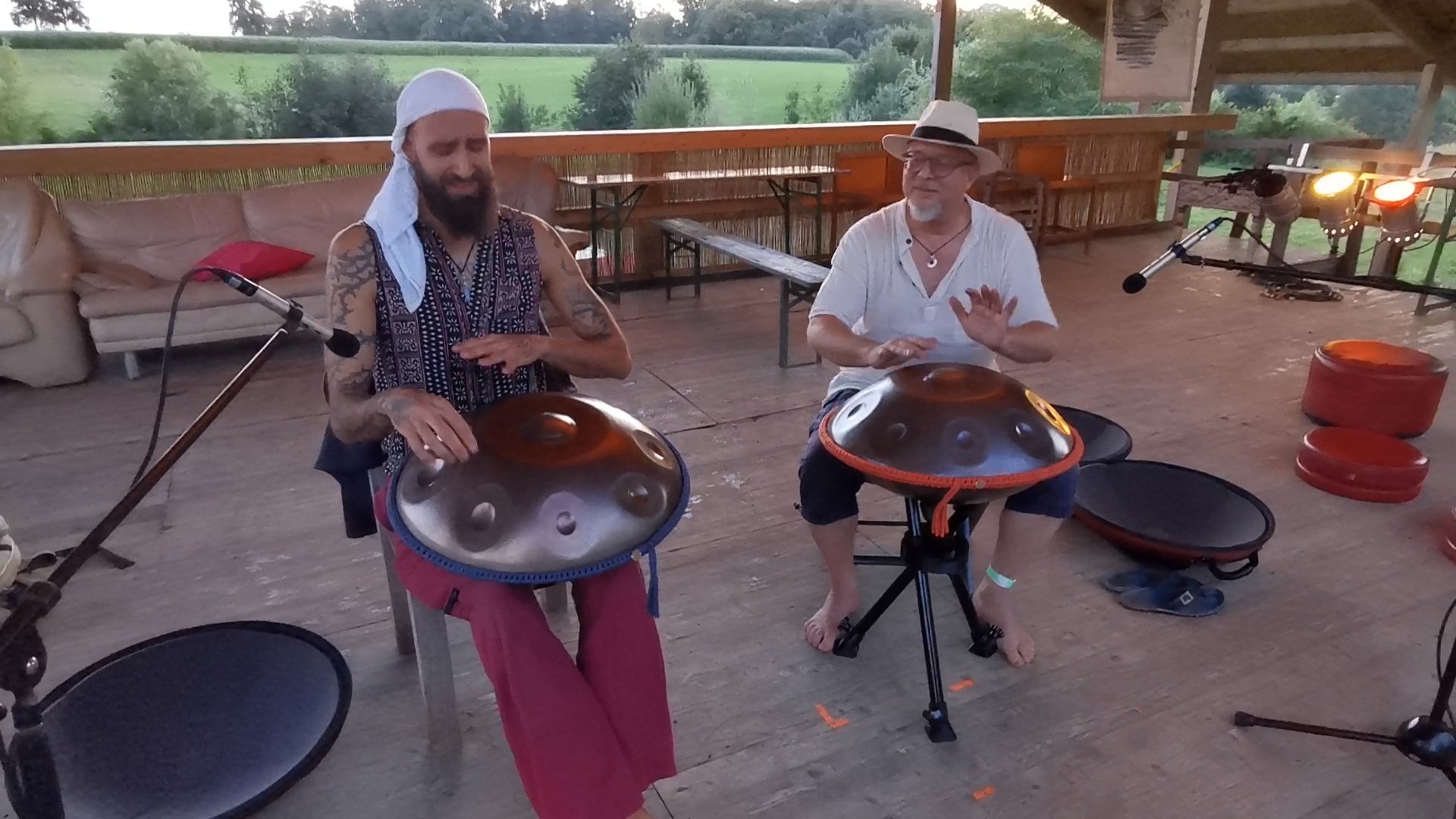 Was tust du, wenn Flavio Salvaje am ersten Nachmittag vom GRIASDI FESTIVAL zu dir kommt und dich fragt, ob du mit ihm auf der Stage spielen möchtest. Nicht lang überlegen. Am besten JA sagen. Einfach machen. Und so war es auch. Wir haben zusammen das Stage Opening gemacht. Vergiss, dass du das noch nie gemacht hast. Eine unvergessliche Erfahrung. Danke dafür.
Again the GRIASDI FESTIVAL was a highlight for us. Meeting so many friends and jamming with each other in an relaxed way is a pantastic experience. You can't get enough of it. Especially not when Flavio Salvaje plays with you. A real boon and inspiration that will remain unforgettable.
Credit Flavio Salvaje: (@flaviosalvaje) for jaming
Credit Martin Zöpfl: @griasdifestival for hosting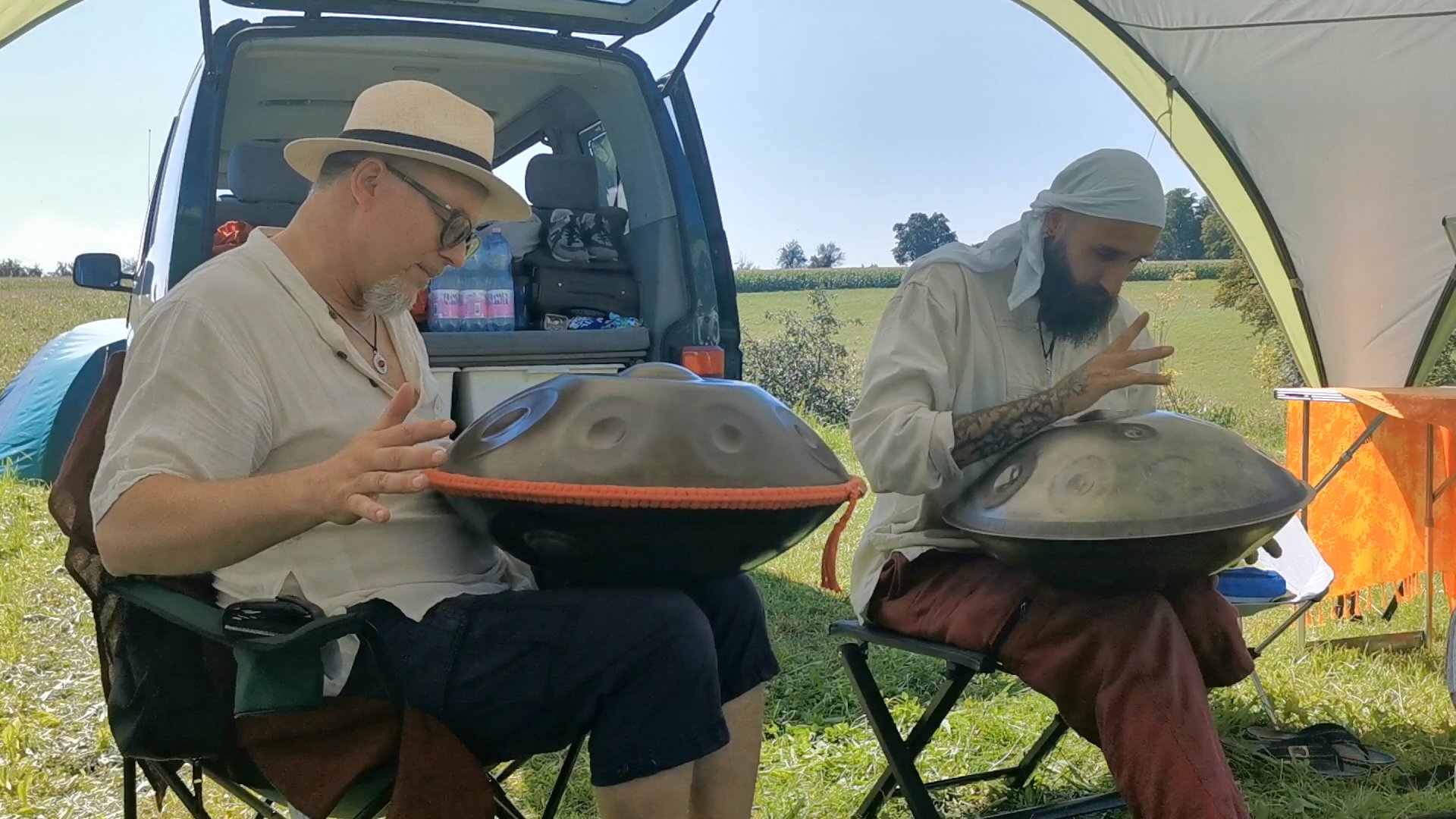 Wieder war das GRIASDI FESTIVAL für uns ein Höhepunkt. So viele Freunde zu treffen und ungezwungen miteinander zu jamen ist ein pantastisches Erlebnis. Davon kann man gar nicht genug bekommen. Erst recht nicht wenn Flavio Salvaje mit dir spielt. Eine echte Bereicherung und Inspiration die unvergesslich bleiben wird. 
Last friday we were allowed to perform a concert again. tOM invited to his cozy garden. In the lounge, which was converted to a stage, we made ourselves comfortable. With the best weather we played handpan frisky. André (aka ANDAJAMA) was there as a visitor and didn't take long to join us for a wonderful jam session. It was so nice!

Credit André: www.andajama.de (@andajama_handpan) for jam
Credit Alex: www.alex-cio.de (@alex.ciocea) for long shot video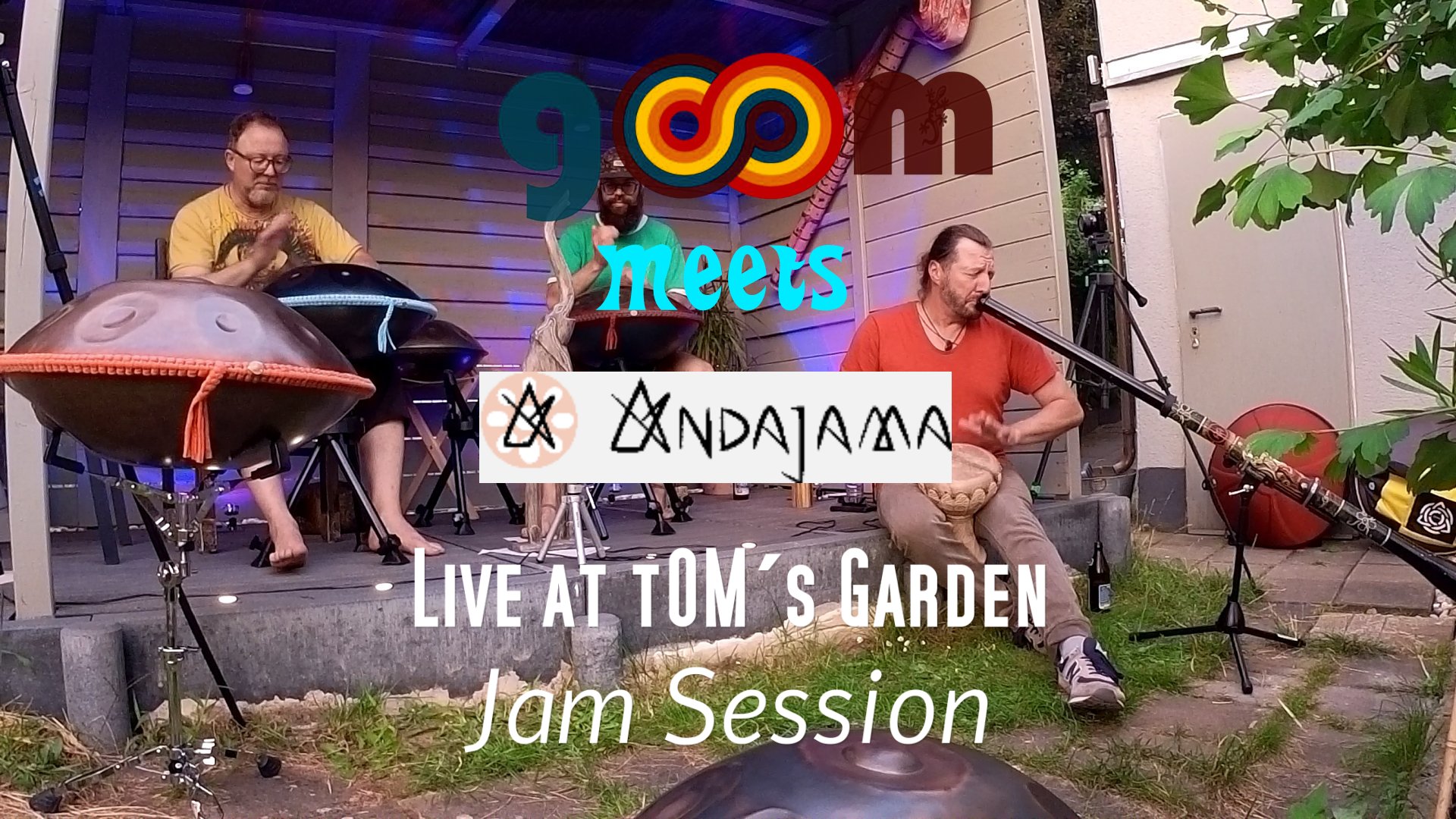 Letzten Freitag durften wir wieder ein Konzert geben. tOM hat in seinen gemütlichen Garten eingeladen. In der zur Bühne umgebauten Lounge haben wir es uns eingerichtet. Bei bestem Wetter haben wir ausgelassen Handpan gespielt. André (alias ANDAJAMA) war als Besucher da und hat sich am Ende nicht lange bitten lassen zu einer wunderbaren Jam Session. Es war so schön!
"Waves from Heaven" in Mindelstetten. It´s GO8OMing on and on. A birthday present for our heart sister Alexandra and her dear friends. We want to share these beautiful moments with you. It was a magical evening.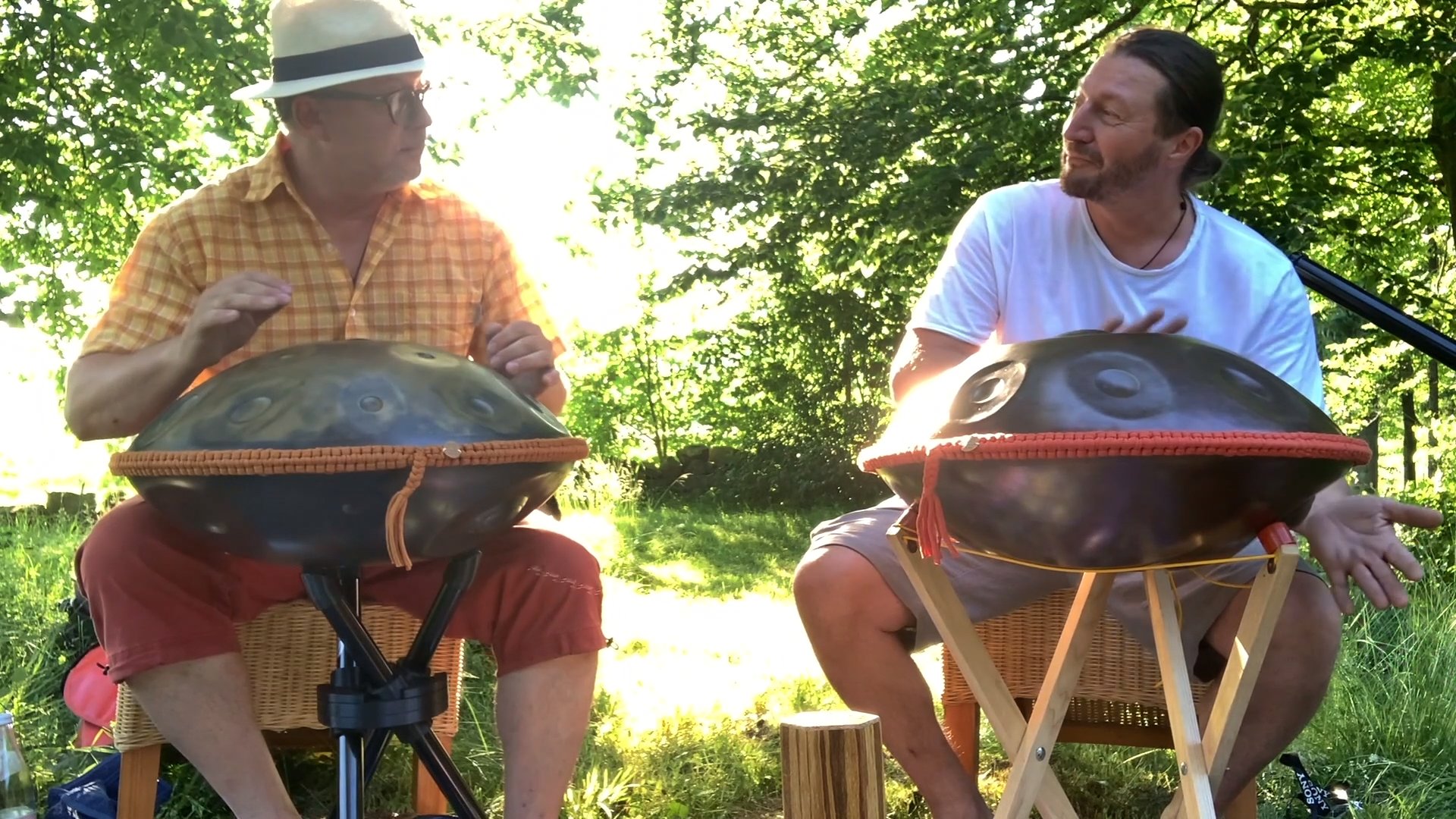 "Waves from Heaven" in Mindelstetten. Es GO8OM´t immer weiter. Ein Geburtstagsgeschenk für unsere Herzensschwester Alexandra und ihre lieben Freunde. Wir möchten diese schönen Augenblicke mit euch teilen. Es war ein zauberschöner Abend.
It has been a long time since we were allowed to play in front of an audience. Church services in Ezelheim and Ingolstadt were the locations where we looked again into eyes touched by the sound of the handpan. Our hearts also opened wide in the sensual atmosphere of the churches. Great people, great acoustics. Many thanks for the invitation to Willfried, who made it possible with much commitment in these times with all the necessary arrangements.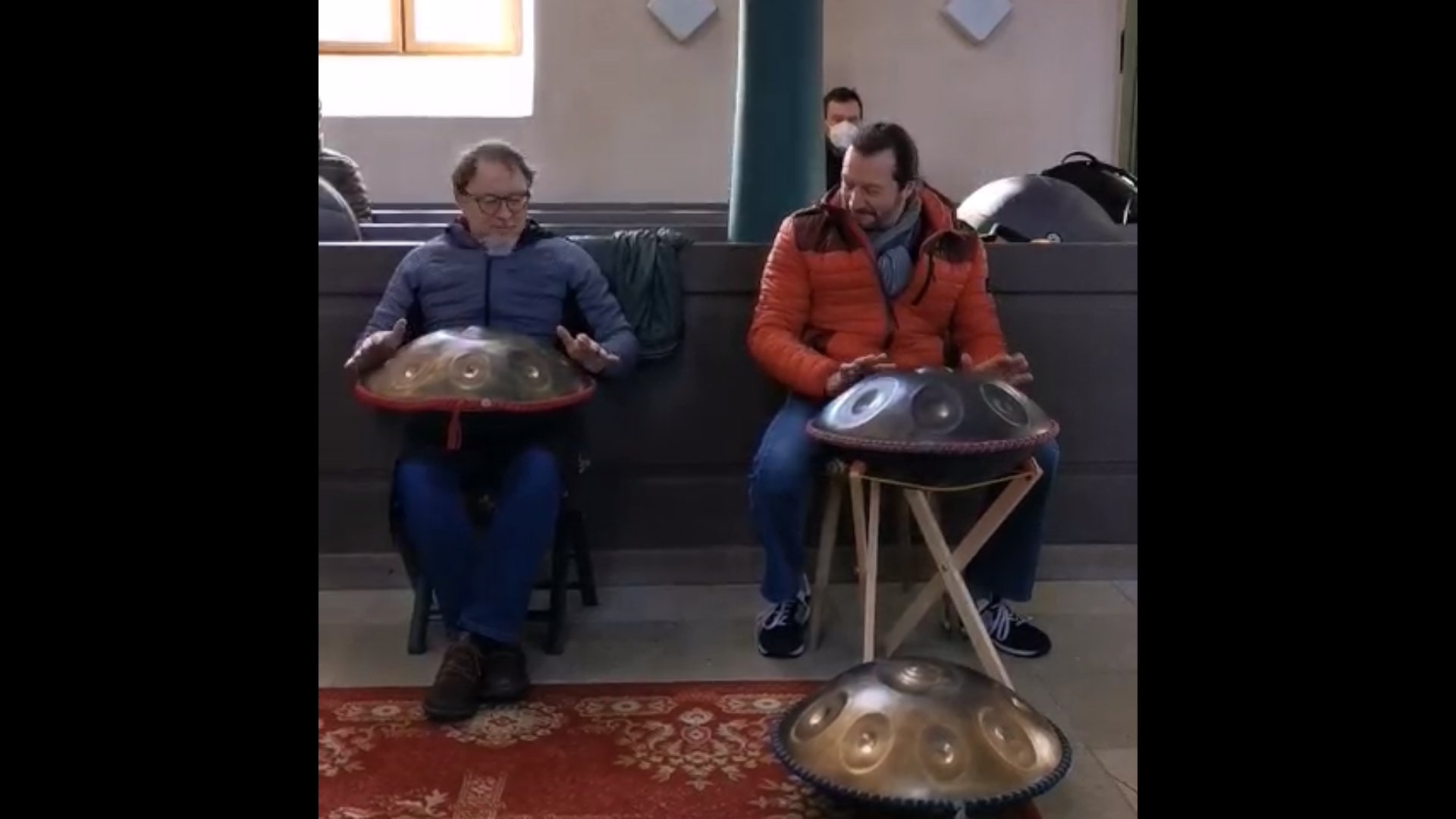 Lange ist es her, dass wir vor Publikum spielen durften. Gottesdienste in Ezelheim und Ingolstadt waren die Locations, wo wir wieder in Augen schauten, die vom Klang der Handpan berührt wurden. Auch unsere Herzen gingen in der sinnlichen Atmosphäre der Kirchen weit auf. Tolle Menschen, tolle Akustik. Vielen Dank für die Einladung an Willfried, der es mit viel Engagement in diesen Zeiten mit allen notwendigen Vorkehrungen möglich machte.

Sometimes angels land at selected places, or at least it feels like it. This time we were allowed to make an atmospheric contribution with our handpan music at a Christmas service in the Heilg Kreuz Church in Röthenbach. The acoustics in the church were fantastic and just made for the spherical sounds. It was unique how they spread out and yet touched us intensely. Wow!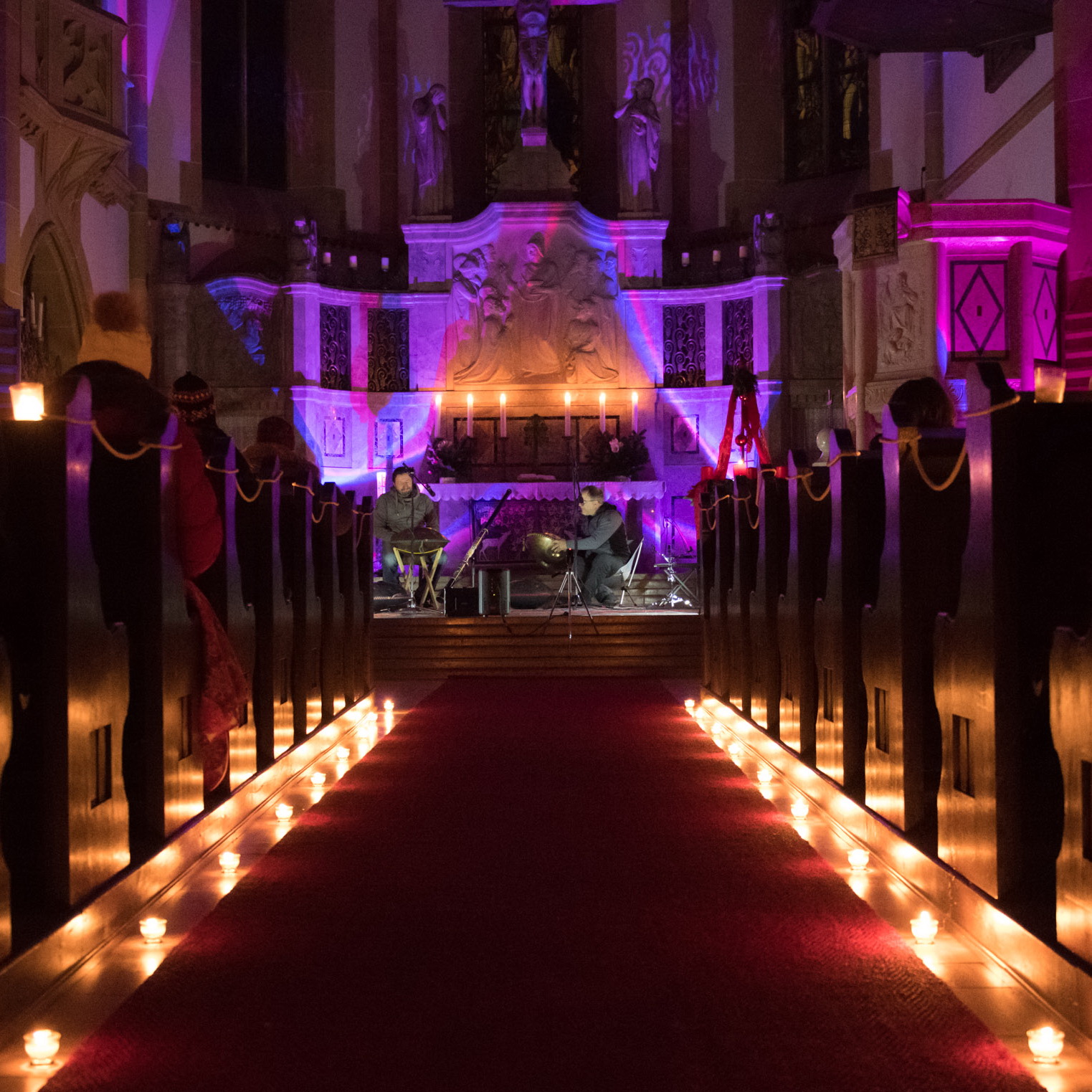 Manchmal landen Engel an ausgewählten Orten oder es fühlt sich zumindestens so an. Diesmal durften wir bei einer weihnachtlichen Andacht in der Heilg Kreuz Kirche in Röthenbach mit unserer Handpan Musik einen stimmungvollen Beitrag leisten. Die Akustik im Kirchenraum war fantastisch und geradezu wie geschaffen für die sphärischen Klänge. Einzigartig wie sie sich ausbreiteten und uns doch intensiv berührten. Wahnsinn!
What an experience. For the first time we played for dancers. Not just any dancers, but belly dancers. For Britta Fischer (alias Manjula) it was also a premiere. After a while it was a great and intuitive interaction of movement and music. Hopefully we can do it again. It was great! Thanks girls!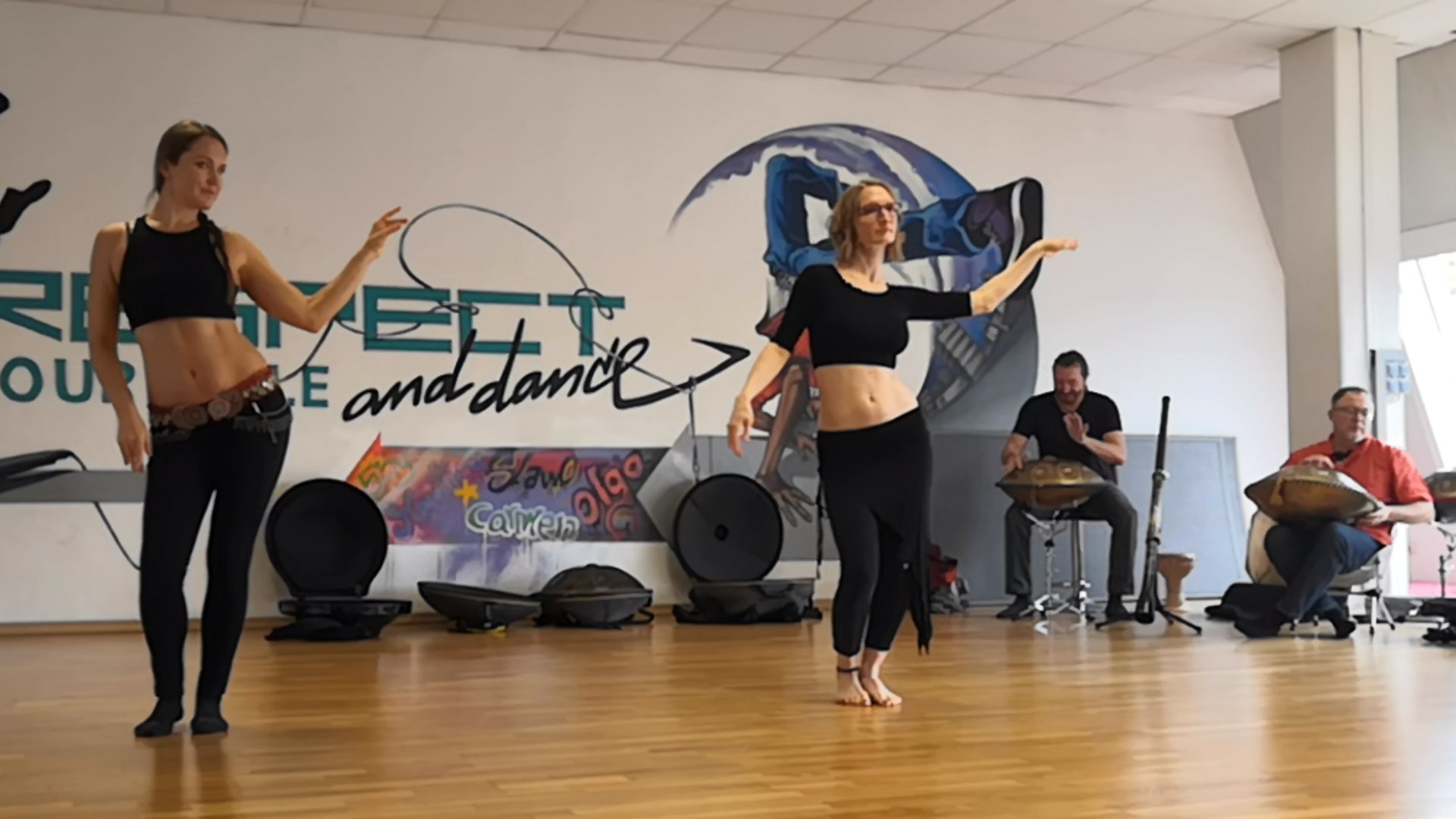 Foto: Britta Fischer (alias Manjula)
Was für eine Erfahrung. Zum ersten Mal haben wir für Tänzerinnen gespiel. Nicht irgendwelche, sondern Bauchtänzerinnen. Für Britta Fischer (alias Manjula) war es auch eine Premiere. Nach einer Weile war es ein tolles und intuitives Zusammenspiel von Bewegung und Musik. Hoffentlich können wir das nochmal machen. War toll! Danke Mädels!
With an exclusive serenade at the registry office in Nuremberg we sent the newlyweds on a virtual honeymoon with our songs "Fly away" and "Stop over".
∞ May the rhythm and the positive vibration accompany the bridal couple on their future path of life. ∞
Mit einem exklusiven Ständchen auf dem Standesamt in Nürnberg schickten wir das Brautpaar mit unseren Liedern "Fly away" und "Stop over" auf eine virtuelle Hochzeitsreise.
∞ Möge der Rhythmus und die positive Schwingung das Brautpaar auf seinem zukünftigen Lebensweg begleiten. ∞
20 th – 24 th August 2020
Five fantastic days with dear friends and the enthusiastic Handpan Community on the HÄNGAUT 2020 was a source of energy in these special times. Many thanks to all the unique people we met.
And a very special thanks to Martin and his team who made all this possible at this special place Böllerbauer.
Fünf fantastische Tage mit lieben Freunden und der begeisterten Handpan-Gemeinschaft auf dem HÄNGAUT 2020 waren eine Energiequelle in diesen besonderen Zeiten. Vielen Dank an all die einzigartigen Menschen, die wir treffen durften.
Und ein ganz besonderer Dank an Martin und sein Team, die das alles an diesem besonderen Ort Böllerbauer möglich gemacht haben.
A gathering of musicians of folk music of the Upper Palatinate and the spiritual Handpan music of GO∞OM in Achtel was an exiting event for us and the audience.
Thanks for letting us be there. Gladly more of it at this great place with very lovely people.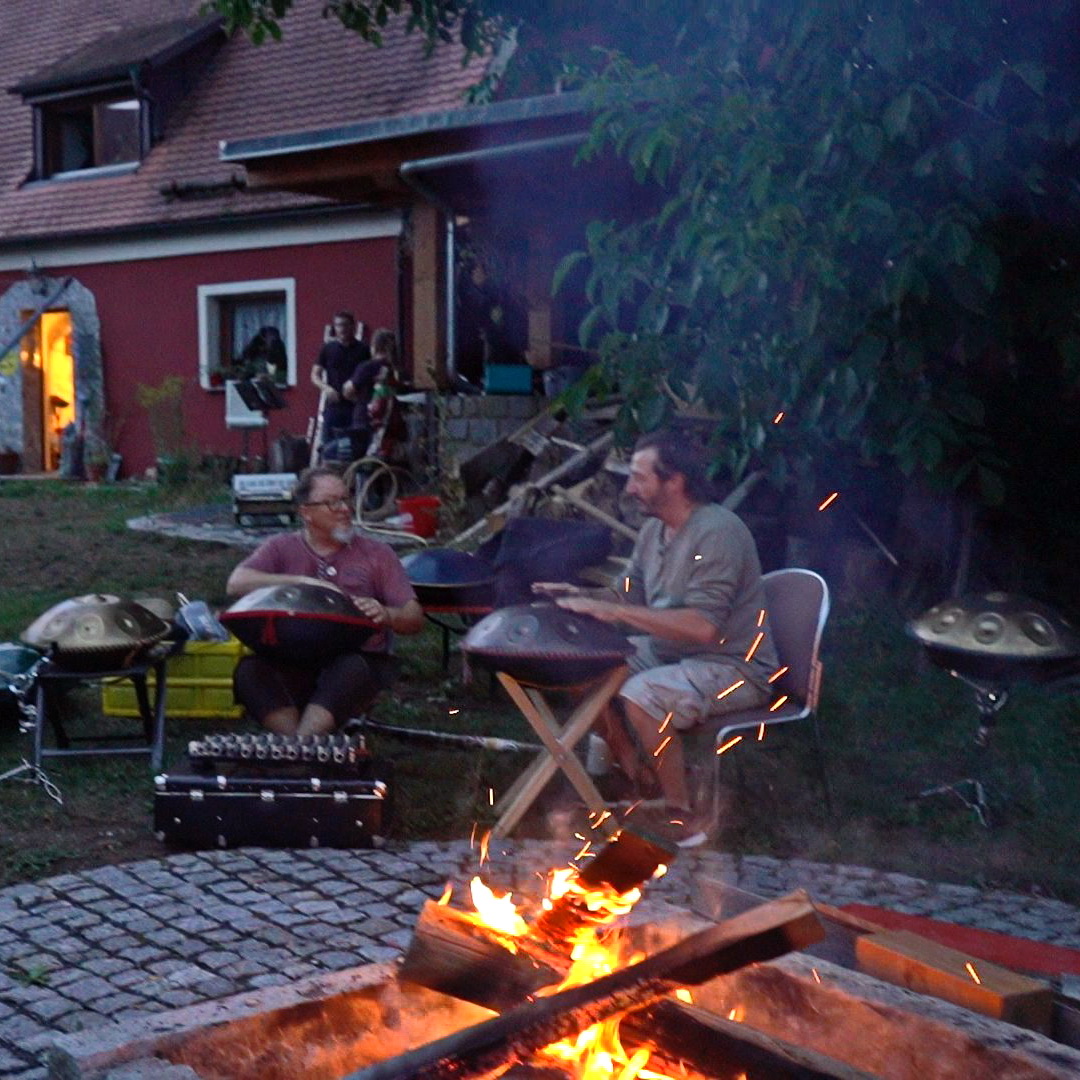 Ein Treffen von Musikern der oberpfälzischen Volksmusik und der spirituellen Handpan Musik von GO∞OM in Achtel war ein spannendes Ereignis für uns und das Publikum.
Danke, dass wir dabei sein durften. Gerne noch mehr davon an diesem tollen Ort mit sehr netten Menschen.
At a cool place in Hersbruck we have recorded some new music videos with grooving songs.
We will make them available online asap. Promised.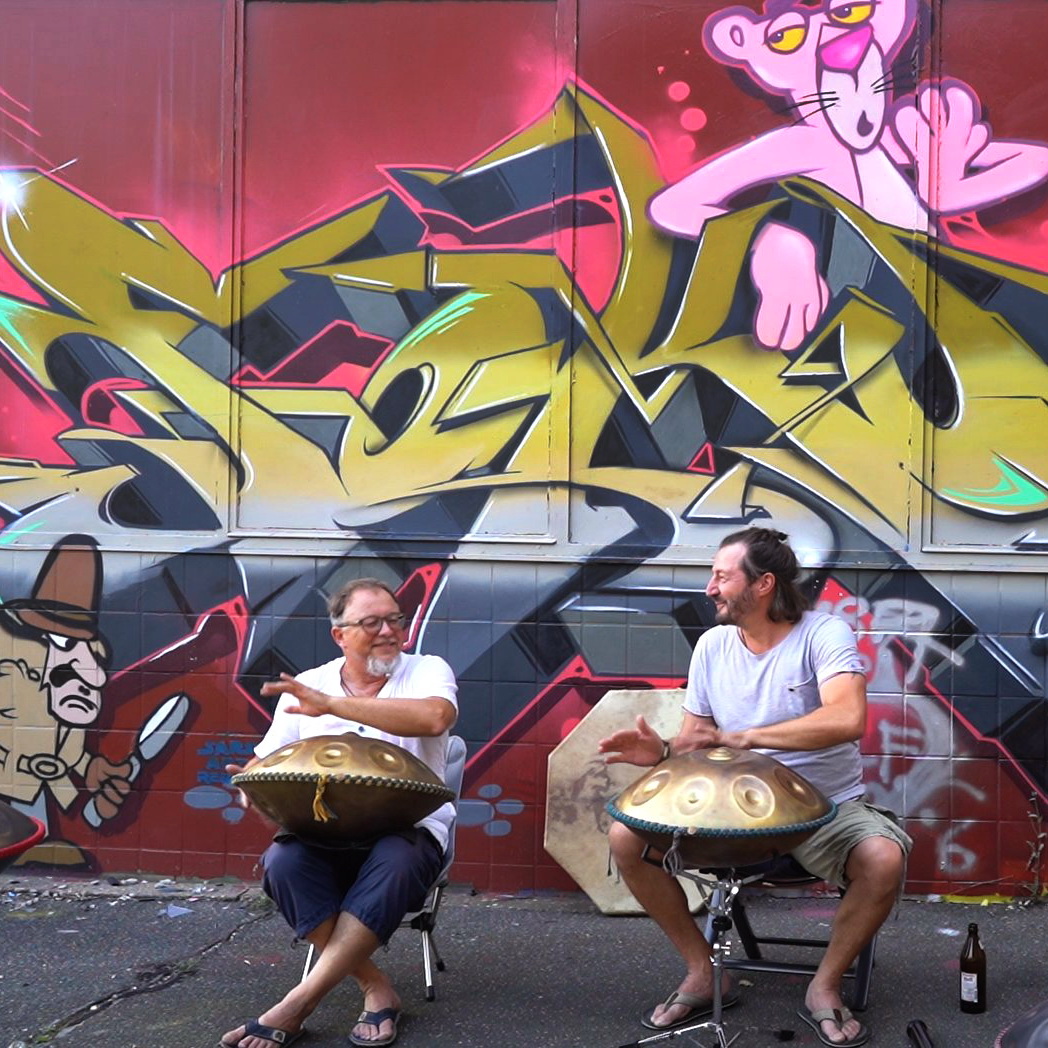 An einem coolen Ort in Hersbruck haben wir einige neue Musikvideos mit groovenden Songs aufgenommen.
Wir werden sie so bald wie möglich online zur Verfügung stellen. Versprochen.
GO∞OM performance at a birthday party in Fürth
as a surprise for the birthday celebrant.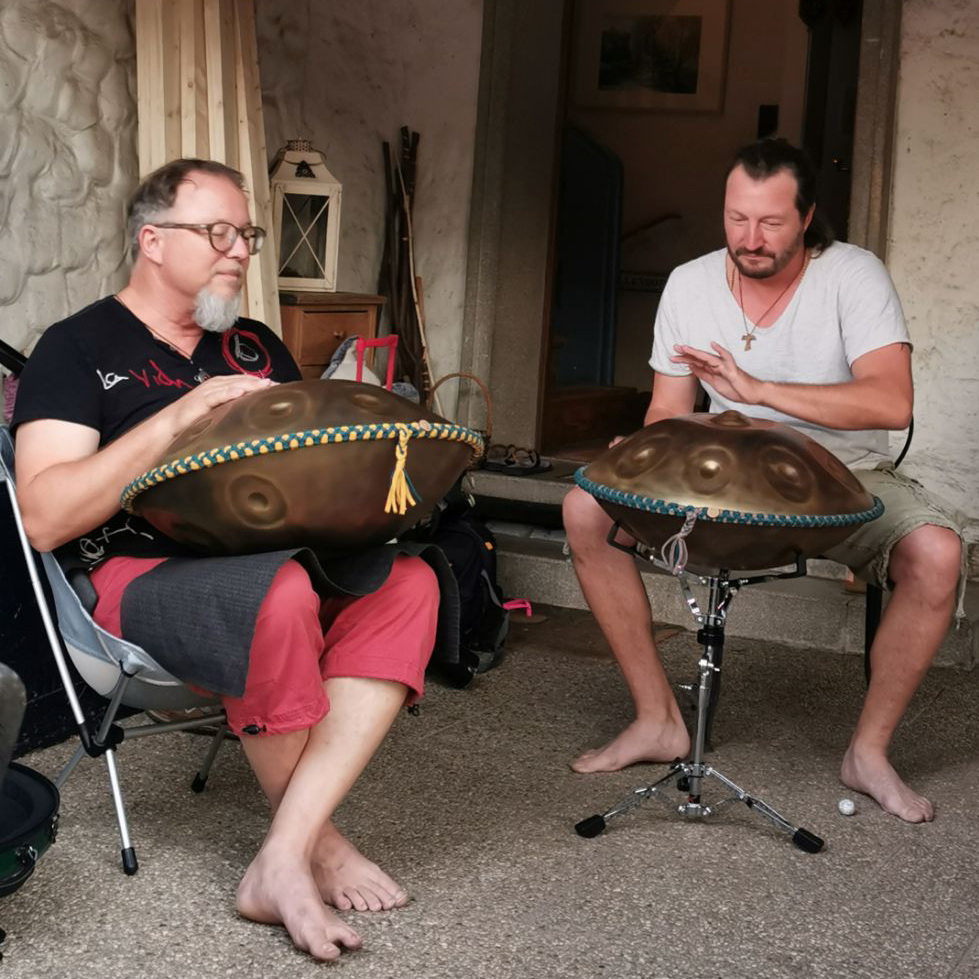 GO∞OM Auftritt bei einer Geburtstagsfeier in Fürth
als Überraschung für das Geburtstagskind.
inGO is jamming with Christoph Lefherz (Sax) and Pascal Haas (percussion) at a birthday party in Nürnberg
as a surprise for the birthday celebrant.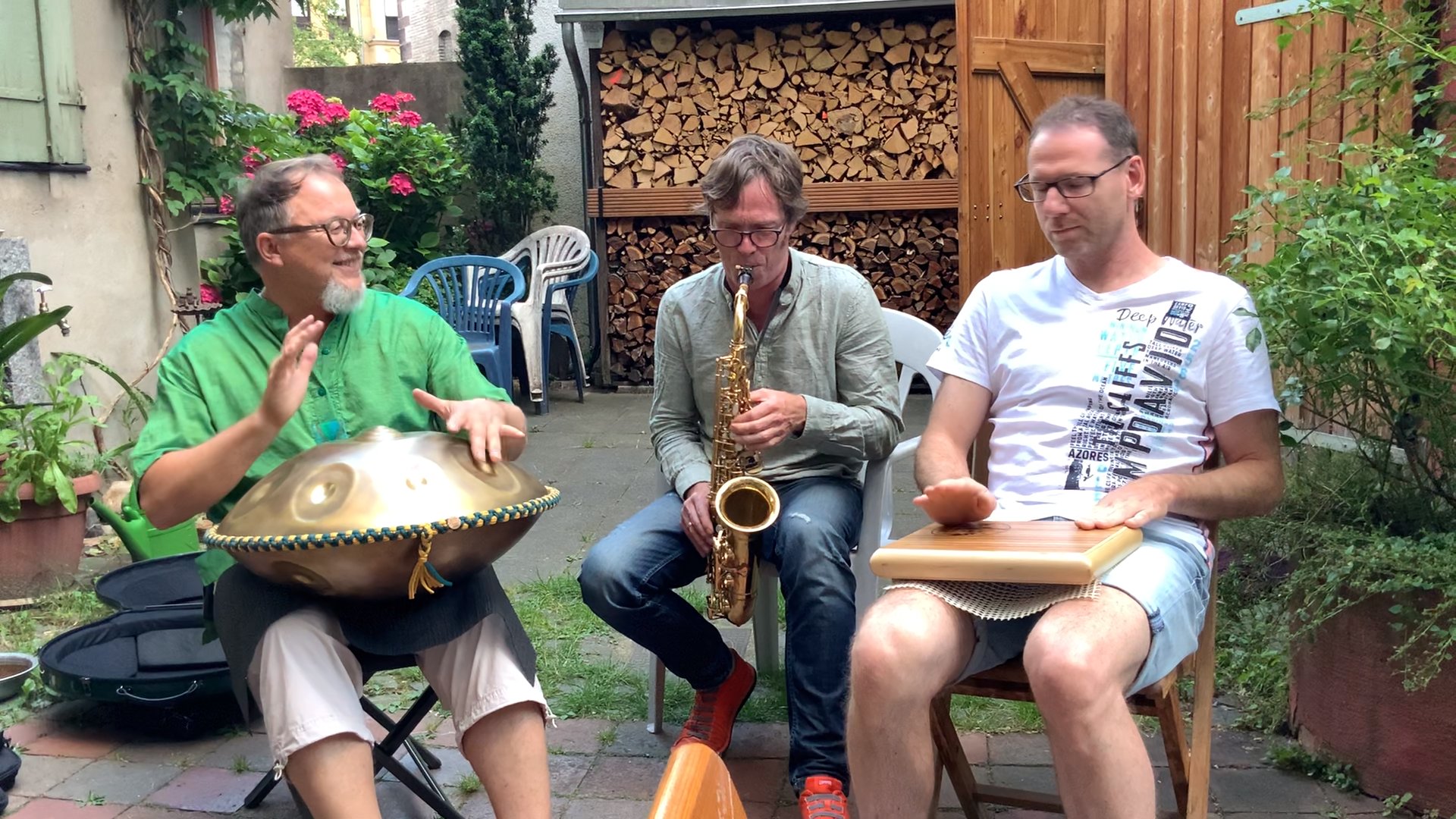 inGO jammt mit Christoph Lefherz (Saxophon) und Pascal Haas bei einer Geburtstagsfeier in Nürnberg
als Überraschung für das Geburtstagskind.
Two new handpan family members were welcomed joyfully.
Both C# minor soulshines were lovingly created for us by Clemens.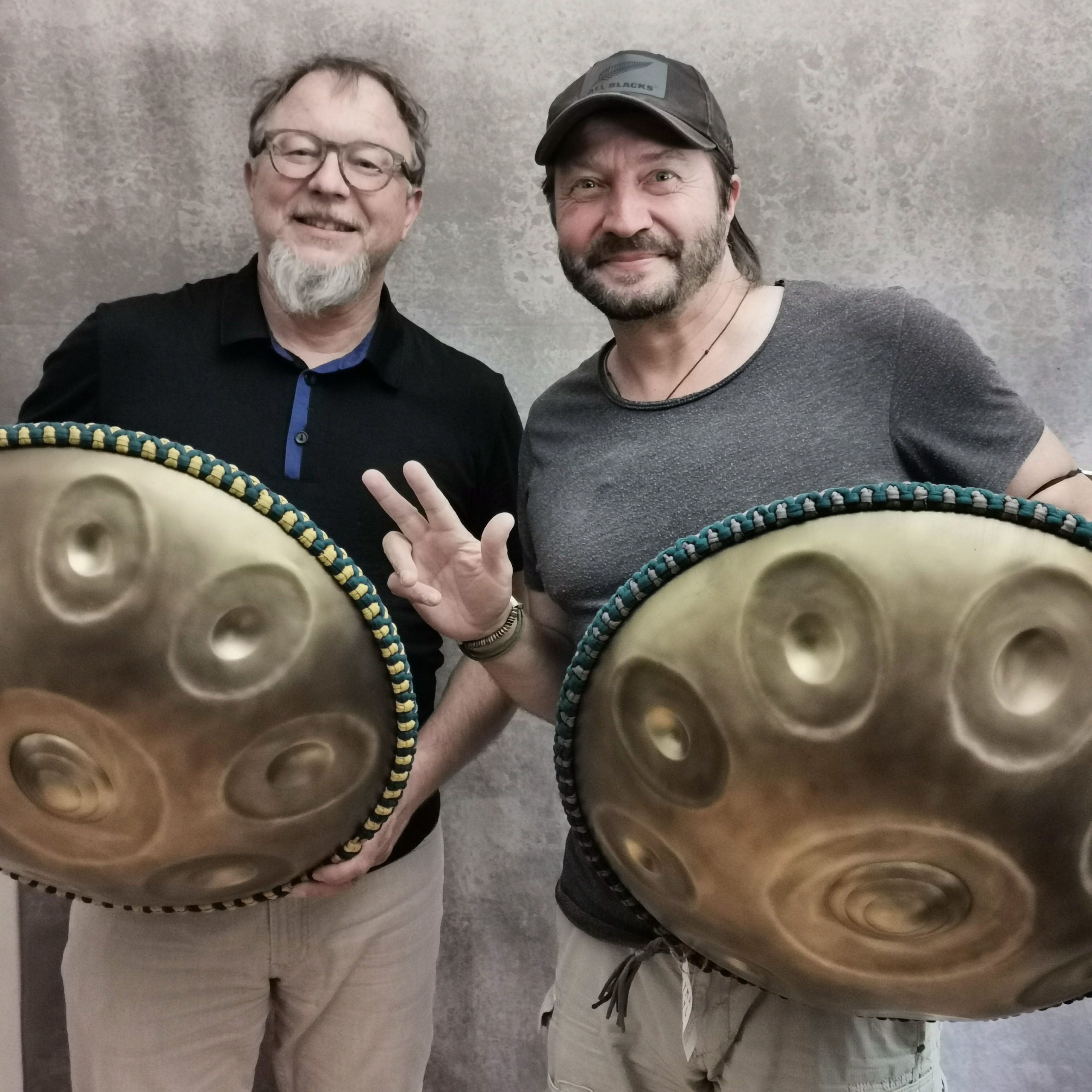 Zwei neue Handpan Familienmitglieder wurden freudig begrüßt.
Beide Cis-moll Soulshines wurden von Clemens liebevoll für uns gehämmert und gestimmt.