Surprise with cheese cream cake
What was actually meant as a surprise for the jubilarian Udo Langer from @Klangfeder, and this surprise definitely succeeded, also ended up being an unexpected surprise for us. After our surprise songs, the spontaneous jam with Udo was incomparable. He created magical sounds to our songs on his electric piano, which went deep under our skin, i.e. permanent goose bumps. That touched us all very much. To be continued for sure.
At the end, we had super delicious cheese-cream cake as a birthday cake.
Thanks to @muenchenergie for the great location with unique and sun energy charged atmosphere.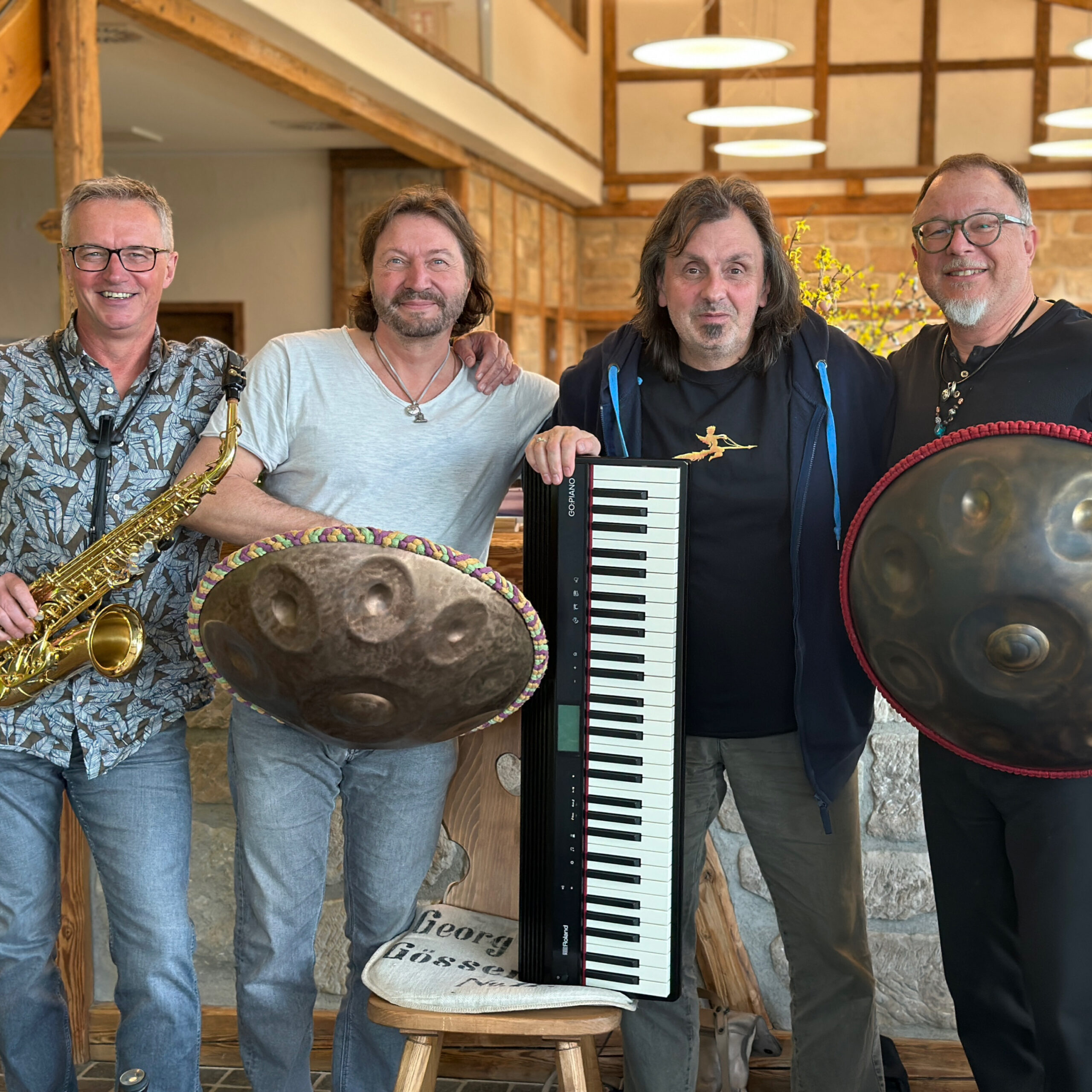 Überraschung mit Käsesahne-Schnitte
Was eigentlich als Überraschung für den Jubilar Udo Langer von @Klangfeder gedacht war, und diese Überraschung ist definitiv gelungen, wurde am Ende auch zu einer unerwarteten Überraschung für uns. Nach unseren Überraschungssongs war die spontane Jam mit Udo unvergleichlich. Er kreierte zauberhafte Sounds zu unseren Songs auf seinem E-Piano, die uns ganz tief unter die Haut gingen, sprich Dauer-Gänsehaut. Das hat uns alle sehr berührt. Fortsetzung folgt bestimmt.
Am Schluss gab es als Geburtstagskuchen noch super leckere Käsesahne-Schnitten.
Danke an @muenchenergie für die tolle Location mit einmaliger und Sonnenenergie geladener Atmosphäre.
On the celebration of the 10th anniversary of the organic shopping market in Hersbruck, many people were invited who have contributed to making something like this possible in a small town. The change begins in the small. Of course, the local "celebrities" were also present. Thank you, Erika Vogel, that we were invited by you to make an additional small contribution to the relaxed and friendly atmosphere at the festive event with our handpan music.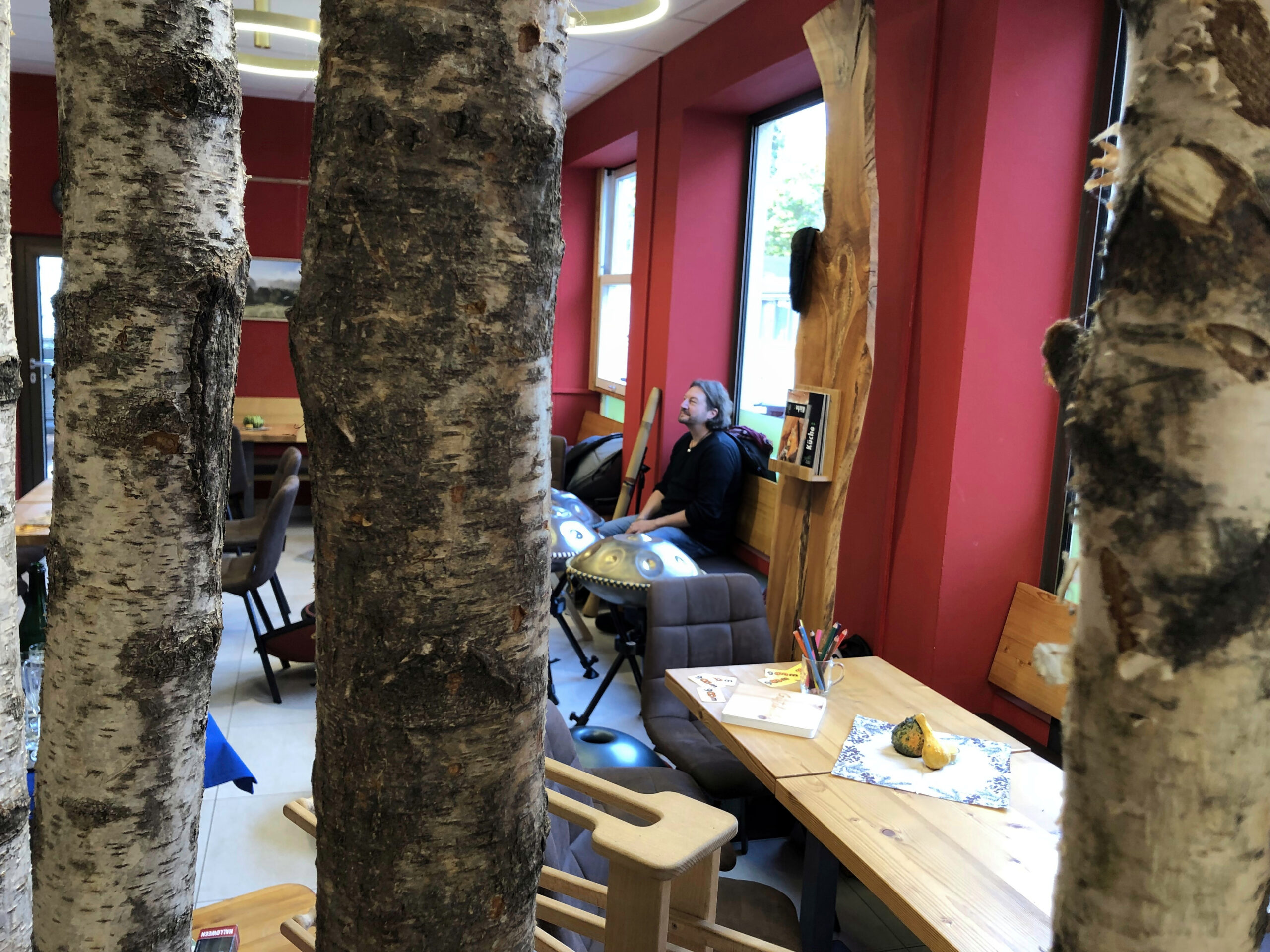 Zum 10-jährigen Jubiläum vom Bio-Markt in Hersbruck waren viele Menschen geladen, die dazu beigetragen haben in einer Kleinstadt so etwas möglich zu machen. Der Wandel beginnt im kleinen. Natürlich war auch die lokale "Prominenz" zugegen. Vielen Dank, Erika Vogel, dass wir von dir eingeladen wurden, bei der Festveranstaltung mit unserer Handpan-Musik zusätzlich einen kleinen Beitrag für die entspannte und freundschaftliche Atmosphäre zu leisten.

Talking shop, being together, gabbing, playing handpan, enjoying the SoulGarden. Jörg opened his doors to his wonderland again and welcomed us all with warm hearts. Thank you very much Jörg for making it possible again. Handpan community as it should be.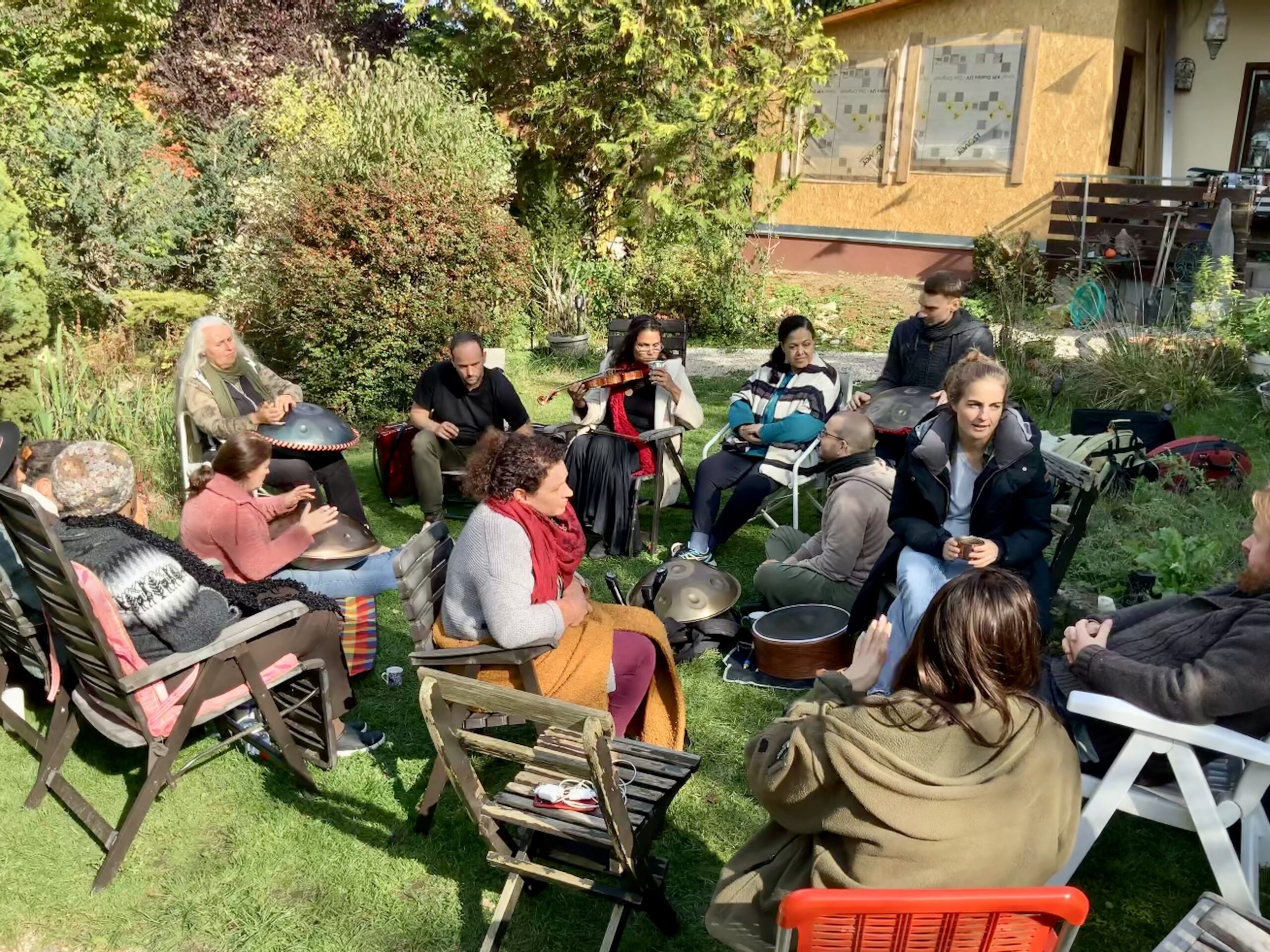 Fachsimpeln, zusammen sein, quatschen, Handpan spielen, den SoulGarden genießen. Jörg hat wieder seine Tore zu seinem Wunderland geöffnet und uns alle mit warmen Herzen empfangen. Vielen lieben Dank Jörg, dass du es wieder möglich gemacht hast. Handpan-Community wie sie sein sollte.
GO8OM live at Gutmann Nürnberg. GO8OM XL would like to thank the Hairdressers Guild of Nuernberg/Fuerth and all those involved (sound engineer, catering team) for this wonderful evening at the Gutmann Wanner. You were all super nice, and it was great fun to play here. Pantastic greetings inGO, tOM and aXeL (= GO8OM XL)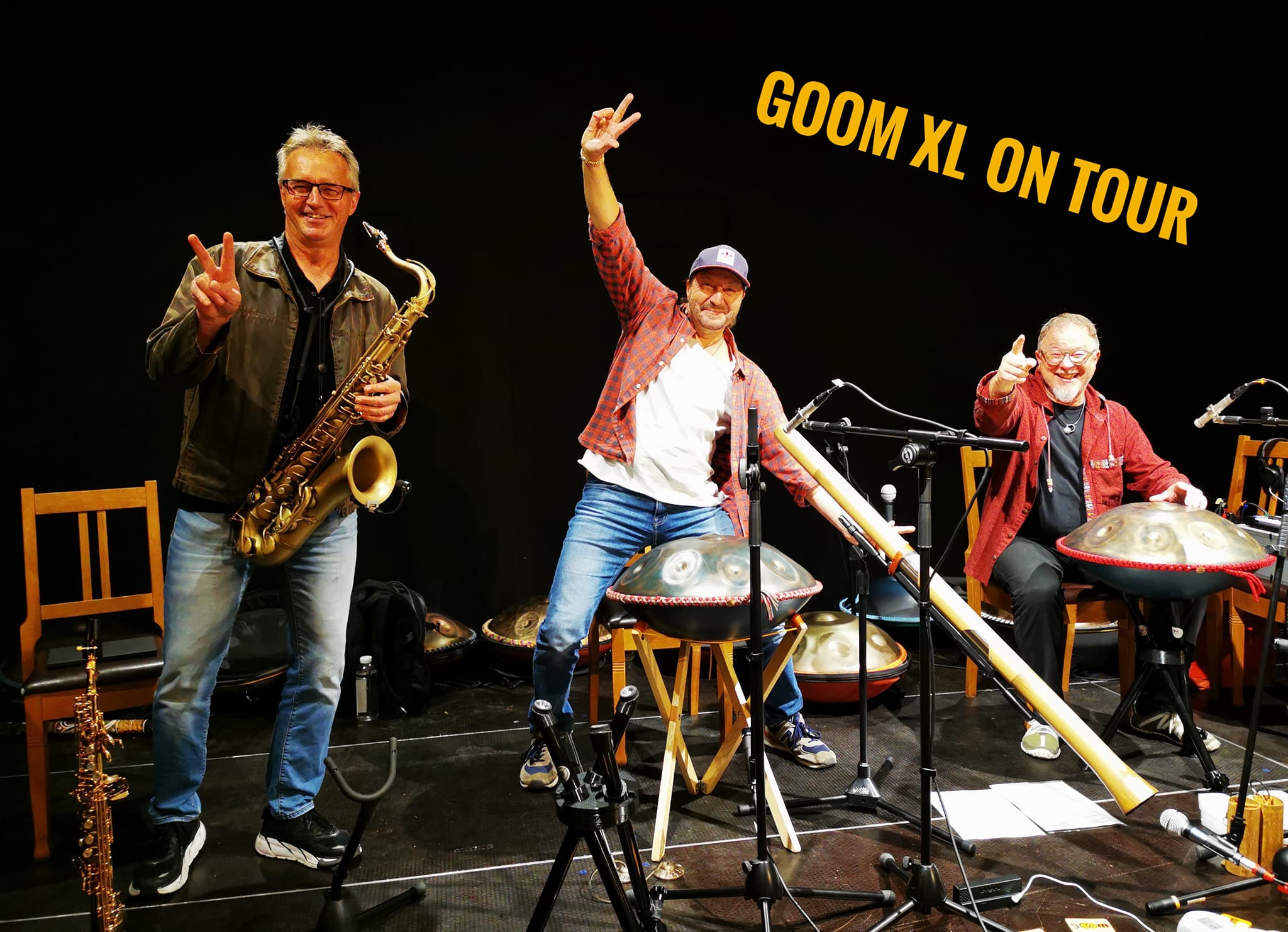 GO8OM live im Gutmann Nürnberg. GO8OM XL bedankt sich bei der Friseurinnung Nürnberg/Fürth und allen Beteiligten (Tontechniker, Catering-Team) für diesen wunderschönen Abend im Gutmann Wanner. Ihr wart alle super nett, und es hat großen Spaß gemacht, hier zu spielen. Pantastische Grüße inGO, tOM und aXeL (= GO8OM XL)
GO8OM live at Fenitzerplatzfest Nürnberg. It was a great pleasure to perform at this unique event. So many nice people from everywhere. Self-made food and wonderful Franconian beers. Thanks to the fantastic Orga- team who are organizing this event and for having us. Thank you, Markus Bauer for joining us with your overtone-singing.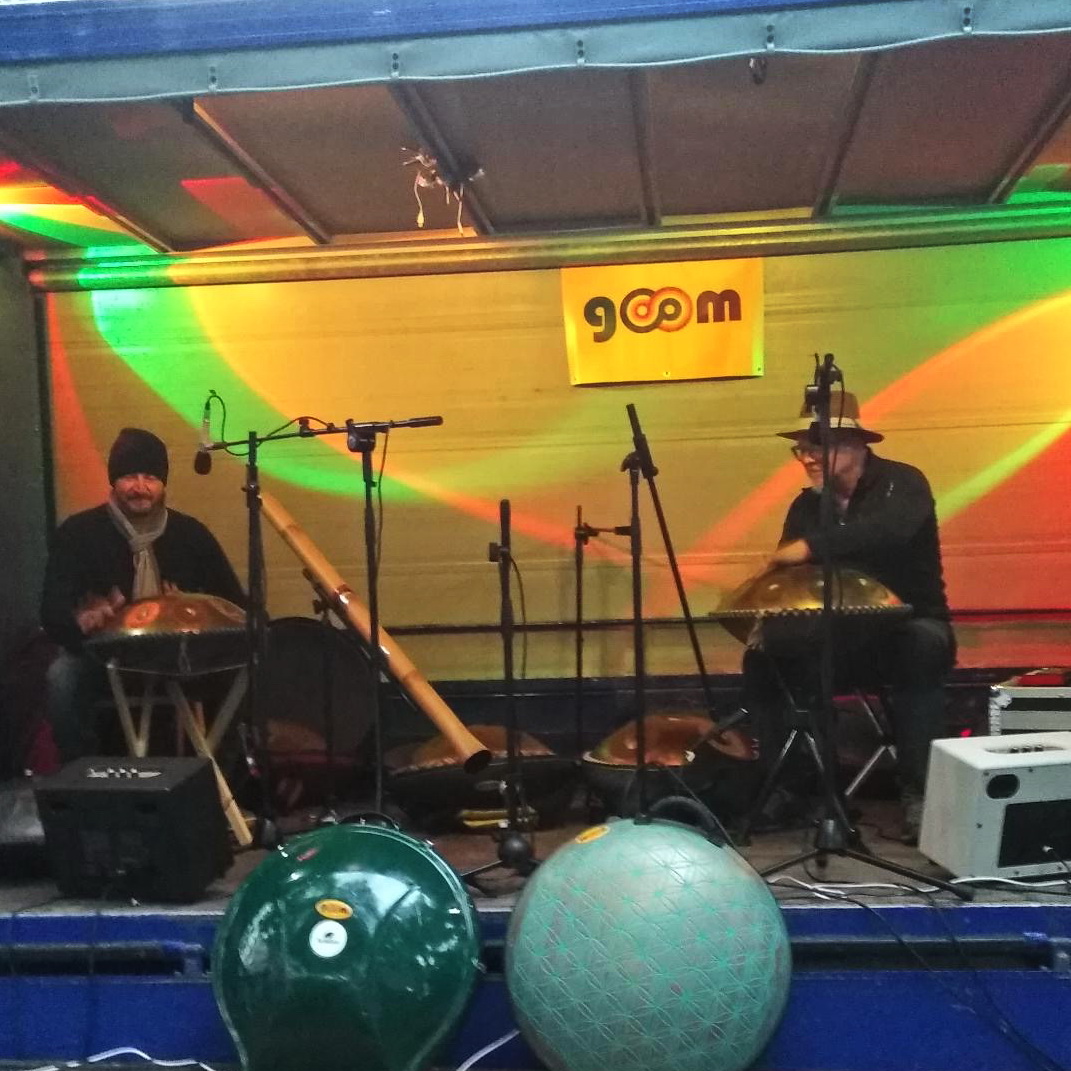 GO8OM live beim Fenitzerplatzfest Nürnberg. Es war eine große Freude, bei diesem einzigartigen Event aufzutreten. So viele nette Leute von überall her. Selbstgemachtes Essen und wunderbare fränkische Biere. Danke an das fantastische Orga-Team, das diese Veranstaltung organisiert und uns eingeladen hat. Danke, Markus Bauer, dass Du uns mit Deinem Obertongesang begleitet hast.
Thank you very much that we GO8OM XL were able to experience the Erdenhimmelzeit together in Rugendorf. It was again a very touching concert with many dear people and honest energy. Many thanks also for the excellent hospitality and the great location.
Your inGO, tOM and aXeL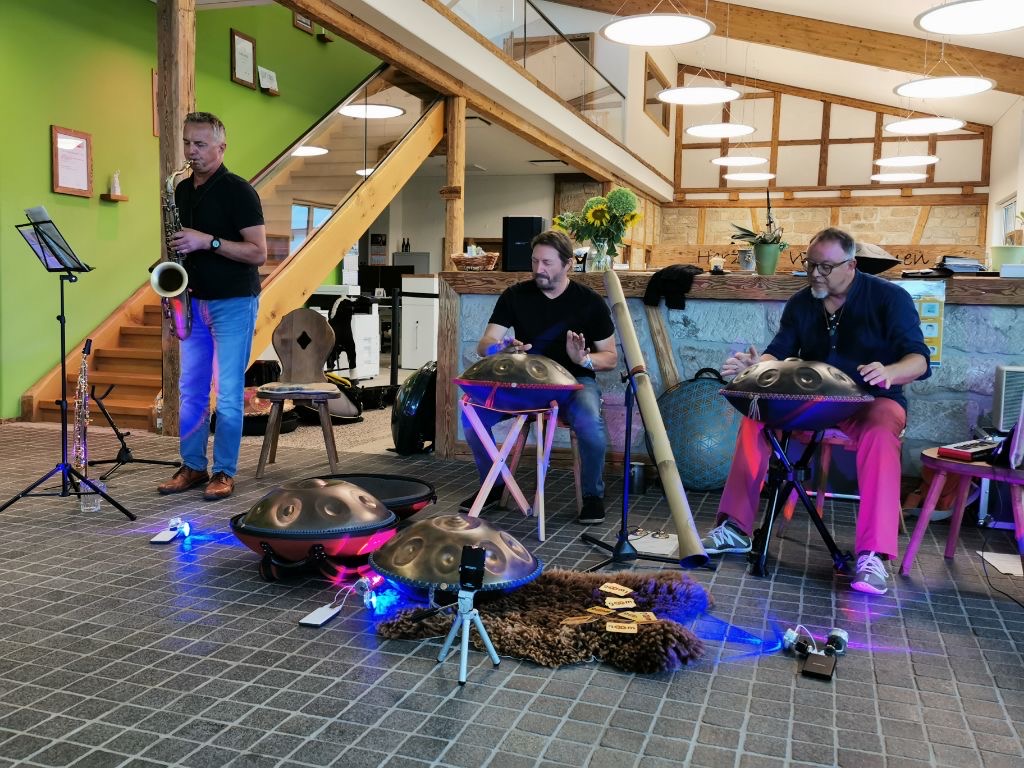 Vielen lieben Dank das wir GO8OM XL zusammen die Erdenhimmelzeit in Rugendorf erleben durften. Es war wieder ein sehr berührendes Konzert mit vielen lieben Menschen und ehrlicher Energie. Herzlichen Dank auch für die hervorragende Bewirtung und die tolle Location . Euer inGO, tOM und aXeL .
Once again, the time at  GRIASDI 2022 flew by. Reuniting with dear friends and meeting new handpan enthusiasts was magical. We would like to thank you all for the time we was able to spend with you. The GRIASDI offers a wonderful space in a peaceful and inspiring way to make the world a little more livable with touching sounds. The sounds on the "big" stage were provided by many artists, including Flavio Salvaje, Andrea Szabadi, David Kuckhermann, Marcel Hutter,  Christian Amín Varkonyi, Pablito Bertone,  MEA, Archer & Tripp, Quentin Kayser, Alexandre Lora, Kabeção (Amalua Spirit, Rafael Sotomayor, Mar Loi García Ascanio, Mia Lev and many more also contributed).
A big thank you to Martin Zoepfl. The fact that you always put together such a festival and get-together with so much enthusiasm, commitment and willingness to take risks is top class. Kudos to you!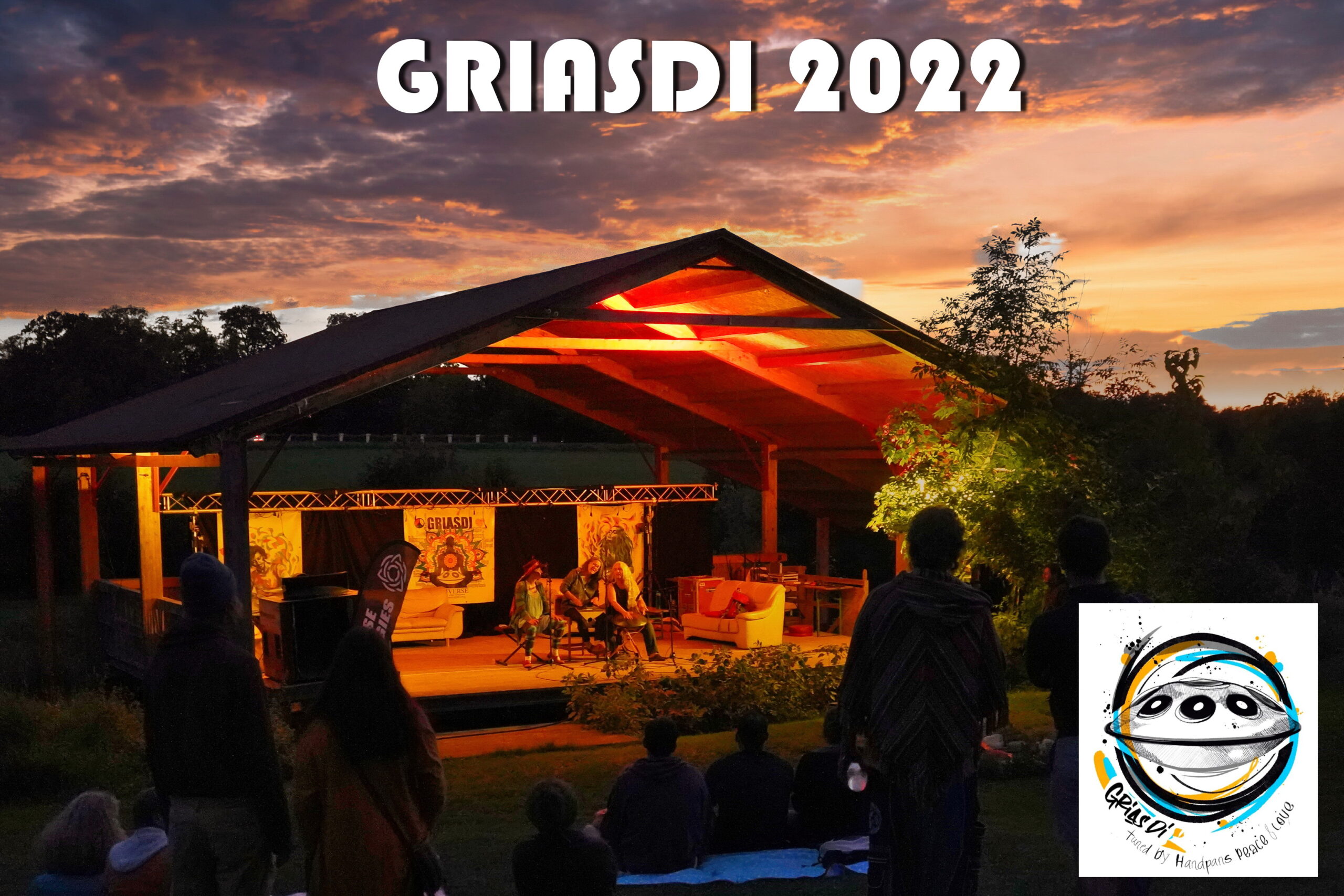 Wieder einmal verging die Zeit auf der GRIASDI 2022 wie im Fluge. Das Wiedersehen mit lieben Freunden und das Kennenlernen neuer Handpan-Enthusiasten war magisch. Wir möchten uns bei euch allen für die Zeit bedanken, die wir mit euch verbringen durften. Das GRIASDI bietet einen wunderbaren Raum, um in friedlicher und inspirierender Weise die Welt mit berührenden Klängen ein wenig lebenswerter zu machen. Die Klänge auf der "großen" Bühne wurden von vielen Künstlern beigesteuert, darunter Flavio Salvaje, Andrea Szabadi, David Kuckhermann, Marcel Hutter, Christian Amín Varkonyi, Pablito Bertone, MEA, Archer & Tripp, Quentin Kayser, Alexandre Lora, Kabeção (Amalua Spirit, Rafael Sotomayor, Mar Loi García Ascanio, Mia Lev und viele mehr).
Ein großes Dankeschön an Martin Zoepfl. Dass du immer wieder mit so viel Enthusiasmus, Engagement und Risikobereitschaft ein solches Festival und Get-Together auf die Beine stellst, ist Spitzenklasse. Großes Lob an dich!
The wny_handpan_summer_academy was a fabulous and amazing handpan event. We were able to spend seven impressive and fulfilling days with some of the best Handpan teachers. mea.handpan, amalua_music, kabecaohandpan, handpandojo David Kuckermann, _nadishana_, archerandtripp, aminvarkonyi, Rafael Sotomayor, alexandrelora. We take home many different styles and techniques, as well as many ideas about what handpan playing is all about. In addition, there was a huge social programme such as yoga, sound healing, children's programme and much more. The WNY was fantastically prepared, organised and accompanied by Bernadette and many helping hands of volunteers. Many thanks for that. We will carry this time in our hearts for a long time. Those who were not there should definitely make a note of the WNY for 2023. ❤️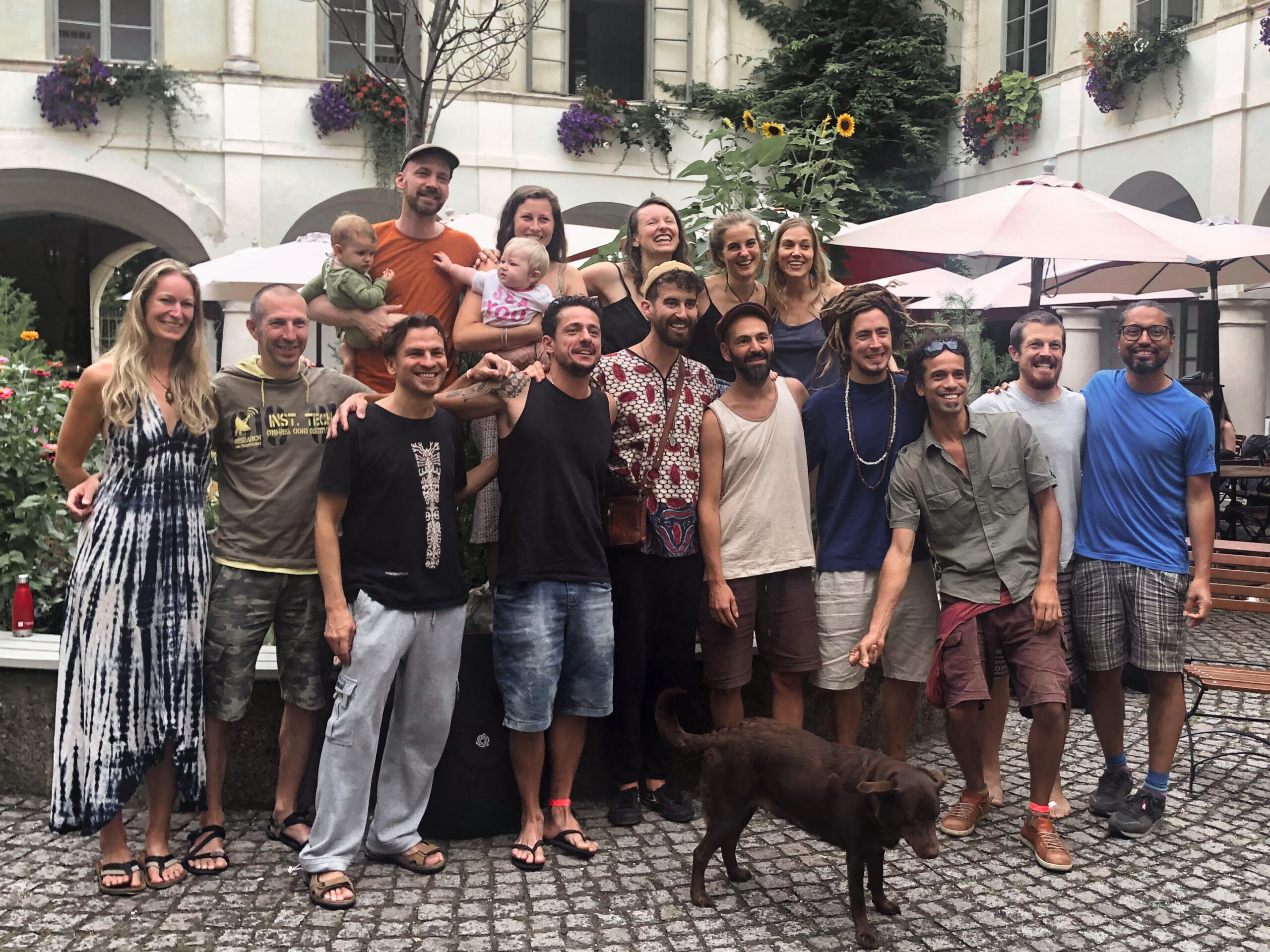 Die wny_handpan_summer_academy war ein fabelhaftes und fantastisches Handpan-Event. Wir konnten sieben beeindruckende und erfüllende Tage mit einigen der besten Handpan-Lehrer verbringen. mea.handpan, amalua_music, kabecaohandpan, handpandojo David Kuckermann, _nadishana_, archerandtripp, aminvarkonyi, Rafael Sotomayor, alexandrelora. Wir nehmen viele verschiedene Stile und Techniken mit nach Hause, sowie viele Ideen darüber, was das Handpanspiel ausmacht. Darüber hinaus gab es ein umfangreiches Rahmenprogramm mit Yoga, Klangheilung, Kinderprogramm und vielem mehr. Das WNY wurde von Bernadette und vielen helfenden Händen von Freiwilligen fantastisch vorbereitet, organisiert und begleitet. Vielen Dank dafür. Wir werden diese Zeit noch lange in unseren Herzen tragen. Diejenigen, die nicht dabei waren, sollten sich das WNY für 2023 unbedingt vormerken. ❤️
A beautiful evening, like this one in the RosenGarten & MondenHain Mindelstetten, with chilling handpan music needs just as much preparation as any other music event. First of all, the musical instruments have to be brought to the stage. Then the rest of the equipment such as speakers, mics, cables, accessories, etc. When everything is in place, the sound is tested. Every venue is different and needs full attention so that handpans, saxophone, synthesizer, percussion work well together and the audience hears what we musicians want them to hear. That takes time, as you can see in this time-lapse video. It is also exhausting. That's why we make sure to drink enough.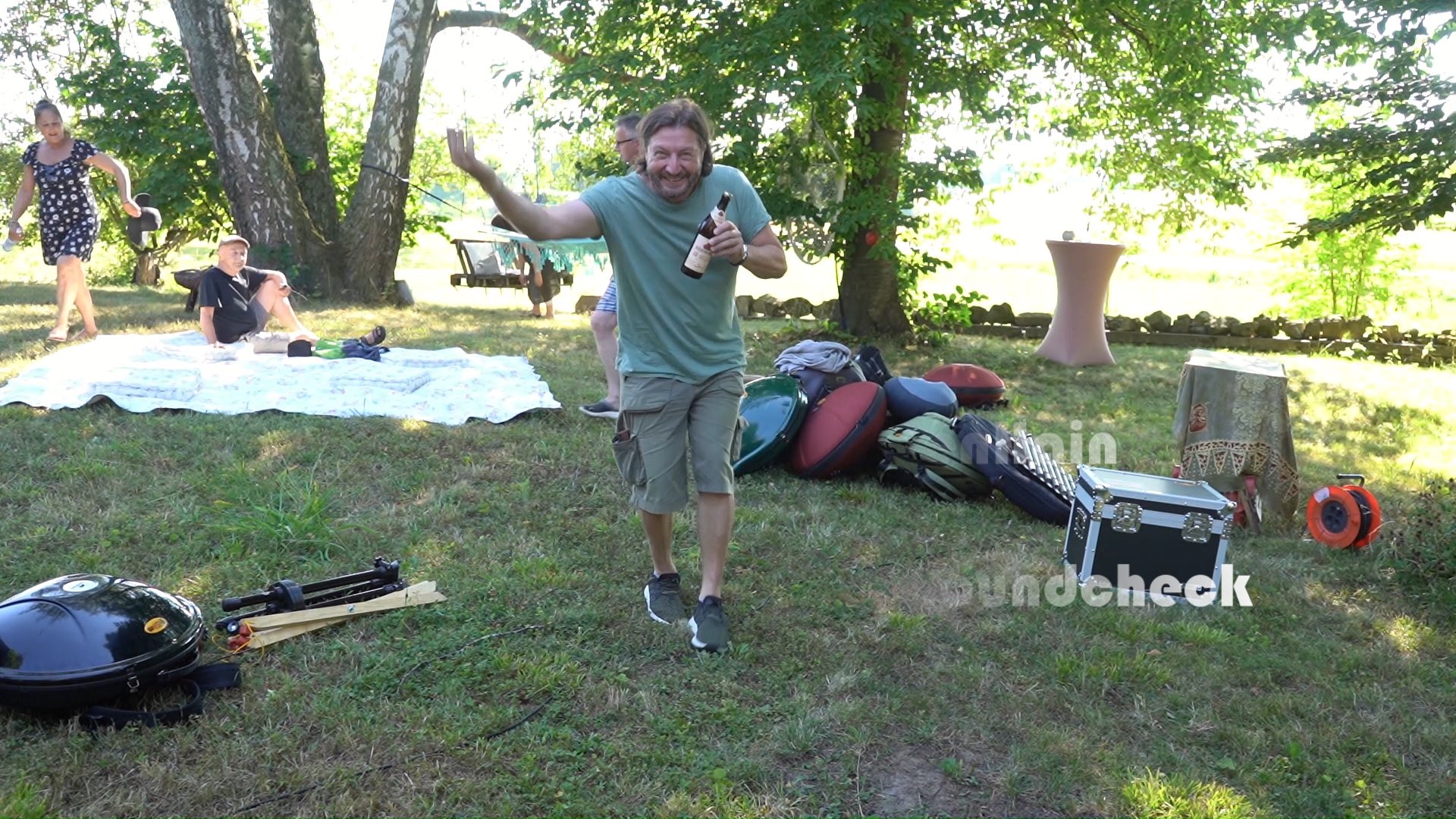 Ein schöner Abend, wie dieser im RosenGarten & MondenHain Mindelstetten, mit chilliger Handpan-Musik braucht genauso viel Vorbereitung wie jede andere Musikveranstaltung. Zunächst einmal müssen die Musikinstrumente auf die Bühne gebracht werden. Dann das restliche Equipment wie Lautsprecher, Mikrofone, Kabel, Zubehör usw. Wenn alles an seinem Platz ist, wird der Sound getestet. Jeder Veranstaltungsort ist anders und erfordert volle Aufmerksamkeit, damit Handpans, Saxophon, Synthesizer und Schlagzeug gut zusammenarbeiten und das Publikum das hört, was wir Musiker hören wollen. Das braucht Zeit, wie Sie in diesem Zeitraffer-Video sehen können. Es ist auch anstrengend. Deshalb sorgen wir dafür, dass wir genug trinken.
What a wonderful evening at St. Martin's Church. An extraordinary spiritual place has transported us musicians and the listeners into another dimension. Spontaneously we invited Timo and Andreas to a jam on stage. Awesome! But listen for yourself. And the weather invited us to linger with drinks and appetizers in front of the colorfully illuminated church during the intermission. A gift to be able to share such a moment with other people. Florian Wörnle and Sabrina Kielon, among others, made this possible. The support team from St. Martin's Church was unique. Thank you for your openness and hospitality.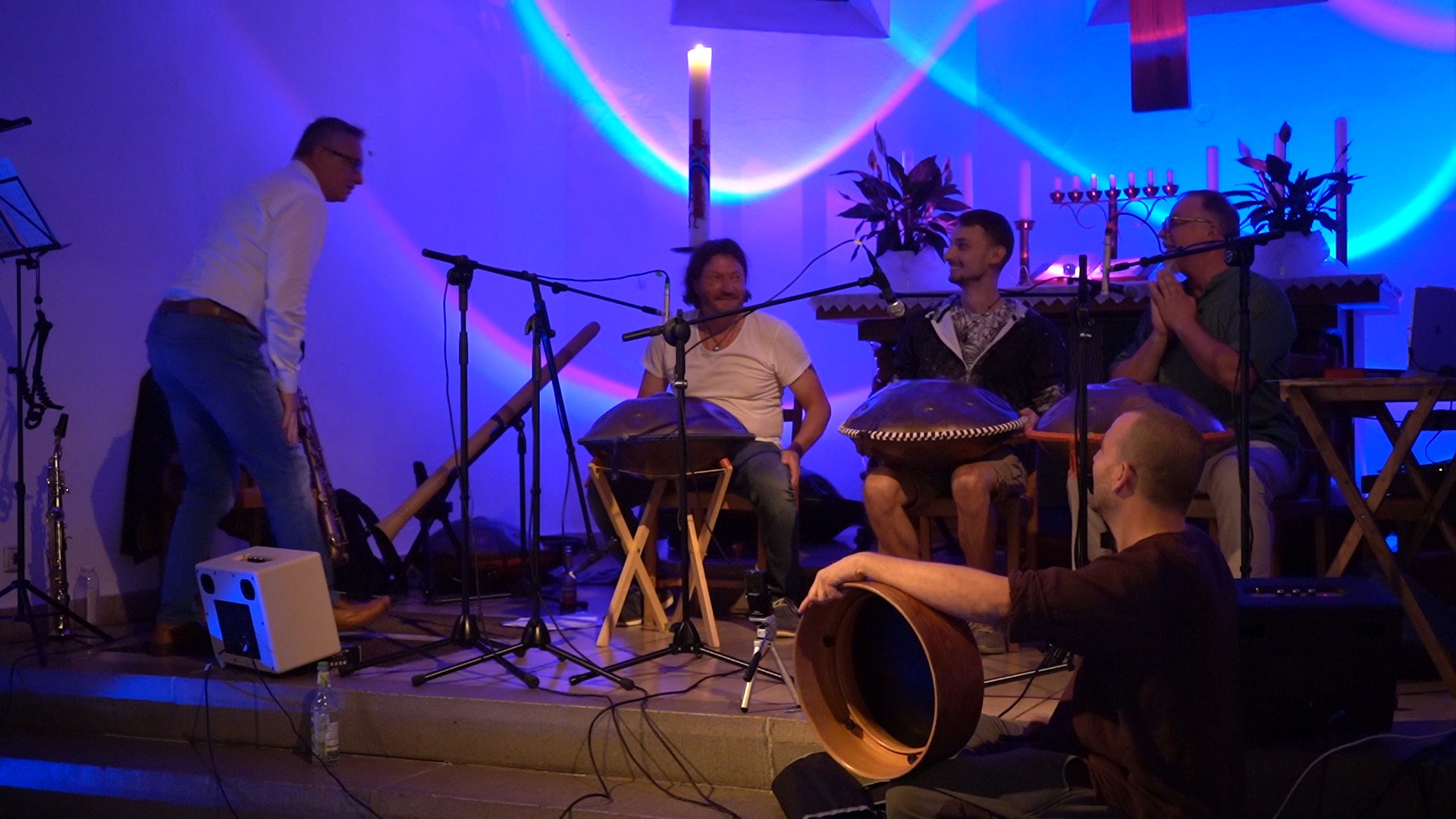 Was für ein wunderbarer Abend in der Martinskirche. Ein außergewöhnlich spiritueller Ort hat uns Musiker und die Lauschenden in eine andere Dimension versetzt. Spontan haben wir Timo und Andreas zu einer Jam auf der Bühne eingeladen. Grandios! Aber hört selbst. Und das Wetter hat in der Pause zum Verweilen mit Getränken und Häppchen vor der bunt angestrahlten Kirche eingeladen. Ein Geschenk, einen solchen Moment mit anderen Menschen teilen zu können. Möglich gemacht haben dies u.a. Florian Wörnle und Sabrina Kielon. Das Support Team von der Martinskirche war einmalig. Danke schön für Eure Offenherzigkeit und Eure Gastfreundschaft.
Thank you Timo Grobshäußer (@timo_handpan) and Andreas Koller (@mandara.music)
The private handpan festival Jörgstival – Servusla was an event touching our hearts and souls. In the most beautiful summer weather we musicians were able to experience an unforgettable time together with the fantastic audience. The following musicians took part Rainer Rabus, Timo Grobshäuser, Stefan Rittler, Philipp Gerisch, Jürgen Huck, BoAfriCo, Lea Valentina, GO∞OM, Mandara and all the other Handpan – Enthusiasts we had jammed. Many thanks to Jörg and the many others who made this festival possible. It was so beautiful. Thank you universe.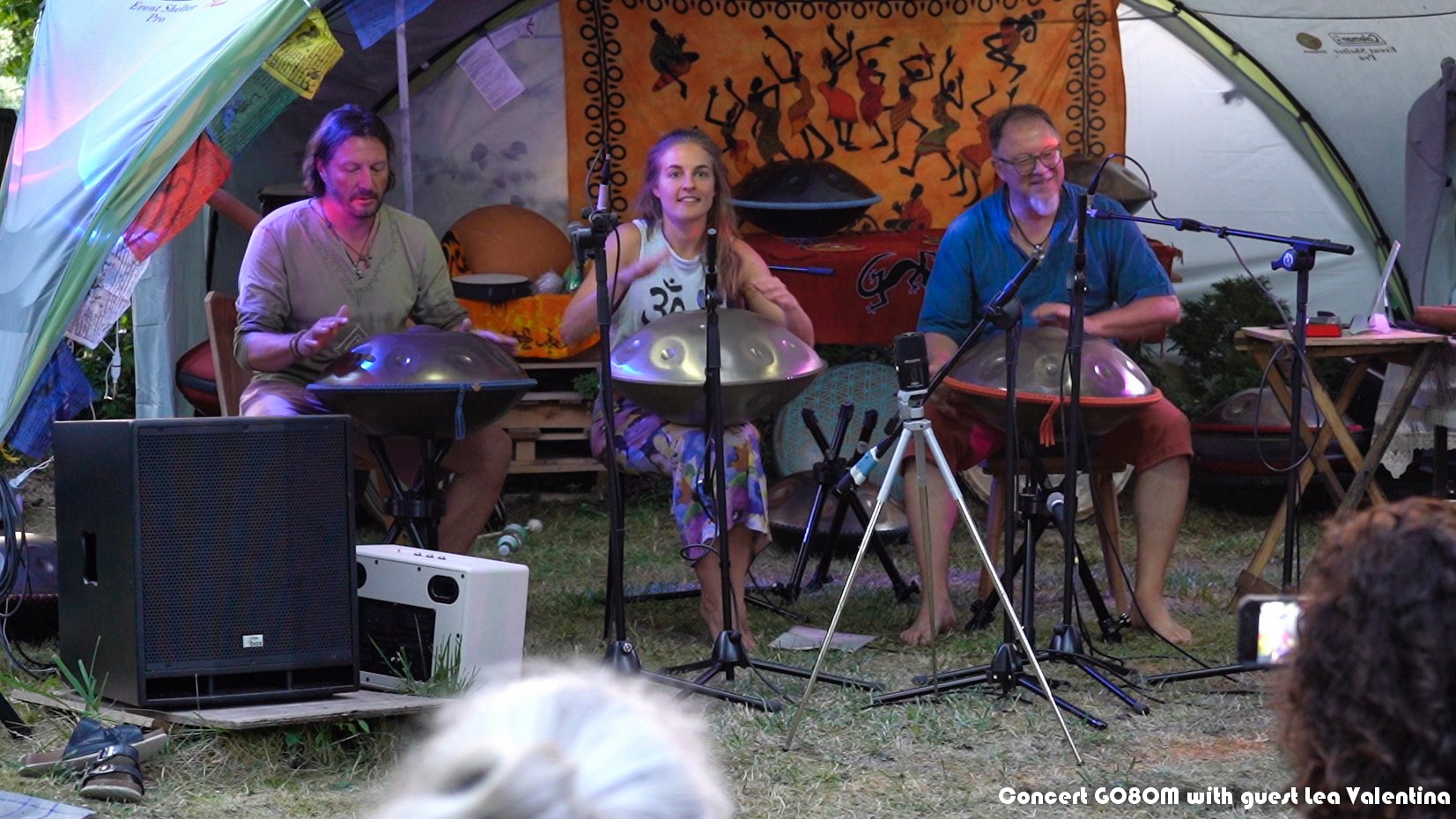 Das private Handpan-Festival Jörgstival – Servusla war ein Ereignis, das unsere Herzen und Seelen berührte. Bei schönstem Sommerwetter durften wir Musiker zusammen mit dem fantastischen Publikum eine unvergessliche Zeit erleben. Folgende Musiker waren dabei: Rainer Rabus, Timo Grobshäuser, Stefan Rittler, Philipp Gerisch, Jürgen Huck, BoAfriCo, Lea Valentina, GO∞OM, Mandara und all die anderen Handpan – Enthusiasten, mit denen wir gejammt haben. Vielen Dank an Jörg und die vielen anderen, die dieses Festival möglich gemacht haben. Es war so schön. Danke Universum.
For the opening of the special exhibition "Water is Life" of the artist Renate Kirchhof-Stahlmann we were allowed to let our handpan sounds flow in the Kulturbahnhof Ottensoos. This time with Axel on the saxophone. After the welcome by the organizer and celebrities as well as laudation there was room for music. For us, places with water are very spiritual sources of energy, where one or the other song has already been created. We felt well in the Kulturbahnhof. Thank you that we were allowed to create this event with you. We will be happy to come again.
Zur Eröffnung der Sonderausstellung "Wasser ist Leben" der Künstlerin Renate Kirchhof-Stahlmann durften wir unsere Handpan-Klänge im Kulturbahnhof Ottensoos fließen lassen. Diesmal mit Axel am Saxofon. Nach der Begrüßung durch den Veranstalter und Prominenz sowie Laudatio war Raum für Musik. Für uns sind Orte mit Wasser sehr spirituelle Energiequellen, an dem schon der eine oder andere Song entstanden ist. Wir haben uns im Kulturbahnhof gut aufgehoben gefüllt. Danke, dass wir mit euch dieses Event gestalten durften. Wir kommen gerne wieder.

With the first warming rays of sunshine it has driven us out again. In the context of the exhibition FrühjahrsLust in the Wolfgangshof near Zirndorf we played handpan music for the passing visitors. This time we played the handpan standing up. With beat accented songs it was a great experience to be able to dance along to our own music. We would like to thank you very much for the given hat money.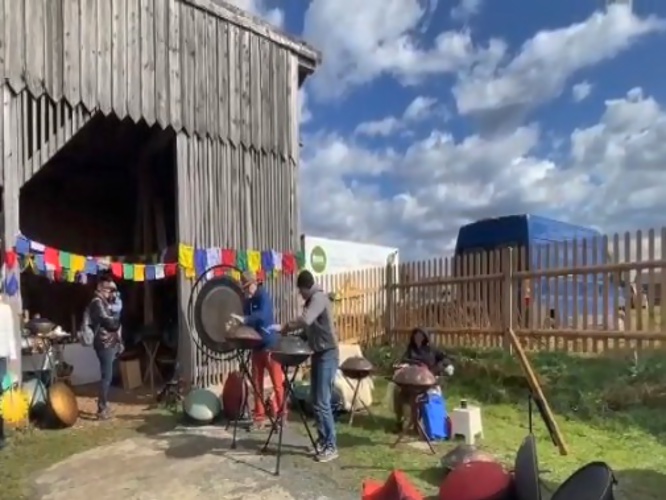 Mit den ersten wärmenden Sonnenstrahlen hat es uns wieder hinaus getrieben. Im Rahmen der Ausstellung FrühjahrsLust im Wolfgangshof bei Zirndorf haben wir die herum schlendernden Besucher und Besucherinnen mit Handpan-Musik verwöhnt. Diesmal haben wir die Handpan im Stehen gespielt. Bei Beat betonten Songs war das eine tolle Erfahrung zu eigenen Musik mit Tanzen zu können. Herzlich bedanken möchten wir uns für das gegebene Hutgeld.
During the practices for the concert in the Johanniskirche in Krautostheim, an older song "Fun Rise" came to our minds again. Suddenly the beat and the melody were in our heads. And we were on fire again. With the song in our luggage we happily drove to Krautostheim in Middle Franconia, whose name actually comes from white cabbage. The Johanniskirche treated us with beautiful acoustics. Many thanks to the parish and Wilfried Bröse for the invitation. The service including handpan music was recorded in its entirety due to the pandemic and can be viewed on YouTube here
https://www.youtube.com/watch?v=OK11NQaZUuQ&ab_channel=KircheKrautostheim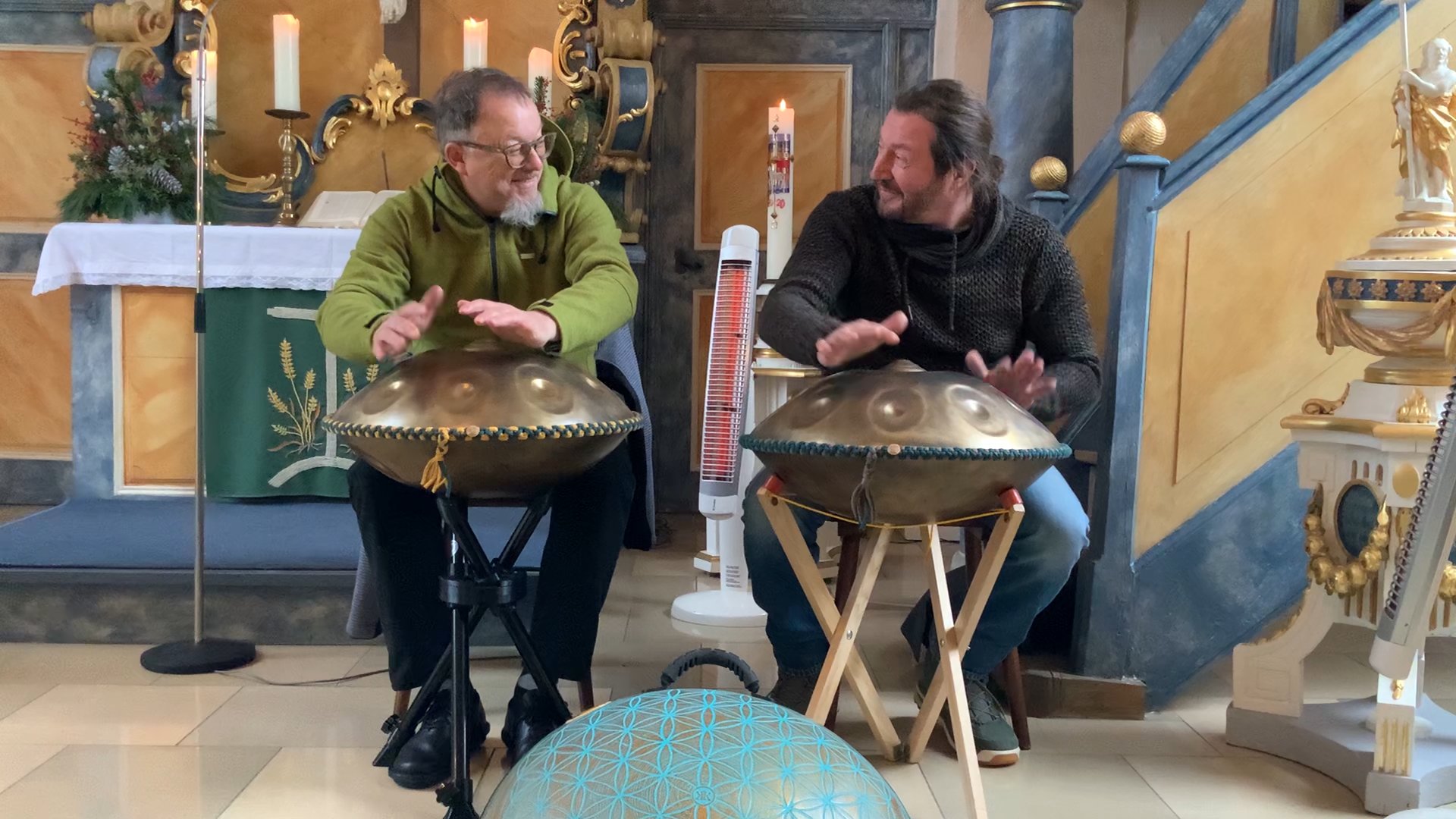 Bei den Proben zum Konzert in der Johanniskirche in Krautostheim, ist uns mal wieder ein älterer Song "Fun Rise" in den Sinn gekommen. Auf einmal waren der Beat und die Melodie in unseren Köpfen. Und wir waren wieder Feuer und Flamme. Mit dem Song im Gepäck sind wir frohgelaunt ins mittelfränkische Krautostheim gefahren, dessen Name tatsächlich vom Weißkohl stammt. Die Johanniskirche verwöhnte uns mit einer schönen Akustik. Vielen Dank an die Kirchengemeinde und Wilfried Bröse für die Einladung. Der Gottesdienst inkl. Handpan-Musik wurde wegen der Pandemie vollständig aufgezeichnet und kann auf YouTube hier
https://www.youtube.com/watch?v=OK11NQaZUuQ&ab_channel=KircheKrautostheim
angesehen werden.
At the end of the year in the Advent season we were again allowed to play in the inspiring atmosphere of the Heilig Kreuz Church in Röthenbach a.d.P.. The Christmas devotion and the atmosphere in the church was a feast for the soul. A sea of candles lit up the church interior. Perfect! The handpan music with synthesizer sounds, this time complemented by the wonderful sax of Axel Lorenz, felt almost like magic to us under such conditions. Many thanks to Pastor Heike Block-Mielke and the many helping hands of the Röthenbach church community for making this a success. As well as many thanks to Martin, Cornelia and Kirstin for the camera assistance.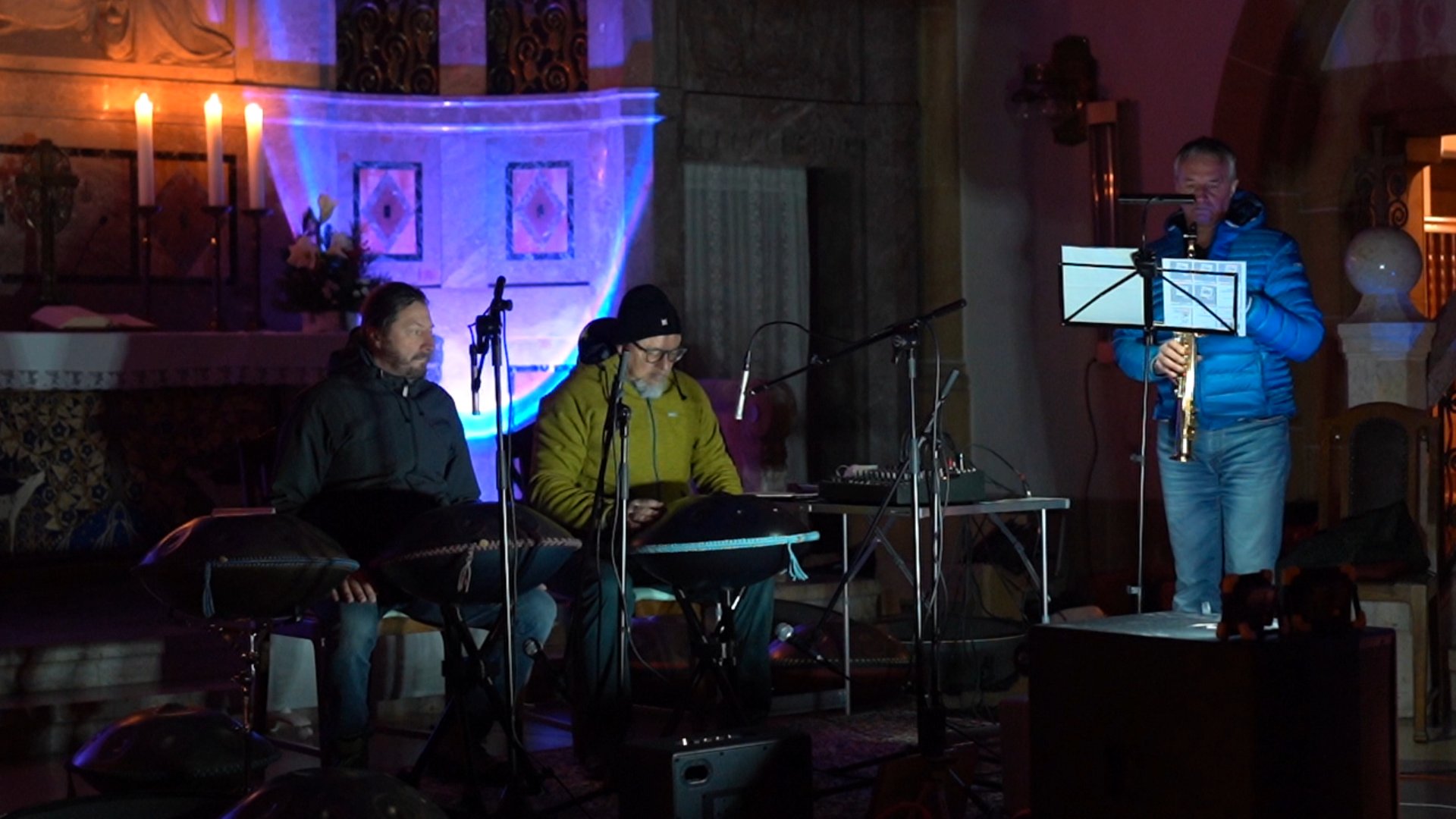 Zum Ausklang des Jahres in der Adventszeit durften wir wieder in der inspirierenden Atmosphäre der Heilig Kreuz Kirche in Röthenbach a.d.P. spielen. Die weihnachtliche Andacht und die Stimmung in der Kirche war ein Fest für die Seele. Ein Meer von Kerzen erleuchtete den Kirchenraum. Perfekt! Die Handpan Musik mit Synthesizerklängen, diesmal mit dem wunderbaren Sax von Axel Lorenz ergänzt, fühlte sich für uns unter solchen Bedingungen fast wie Magie an. Vielen Dank an Pfarrerin Heike Block-Mielke und die vielen helfenden Hände der Kirchengemeinde Röthenbach für das Gelingen. Sowie vielen Dank an Martin, Cornelia und Kirstin für die Kameraassistenz.
"We long for peace… We feel connected to all people… Your music interweaves with all the prayers that have resounded in this church for over 700 years… Your sounds open hearts, make something resonate, and make us feel something of the vastness and beauty of our universe." There is nothing to add to the words of Pastor Martin Irmer. Music and prayers were in harmony. Again a big thank to AXEL LORENZ (saxophone) for the sensitive accompaniment. And of course to the JuGo-team of St. Bartholomew (Eckental/Eschenau) who organized the service so great, including a beautiful illumination.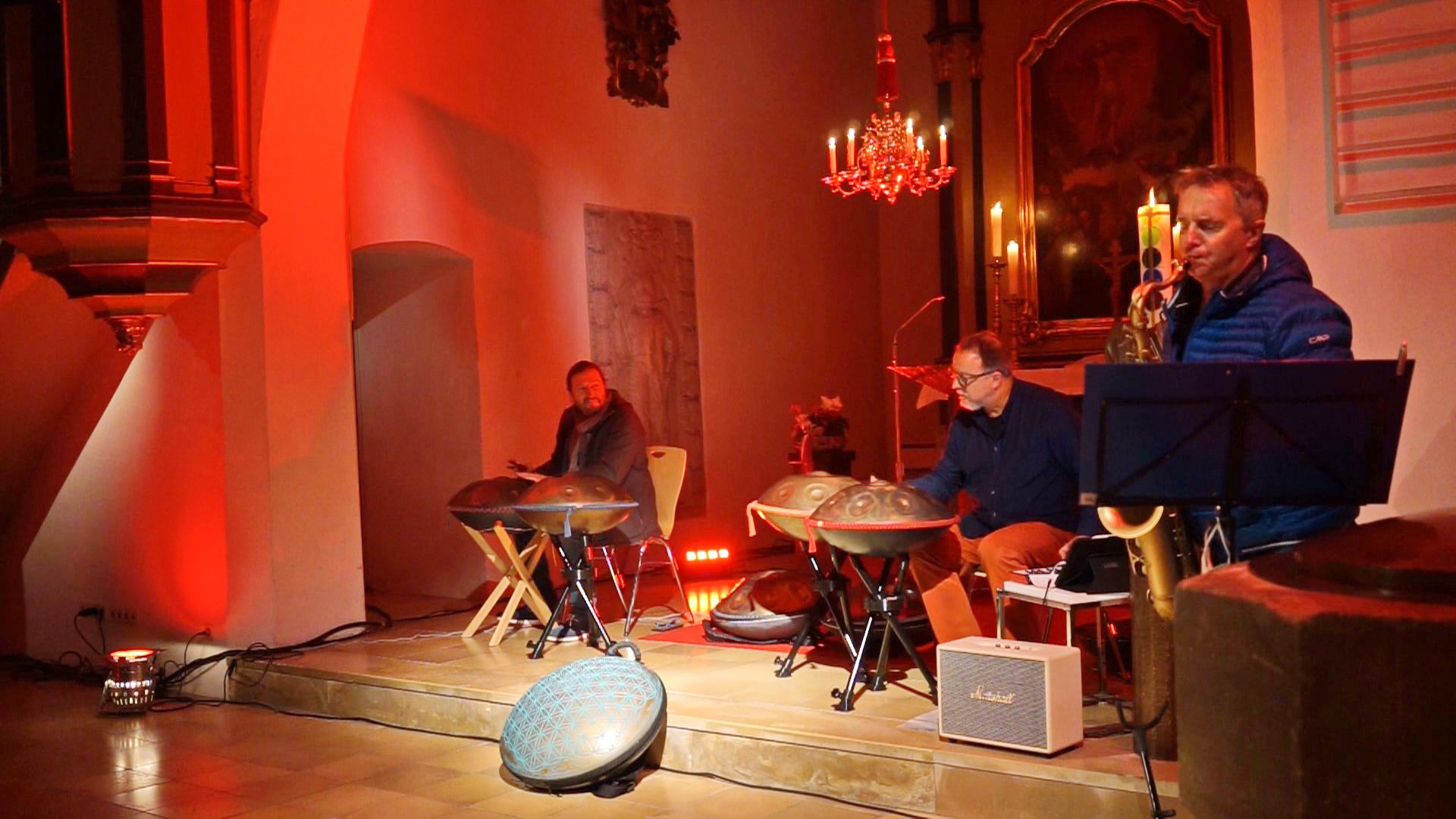 Credit: @kardoskinetic
für das handgemachte Handpan case mit Lebensblume
Credit: @SPand_stand
für den dreibeinigen Teleskop Handpan Ständer
Möchtest du ein schönes handgefertigtes Case mit Lebensblume (vom Künstler László Kardos) oder einen SPand V3 – Ständer wie im Bild/Video zu sehen. Dann schicke bitte eine Direktnachricht per Kontaktformular. Wir antworten umgehend.
"Wir sehnen uns nach Frieden… Wir fühlen uns verbunden mit allen Menschen… Eure Musik verwebt sich mit all den Gebeten, die seit über 700 Jahren in dieser Kirche erklungen sind… Eure Klänge öffnen Herzen, bringen etwas zum Schwingen und lassen uns etwas von der Weite und Schönheit unseres Universums spüren." Den Worten von Pfarrer Martin Irmer ist nichts hinzu zu fügen. Musik und Gebete waren in Harmonie. Wieder ein dickes Dankeschön AXEL LORENZ (Saxophon) für die einfühlsame Begleitung. Und natürlich dem JuGo-Team von St. Bartholomäus (Eckental/Eschenau), die den Gottesdienst so toll organisiert haben einschließlich einer wunderschönen Illumination.
We would like to thank you again for coming to our handpan concert "Waves from Heaven" on 15.10.2021 at the Jakobskirche in Nuremberg. Our very special thanks go to AXEL LORENZ (saxophone), who accompanied us so wonderfully during many pieces. And of course to the team of St. Jakob, who made the concert possible.
Credit: @kardoskinetic
für das handgemachte Handpan case mit Lebensblume
Credit: @SPand_stand
für den dreibeinigen Teleskop Handpan Ständer
Credit Colin Jones: www.youtube.com/c/ccjmusic (@ccjmusic1 )
for animation
Bei Interesse an Case oder Ständer bitte Direktnachricht schicken. Wir antworten umgehend.
Wir wollen uns nochmal recht herzlich bei Euch bedanken, dass ihr zu unserem Handpan Konzert "Waves from Heaven" am 15.10.2021 in die Jakobskirche in Nürnberg gekommen seid. Unser ganz besonderer Dank gilt AXEL LORENZ (Saxophon), der uns bei vielen Stücken so wunderbar begleitet hat. Und natürlich dem Team von St. Jakob, die das Konzert möglich gemacht haben.
What do you do when Flavio Salvaje comes to you on the first afternoon of GRIASDI FESTIVAL and asks you if you want to play with him on stage. Don't think twice. It's best to say YES. Just do it. And that's how it was. We did the stage opening together. Forget that you've never done this before. An unforgettable experience. Thank you for that.
Credit Flavio Salvaje: (@flaviosalvaje) for jaming
Credit Martin Zöpfl: @griasdifestival for hosting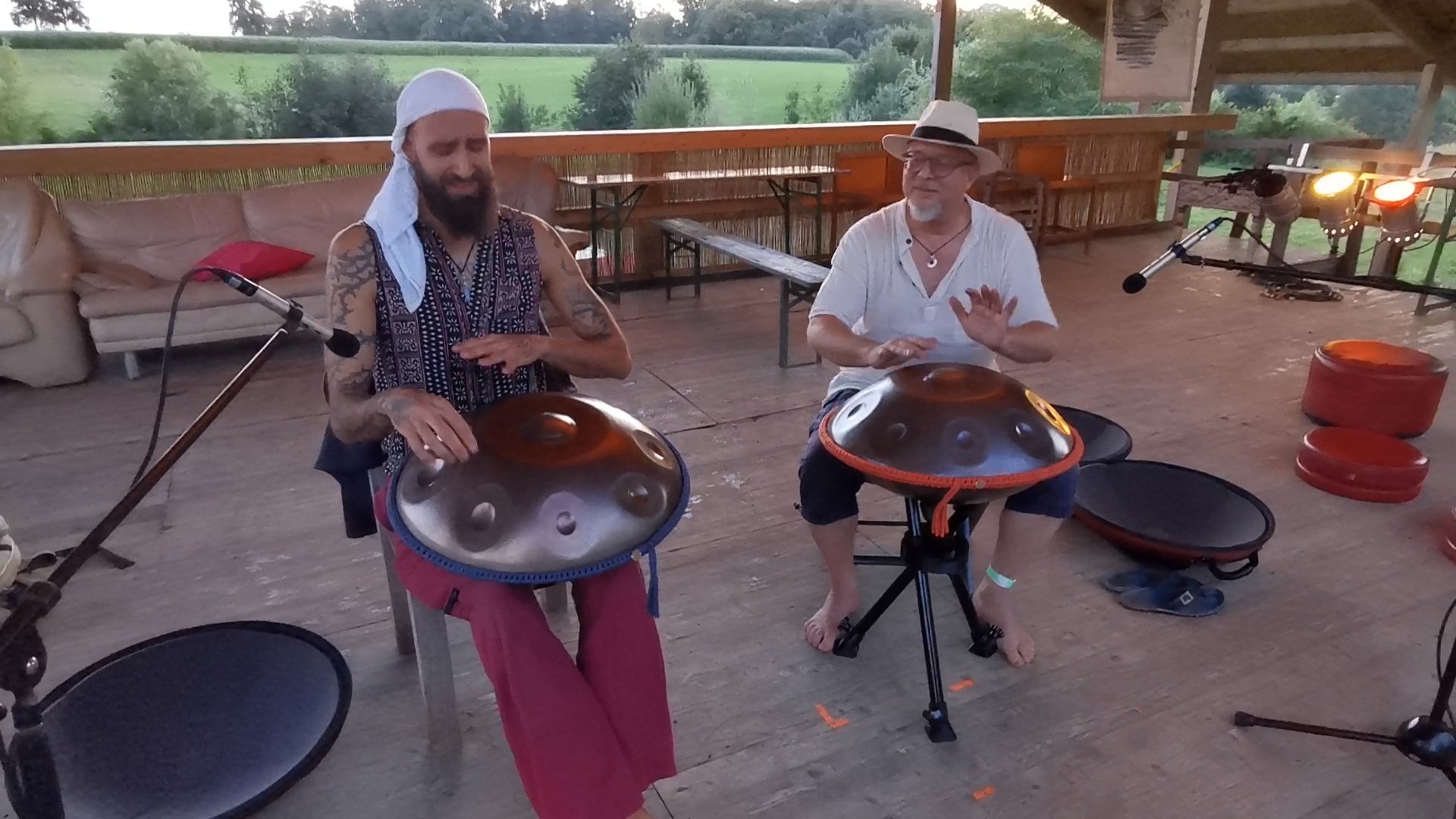 Was tust du, wenn Flavio Salvaje am ersten Nachmittag vom GRIASDI FESTIVAL zu dir kommt und dich fragt, ob du mit ihm auf der Stage spielen möchtest. Nicht lang überlegen. Am besten JA sagen. Einfach machen. Und so war es auch. Wir haben zusammen das Stage Opening gemacht. Vergiss, dass du das noch nie gemacht hast. Eine unvergessliche Erfahrung. Danke dafür.
Again the GRIASDI FESTIVAL was a highlight for us. Meeting so many friends and jamming with each other in an relaxed way is a pantastic experience. You can't get enough of it. Especially not when Flavio Salvaje plays with you. A real boon and inspiration that will remain unforgettable.
Credit Flavio Salvaje: (@flaviosalvaje) for jaming
Credit Martin Zöpfl: @griasdifestival for hosting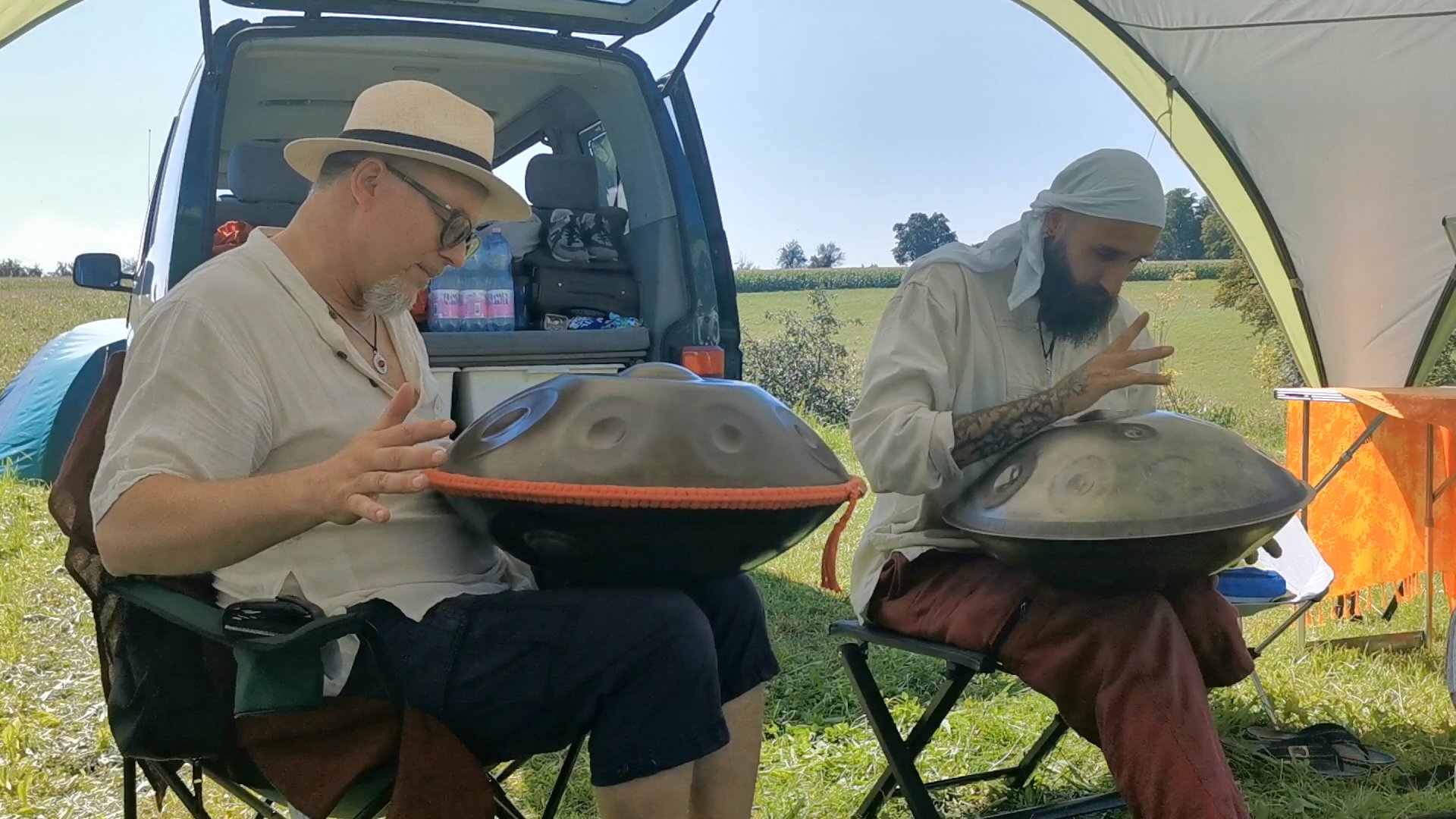 Wieder war das GRIASDI FESTIVAL für uns ein Höhepunkt. So viele Freunde zu treffen und ungezwungen miteinander zu jamen ist ein pantastisches Erlebnis. Davon kann man gar nicht genug bekommen. Erst recht nicht wenn Flavio Salvaje mit dir spielt. Eine echte Bereicherung und Inspiration die unvergesslich bleiben wird. 
Last friday we were allowed to perform a concert again. tOM invited to his cozy garden. In the lounge, which was converted to a stage, we made ourselves comfortable. With the best weather we played handpan frisky. André (aka ANDAJAMA) was there as a visitor and didn't take long to join us for a wonderful jam session. It was so nice!

Credit André: www.andajama.de (@andajama_handpan) for jam
Credit Alex: www.alex-cio.de (@alex.ciocea) for long shot video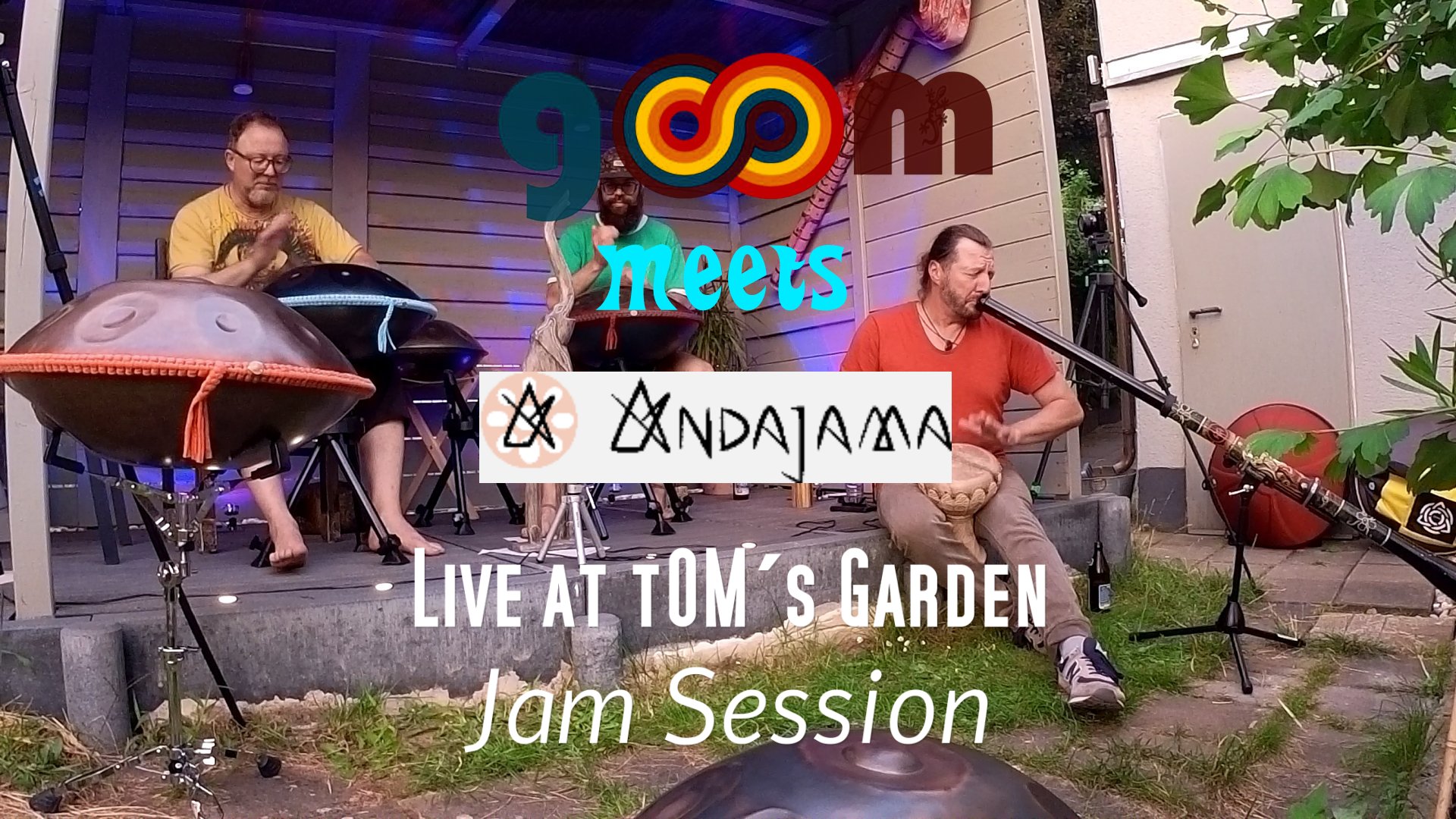 Letzten Freitag durften wir wieder ein Konzert geben. tOM hat in seinen gemütlichen Garten eingeladen. In der zur Bühne umgebauten Lounge haben wir es uns eingerichtet. Bei bestem Wetter haben wir ausgelassen Handpan gespielt. André (alias ANDAJAMA) war als Besucher da und hat sich am Ende nicht lange bitten lassen zu einer wunderbaren Jam Session. Es war so schön!
"Waves from Heaven" in Mindelstetten. It´s GO8OMing on and on. A birthday present for our heart sister Alexandra and her dear friends. We want to share these beautiful moments with you. It was a magical evening.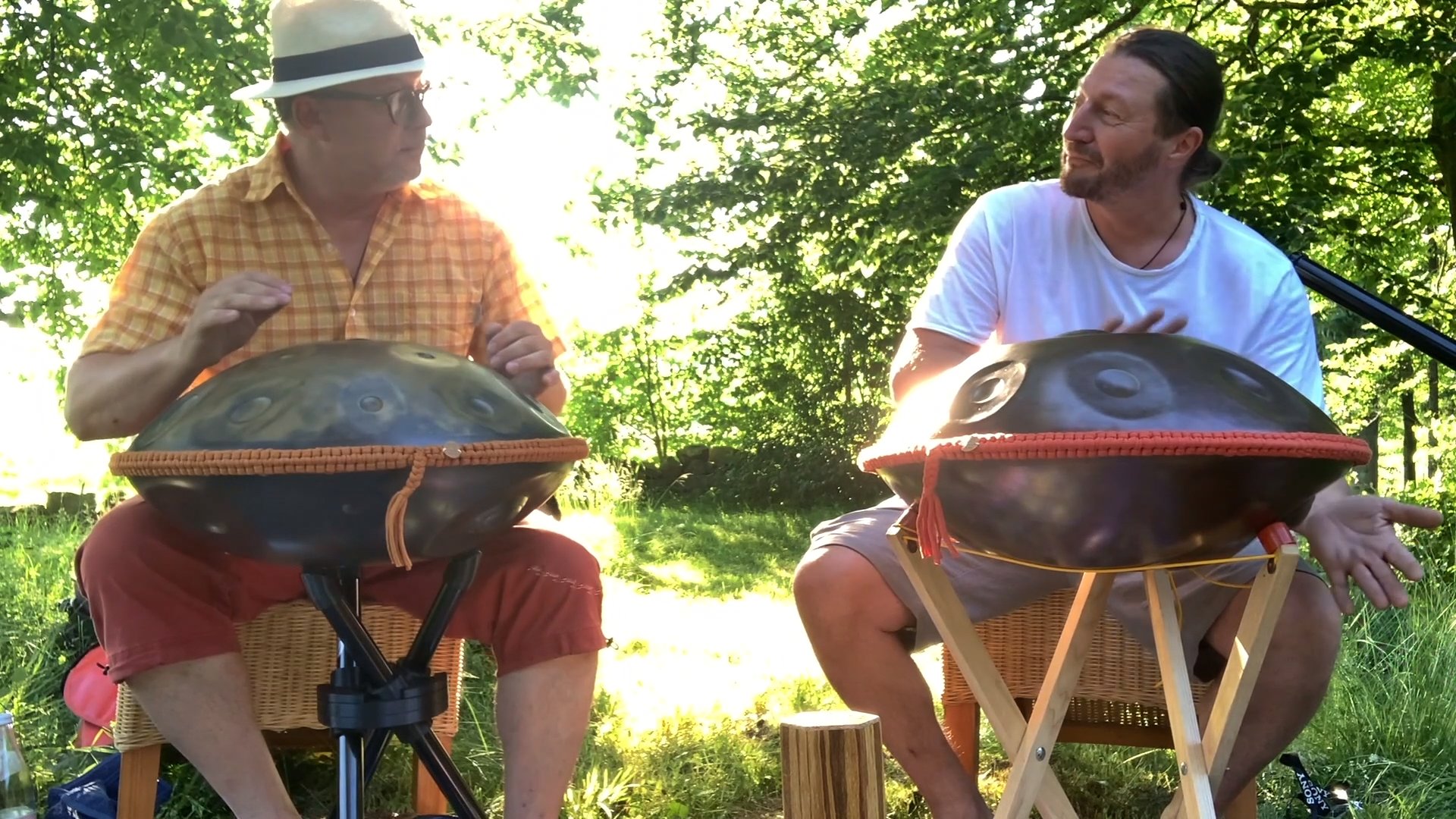 "Waves from Heaven" in Mindelstetten. Es GO8OM´t immer weiter. Ein Geburtstagsgeschenk für unsere Herzensschwester Alexandra und ihre lieben Freunde. Wir möchten diese schönen Augenblicke mit euch teilen. Es war ein zauberschöner Abend.
It has been a long time since we were allowed to play in front of an audience. Church services in Ezelheim and Ingolstadt were the locations where we looked again into eyes touched by the sound of the handpan. Our hearts also opened wide in the sensual atmosphere of the churches. Great people, great acoustics. Many thanks for the invitation to Willfried, who made it possible with much commitment in these times with all the necessary arrangements.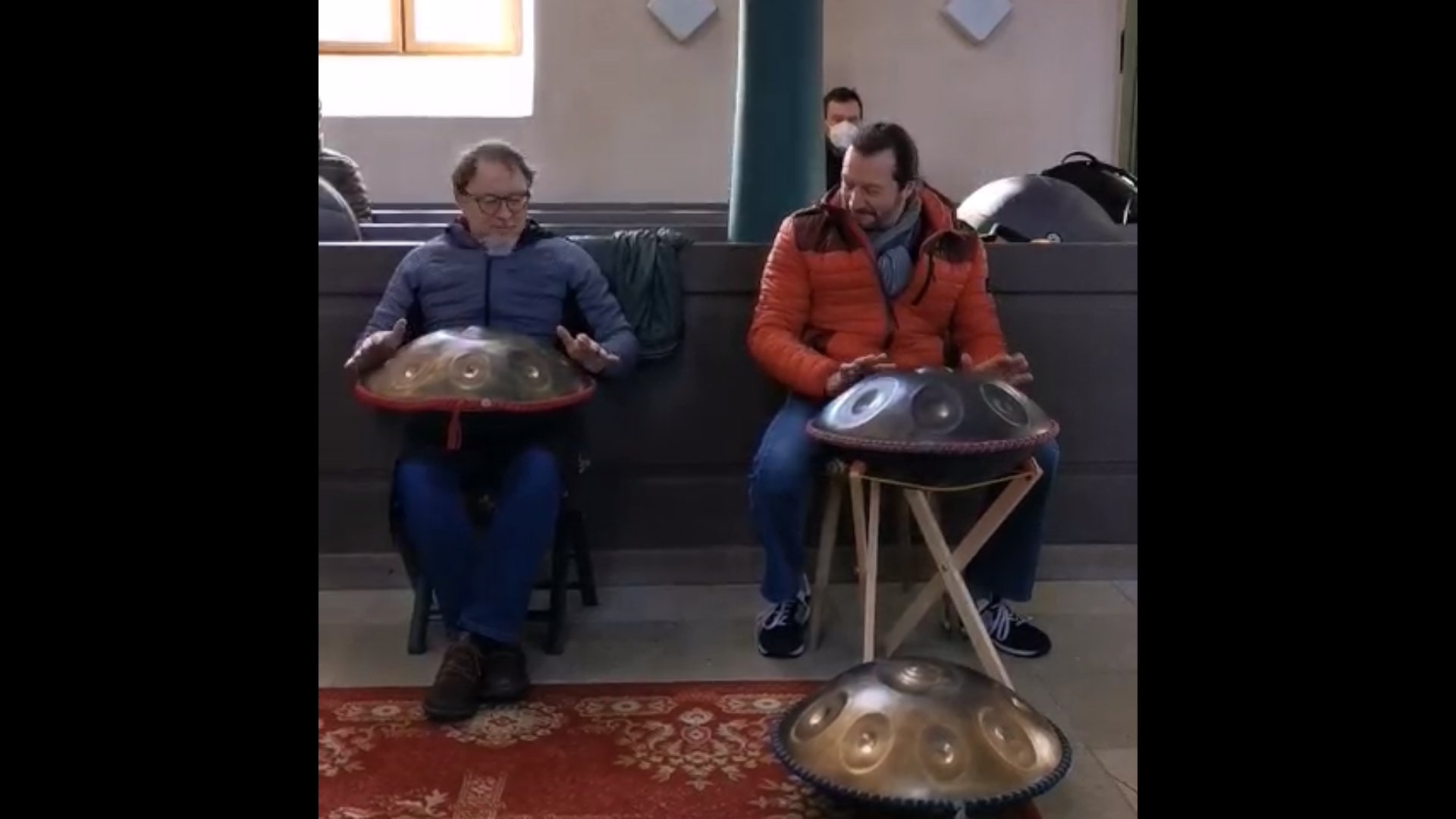 Lange ist es her, dass wir vor Publikum spielen durften. Gottesdienste in Ezelheim und Ingolstadt waren die Locations, wo wir wieder in Augen schauten, die vom Klang der Handpan berührt wurden. Auch unsere Herzen gingen in der sinnlichen Atmosphäre der Kirchen weit auf. Tolle Menschen, tolle Akustik. Vielen Dank für die Einladung an Willfried, der es mit viel Engagement in diesen Zeiten mit allen notwendigen Vorkehrungen möglich machte.

Sometimes angels land at selected places, or at least it feels like it. This time we were allowed to make an atmospheric contribution with our handpan music at a Christmas service in the Heilg Kreuz Church in Röthenbach. The acoustics in the church were fantastic and just made for the spherical sounds. It was unique how they spread out and yet touched us intensely. Wow!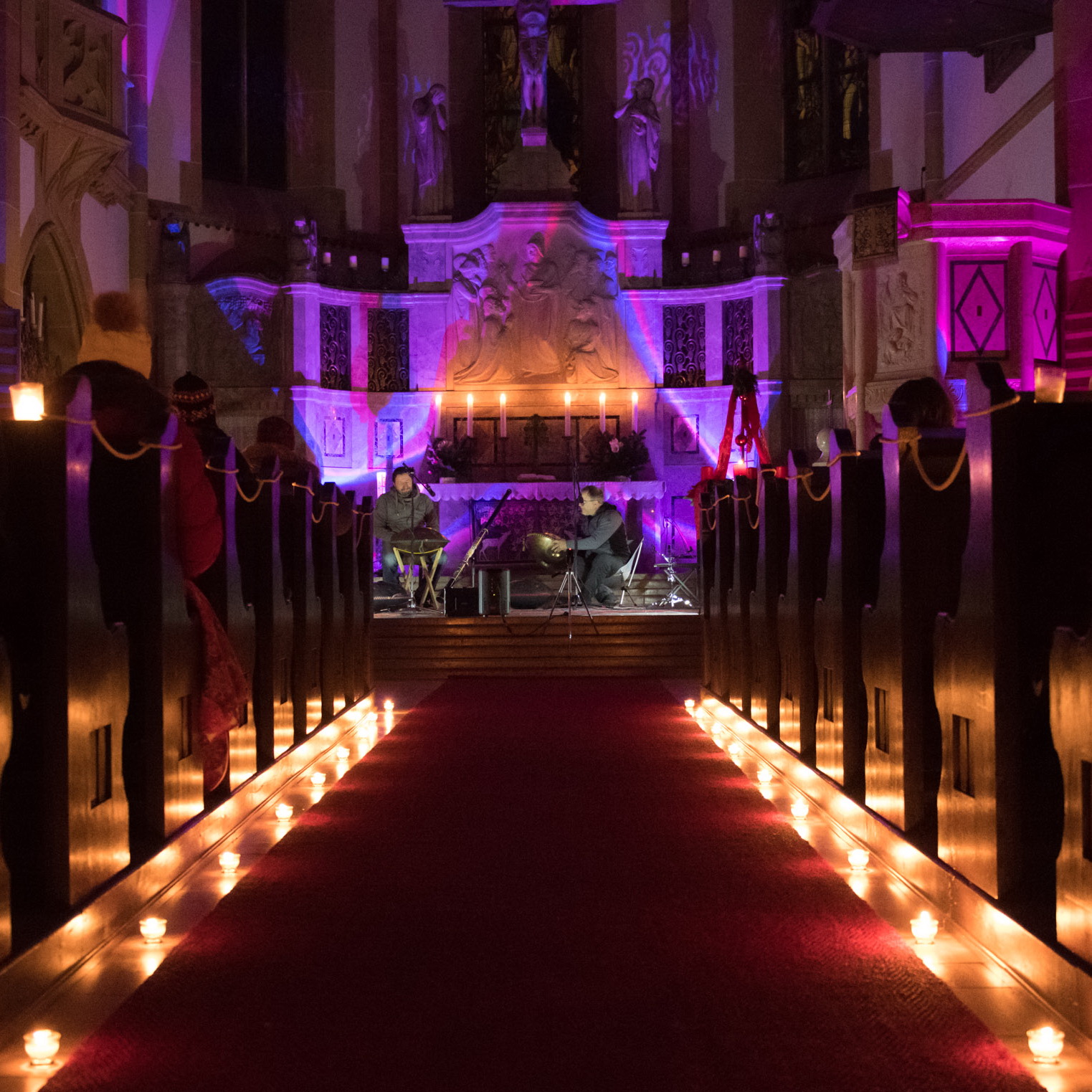 Manchmal landen Engel an ausgewählten Orten oder es fühlt sich zumindestens so an. Diesmal durften wir bei einer weihnachtlichen Andacht in der Heilg Kreuz Kirche in Röthenbach mit unserer Handpan Musik einen stimmungvollen Beitrag leisten. Die Akustik im Kirchenraum war fantastisch und geradezu wie geschaffen für die sphärischen Klänge. Einzigartig wie sie sich ausbreiteten und uns doch intensiv berührten. Wahnsinn!
What an experience. For the first time we played for dancers. Not just any dancers, but belly dancers. For Britta Fischer (alias Manjula) it was also a premiere. After a while it was a great and intuitive interaction of movement and music. Hopefully we can do it again. It was great! Thanks girls!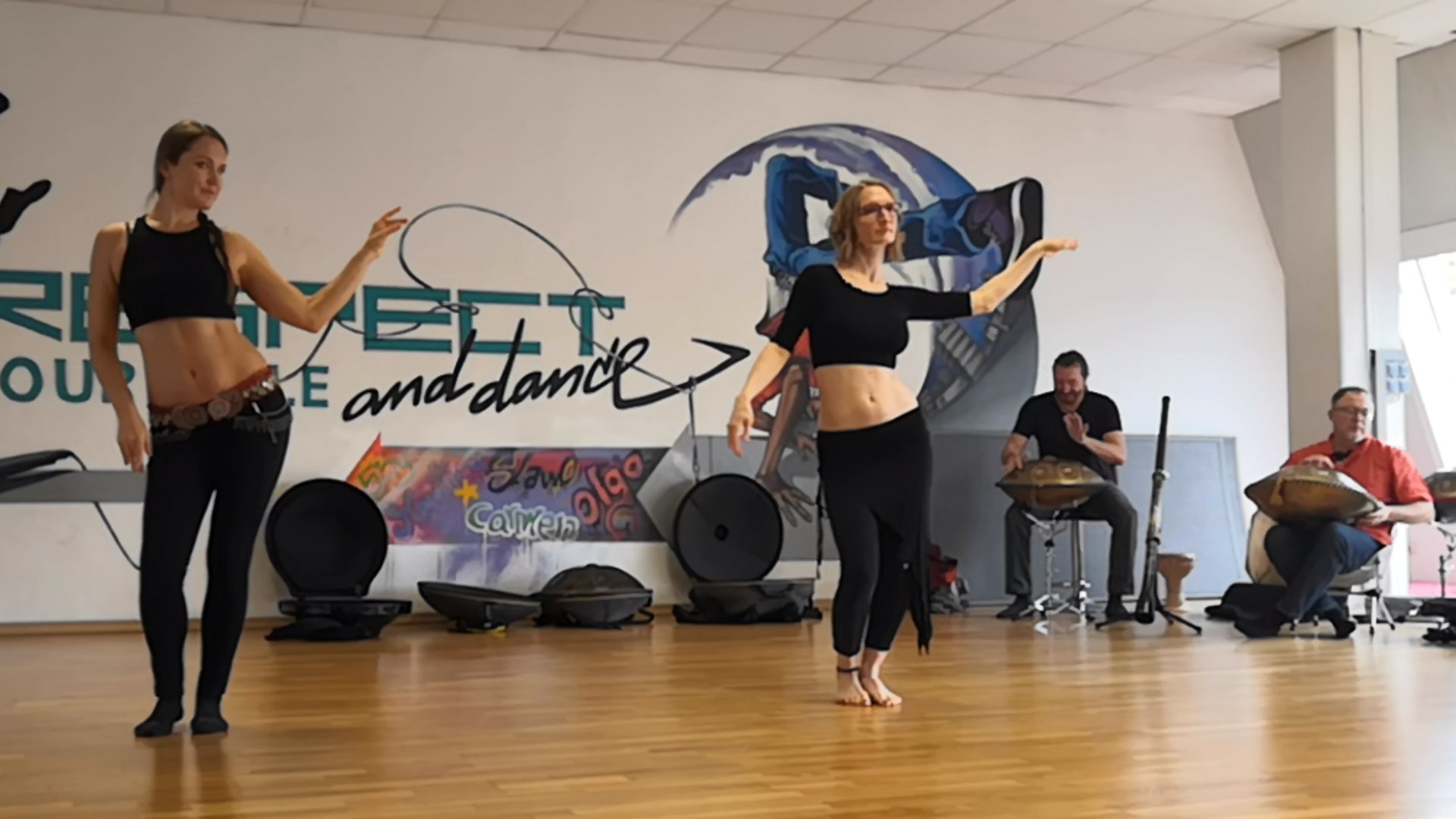 Foto: Britta Fischer (alias Manjula)
Was für eine Erfahrung. Zum ersten Mal haben wir für Tänzerinnen gespiel. Nicht irgendwelche, sondern Bauchtänzerinnen. Für Britta Fischer (alias Manjula) war es auch eine Premiere. Nach einer Weile war es ein tolles und intuitives Zusammenspiel von Bewegung und Musik. Hoffentlich können wir das nochmal machen. War toll! Danke Mädels!
With an exclusive serenade at the registry office in Nuremberg we sent the newlyweds on a virtual honeymoon with our songs "Fly away" and "Stop over".
∞ May the rhythm and the positive vibration accompany the bridal couple on their future path of life. ∞
Mit einem exklusiven Ständchen auf dem Standesamt in Nürnberg schickten wir das Brautpaar mit unseren Liedern "Fly away" und "Stop over" auf eine virtuelle Hochzeitsreise.
∞ Möge der Rhythmus und die positive Schwingung das Brautpaar auf seinem zukünftigen Lebensweg begleiten. ∞
20 th – 24 th August 2020
Five fantastic days with dear friends and the enthusiastic Handpan Community on the HÄNGAUT 2020 was a source of energy in these special times. Many thanks to all the unique people we met.
And a very special thanks to Martin and his team who made all this possible at this special place Böllerbauer.
Fünf fantastische Tage mit lieben Freunden und der begeisterten Handpan-Gemeinschaft auf dem HÄNGAUT 2020 waren eine Energiequelle in diesen besonderen Zeiten. Vielen Dank an all die einzigartigen Menschen, die wir treffen durften.
Und ein ganz besonderer Dank an Martin und sein Team, die das alles an diesem besonderen Ort Böllerbauer möglich gemacht haben.
A gathering of musicians of folk music of the Upper Palatinate and the spiritual Handpan music of GO∞OM in Achtel was an exiting event for us and the audience.
Thanks for letting us be there. Gladly more of it at this great place with very lovely people.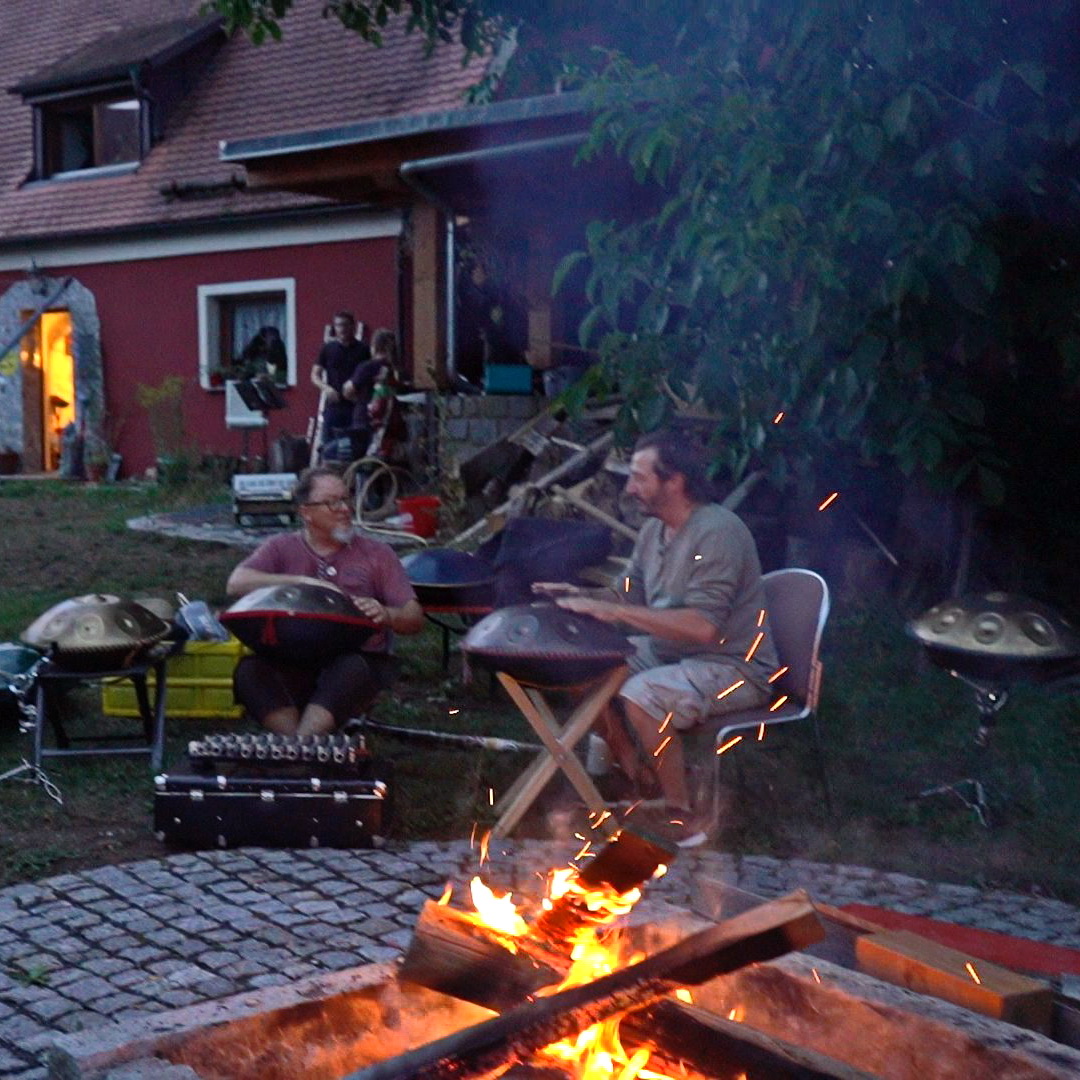 Ein Treffen von Musikern der oberpfälzischen Volksmusik und der spirituellen Handpan Musik von GO∞OM in Achtel war ein spannendes Ereignis für uns und das Publikum.
Danke, dass wir dabei sein durften. Gerne noch mehr davon an diesem tollen Ort mit sehr netten Menschen.
At a cool place in Hersbruck we have recorded some new music videos with grooving songs.
We will make them available online asap. Promised.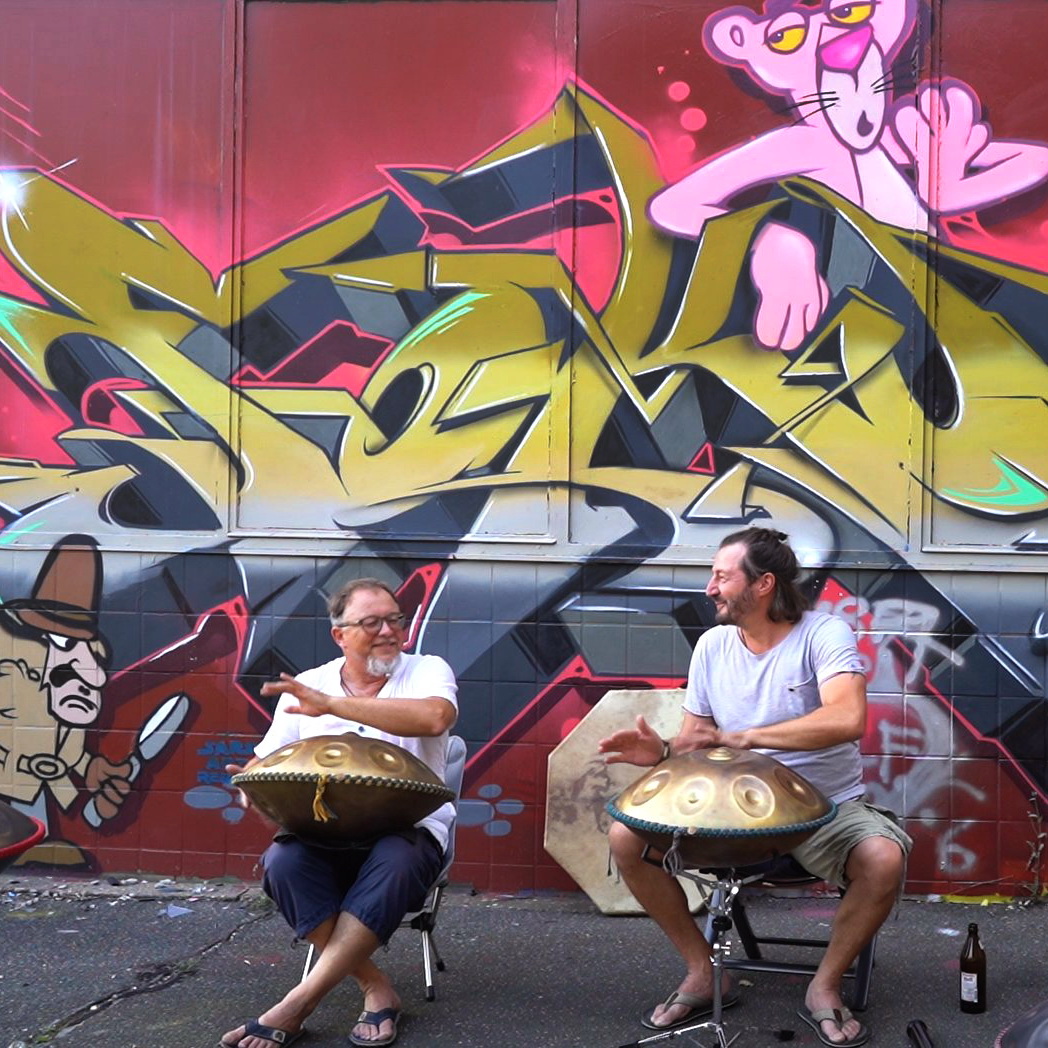 An einem coolen Ort in Hersbruck haben wir einige neue Musikvideos mit groovenden Songs aufgenommen.
Wir werden sie so bald wie möglich online zur Verfügung stellen. Versprochen.
GO∞OM performance at a birthday party in Fürth
as a surprise for the birthday celebrant.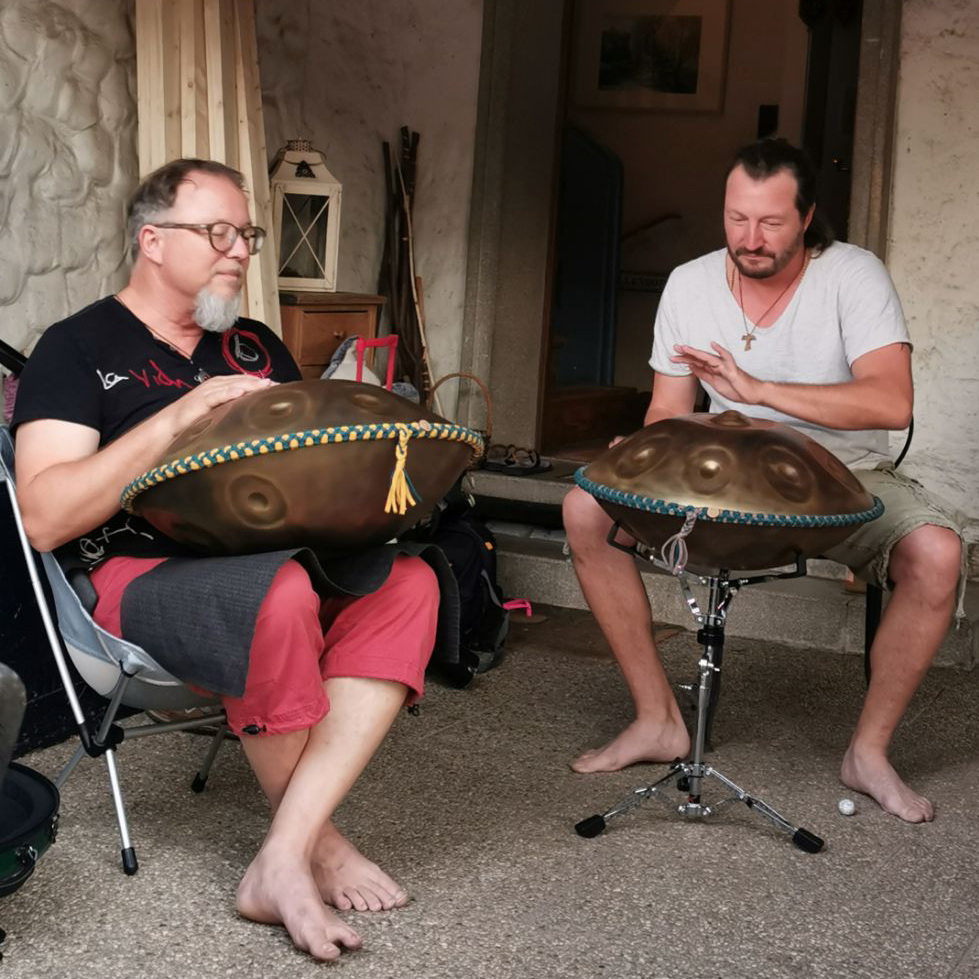 GO∞OM Auftritt bei einer Geburtstagsfeier in Fürth
als Überraschung für das Geburtstagskind.
inGO is jamming with Christoph Lefherz (Sax) and Pascal Haas (percussion) at a birthday party in Nürnberg
as a surprise for the birthday celebrant.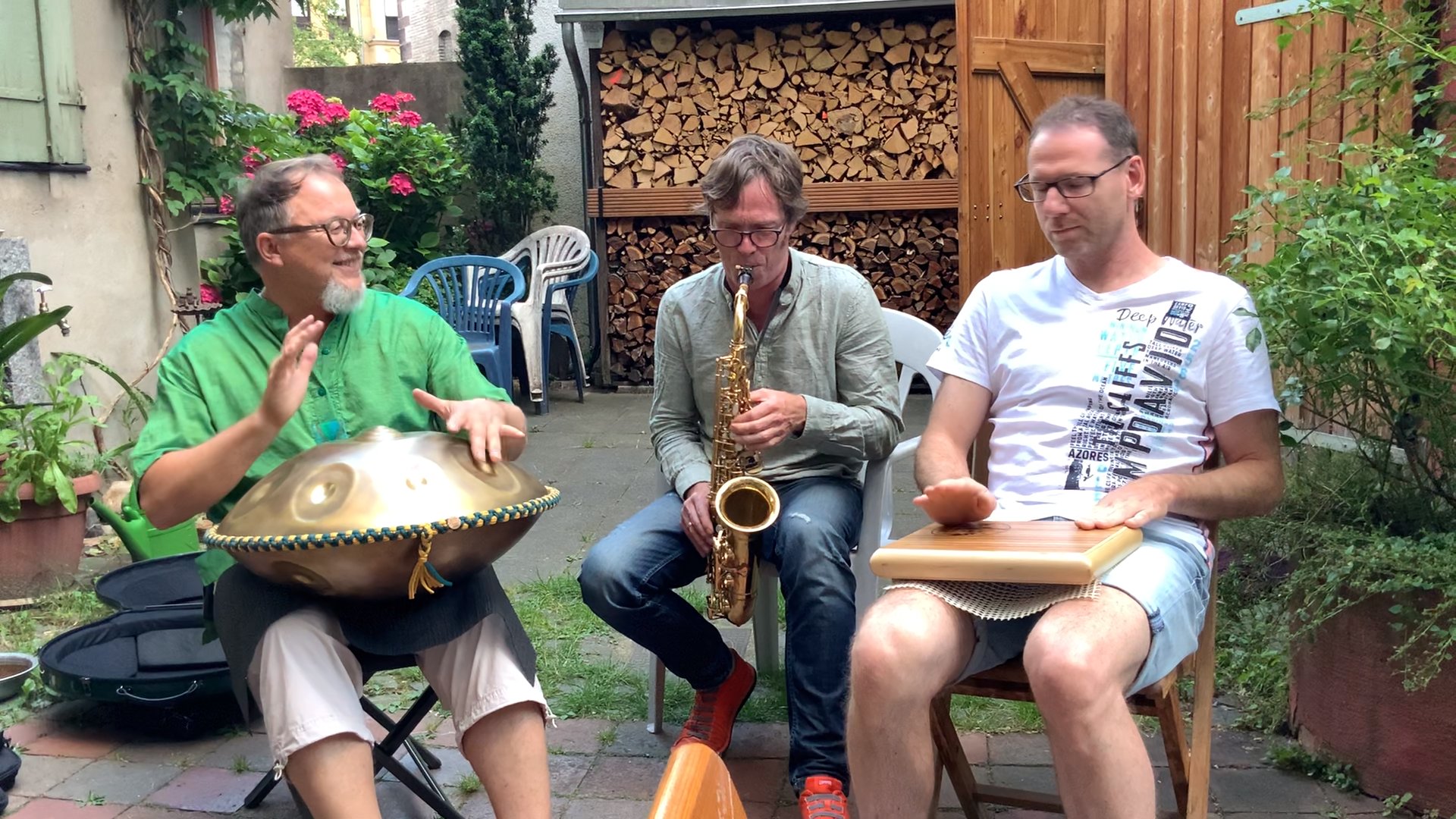 inGO jammt mit Christoph Lefherz (Saxophon) und Pascal Haas bei einer Geburtstagsfeier in Nürnberg
als Überraschung für das Geburtstagskind.
Two new handpan family members were welcomed joyfully.
Both C# minor soulshines were lovingly created for us by Clemens.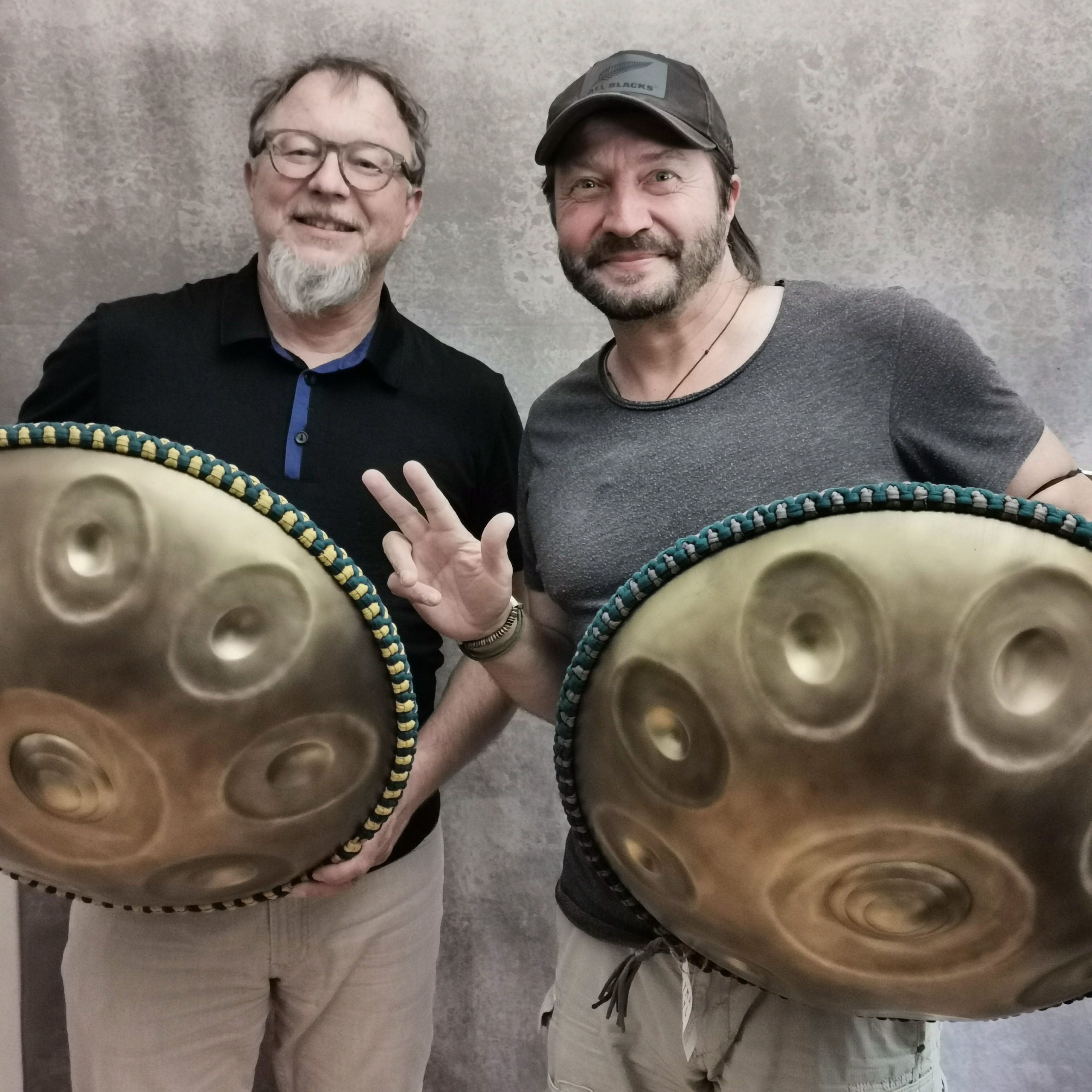 Zwei neue Handpan Familienmitglieder wurden freudig begrüßt.
Beide Cis-moll Soulshines wurden von Clemens liebevoll für uns gehämmert und gestimmt.